Comeback Kid comes back to Erie
Melodic hardcore veterans from Winnipeg return to Erie alongside  stacked lineup
January 26, 2015 at 10:36 AM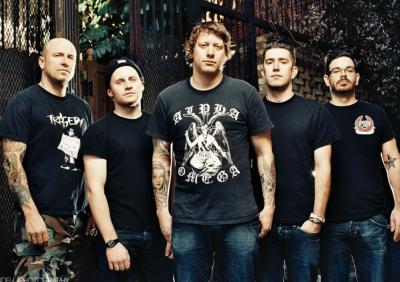 Drop what you're doing, because your plans have just changed. On Jan. 26 Canadian hardcore band Comeback Kid is coming back to the Erie area for the first time since 2010, headlining at Basement Transmissions after ending their supporting tour with Four Year Strong.
Comeback Kid released their fifth studio album Die Knowing in March 2014, which peaked at No. 7 on the US heat charts and featured guest vocals by the band's former frontman, Scott Wade, on the song "Full Swing."
Comeback Kid has been one of my favorite bands since 2006, because their aggressive rhythms, epically melodic yet simple lead guitar, and catchy, positive lyrics never fail to send chills down my spine – no matter how many times I listen. Wake the Dead was my first hardcore record and they were the first show I attended, which featured my first moshing experience and introduced me to a whole new realm of music possibilities, so it's a little hard to conceal my excitement for this show. But Comeback Kid isn't the only reason to be excited.
Expire, who is also a supporting act on the Four Year Strong tour, is the second headliner for the night.  With their raw, unrelenting riffs and no B.S. lyrics, Expire is quickly becoming one of the biggest names in the hardcore scene.
The last time Erie's Straight Edge kings, xRepresentx, played at BT, I was knocked out during their set – literally. I took two back-to-back hits to the head, and the next thing I remembered, I was being dragged to the side of the room (Warning: excessive moshing can be dangerous. Tell your kids to mosh responsibly). This time however, I'll be safe from the pit, as I will be on stage filling in on bass guitar.
Finally, after breaking up last nearly a year ago, Edinboro pop-punk quintet Mallory Run is getting back together with a new drummer and an entirely new sound, described by the band as sounding similar to the likes of Balance and Composure. I'm excited to hear their new songs, but I'm hoping they still play the ever Wonder Years-esque song "You Told Me You Didn't Have a Mountain Bike," for old time's sake.
Completing the night's bill are Motives from Cleveland and Crazies from Fredonia, N.Y.  All local and supporting bands have presale tickets available. – Tommy Shannon
Doors at 5:30 p.m., Monday, Jan. 26 // Basement Transmissions, 145 W. 11th St. // Pre-sale Tickets $14, $16 Day-of-show // ballpointproductions.bigcartel.com/product/comeback-kid