Coming Together in the Spirit of Giving
This diverse collection of individuals who comprise our society ? the greatest society the world has ever known ? may not think like you, or act like you, or look like you, but they demonstrate their concern for our community by performing great works.
December 12, 2012 at 7:00 AM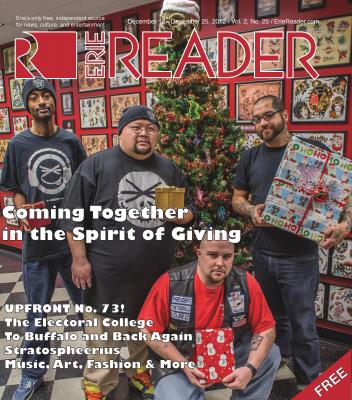 As the recent Thanksgiving holiday reminded us, we have much to be grateful for this holiday season; upon reflection, we all know how proud we truly are to live in the United States – for the world has never and will never know a society greater than ours.
When one thinks of our society's great works, thoughts habitually turn to the visible manifestations thereof, often located right in our own backyards – museums, theaters, galleries, and stadiums offer us cultural enlightenment with relative splendor; churches, synagogues, temples, and mosques offer us spiritual repose with relative comfort; hospitals heal us; universities teach us, farms feed us, and the towers we construct scrape the starry sky just as the tunnels we bore score the rocky bones of the Earth.
However, deep down, inside our collective soul, we all know that our society is not some esoteric "thing," driving without direction and creating without contemplating – it is comprised of people.
It is us, and we are it.
Therefore, deep down, we all know that greatness of any society is not measured by its great physical works; it is measured by how that society treats the least of its members – the errant and the exhausted; the helpless and the homeless; the infirm and the ignorant; the very old and the very young.
The greatness of our society lies in our willingness to help those who cannot help themselves.
The greatness of our society lies in our willingness to speak for those who cannot speak for themselves.
The greatness of our society lies in our willingness to act for those who cannot act for themselves.
One need only glance about to be reminded of our society's truly great works, which are appropriately directed towards the most innocent, blameless, and helpless members of our society during this holiday season. A multitude of well-known agencies – comprised of individuals – selflessly serve our society in this way; people just like you contribute to such charitable efforts with hopes both great and small – the hope that such charity strengthens the very constructs of our society, and the hope that such charity brings a smile to just one innocent, blameless, helpless child.
But our society is a diverse society. Not everyone is just like you. Not everyone thinks like you, or acts like you, or looks like you. Oftentimes, the way people look incorrectly informs our assumptions about their character. Everyone is familiar with the stereotypes of the golden-grilled street rapper, or the insanely-inked tattoo enthusiast, or the rough-and-tumble bad-boy biker. But, just like you, they are a part of our society; just like you, they have a stake in our community; and just like you, they work towards the betterment of that community. And although you may not look, act, or think like Jon Box, or Ashley Sornburger, or Chad Zaczyk, perhaps – just perhaps – if you did, there would be far more great works for our society to point to with pride.
-
"I was born here to a single mother," said Chad Zaczyk. "I'm an assembler at General Electric."
Chad's a stocky guy in his late 30s; his bald-shaven head, brown goatee, and thick-gauge pointy-studded metal earrings attest to the humble and hard-working background that personifies much of Erie's population.
"I'm also a motorcycle enthusiast," he said – although he didn't really need to say it.
Motorcycle enthusiasts – more commonly known as bikers – are often immediately identifiable, and Chad is no exception. His trademark black leather vest, adorned with colorful patches screams Biker! whether you see him, or any of his fellow bikers, actually sitting on a bike or not.
At first glance, Chad and his cohorts look like trouble – people not to be crossed, harassed, or otherwise displeased. You might try to avoid people like Chad in your corner bar or neighborhood bowling alley based on their looks alone; but if you did, you'd never get the chance to talk to this affable, laid-back husband and father who is also the president of an Erie County motorcycle club known by the acronym of "BACA." What, you ask, does "BACA" stand for?
"Bad Asses Cutting Arteries?" Nope.
"Bikers Angrily Crushing All?" Nope.
"Bikers Advancing Chaotic Anarchy?" Nope.
BACA is not what you might think it is – a biker gang hell-bent on mayhem and destruction, akin to the unfair and unfortunate stereotypes perpetuated by actors like Marlon Brando in the 1953 movie "The Wild One." Bikers Against Child Abuse was founded in Erie during 2009 and currently boasts almost 30 members. "The difference between us and a typical motorcycle club is that you don't have to have a motorcycle to be a member of BACA," said Chad. "We have four members who do not ride. They're just passionate about what we stand for, and they want to volunteer their time."
According to its website, BACA "strives to create a safer environment for all children who have been neglected or abused by providing physical and emotional support for both the child and the family." Members of the organization work with both local and state agencies that serve abused children, and relentlessly fight to prevent child abuse before it begins.
"I've seen the aftereffects firsthand, and it's something you feel you can't do anything about," Chad said. "Being a motorcycle enthusiast, I heard about BACA and decided that Erie could benefit from a chapter."
Indeed, BACA is not your typical "biker gang."
"It's a pretty diverse group. I think our oldest member is in their early 60s, and our youngest member is maybe 28," Chad said. "Salesmen, laborers, retired schoolteachers – all walks of life."
Chad's diverse group is active year-round; he recounted a heartwarming incident that took place just this past July.
"There's a camp down in Titusville. We rode down," he said. "There's probably 60 kids down there, and we let them on the bikes, to beep the horns and rev the motors. They just had a blast. Afterwards, we were serving hot dogs and stuff like that. I remember I was standing there, and a couple of kids came up to us and asked us if they could cook us hot dogs. That was pretty cool."
During the holiday season BACA shifts gears; its mission statement demands accelerated efforts, and accordingly, BACA members took the lead in organizing more than a dozen like-minded organizations who all came together in the clutch and contributed to this year's "Bikers of Erie County Toy Drive," which ended last week.
"We contacted different motorcycle clubs, riding clubs, and motorcycle associations in Erie County to see if they wanted to join us," he said. "It's all about all of us coming together."
And unite they did – The Iron Coffins, The Iron Wings, The Christian Motorcycle Association, Five of a Kind, Leader of Men, Fire and Iron, #1 Stunnas, ABATE, the Legion Riders of Wesleyville, High Maintenance Queens, Bikers for Christ, The Star Riders, Lucky 13, Northern Riders, The Enforcers, The Blue Knights, The Pride, Chrome Angels, Last Nights, Kingsmen, Brothers to the End, The Warrior Brotherhood, The Hooligans, and former members of the now-defunct Dead City Riders – to strengthen our society, while bringing a smile to more than one innocent, blameless, helpless child.
"Christmastime unites people," said Chad, with a big smile. "Last year, between nine organizations, we had 453 toys. This year, in our second year of doing this, we're still growing. We usually pick two agencies to donate the toys to, and then we do a supply drive on top of that, and we select a different agency to benefit from that."
The Highmark Caring Place – whose honorary chairman is the late Fred Rogers – was one of those agencies. Located on Cranberry Street in Erie, the Highmark Caring Place "champions the cause of grieving children by creating awareness of their needs, providing programs for them and their families, and empowering the community to effectively support them," according to its website.
The other beneficiary of the toy drive was the Injured Motorcycle Riders Foundation who, as their website attests, endeavor to "help our injured brothers, sisters, and their families in any way that we can," throughout northwestern Pennsylvania, including Erie, Crawford, Venango, and Warren counties.
"The toys will be split between them," Chad said. "And then the supplies – anything from cleaning supplies, toiletries, sheets, pillows, anything that vets coming home can use when they first get an apartment – go to the Veterans Administration Homeless Care Team."
Donation boxes were set up at a plethora of locations around Erie County, including Grapevine Laundry & Linen, Hunter Jack's, Scooters, Lakeside Tavern, Mutiny Ink Tattoo Shop, both Off Road Express locations, and VFW Post 470 in Erie. In the end, they collected more than 600 toys and 12 boxes of household items for the VA, while simultaneously dispelling the myth that bikers exist on the fringes of our society; Chad explained just what motivated BACA and the Bikers of Erie County to perform their extraordinary feats of giving.
"I believe, and I see firsthand, the biker community here in Erie are very giving people. A lot of guys, they look rough and tough, but I always say, I'd rather lose my kid in a bunch of bikers than at the Millcreek Mall," he explained. "We care about our community. If everybody just sat at home and did nothing, no community would survive. If we can combine and make one kid smile, it's worth it. That's what it's all about."
-
Ashley Sornberger sat on a big comfy couch, her soft voice struggling to be heard over an ever-present humming zzzzzzzzzzzzzzzzzzzzt sound that filled the room. Born and raised in Erie, Ashley worked at a doctor's office for 10 years; five years ago, Ashley and her husband Don bought a building and opened a business on West 13th Street. Last April, they moved to their current location on Poplar Street.
"I quit the doctor's office to run the shop," she said, quietly, beneath the zzzzzzzzzzzzzzzzzzzzt resonating from an active tattoo needle. The shop – Mid-Town Tattoo – is now one of Erie's favorite destinations for the skin art aficionado.
Even though tattooing is an ancient – and in some cultures, venerated – art form, it's often received a bad rap in western culture, especially in the United States. As recently as 50 or 60 years ago, if you had a tattoo and were not in the Navy, it was assumed that you had done time in prison, or would one day soon do so. Not anymore, said Ashley.
"It's not stereotyped anymore as something bad. It's a little bit of everybody that comes in here to get tattooed. It's a diverse group. We're just your everyday typical normal people. We have doctors, my husband is a cop – it's for anyone who loves art."
So the next time you're walking down the street and see someone approach, heavily inked about the face, neck, chest, arms, or legs, judge not – they just might be one of Mid-Town's talented artists who will donate their time and talents to this year's "Toys for Tatts" benefit on Sunday, Dec. 23.
"We are opening the doors from noon to 6," she said. Eight of Mid-Town's artists have created small designs and will apply them, free of charge, to anyone who comes in with a $20 toy. But the holiday fun at Mid-Town Tattoo doesn't stop there.
"From 4:30 to 6, we're going to have Santa and Mrs. Claus come in," she said. "We'll have Polaroid cameras for pictures, hot chocolate, cookies, and stuff like that."
As for the toys, Mid-Town will donate them to the United States Marine Corps, whose famous "Toys for Tots" campaign has donated more than half a billion toys to needy children since its inception in 1947.
-
He calls himself Jon Box, which is not his real name. He looks intimidating, a result of his boxy, hulking frame and the streetwear attire that adorns it.
"If you see me at a stoplight, you probably lock your door and roll your windows up," he said.
Why "Box?"
"When I meet people for the first time, they see me, and there's a couple of categories, you know, white, Hispanic, black, other, everything like that," he explains. "So when you see me, you probably check that 'box' that labels me as a hip-hop guy. You don't know that I like listening to poets. You don't know that I read the same books you read. You don't know that I appreciate the same art you appreciate. So the 'box' is being able to sell outside of what people assumed you were the first time they saw you, and not being able to put you in that box. "
Born in the Philippines and raised in the Bay Area of San Francisco, Box joined the military, did a couple of deployments, and met his wife, who is from Erie. "We moved out here in 2002, but there weren't many jobs for me, coming out of the infantry, so we moved back to San Francisco," he said.
There, he finished his graphic design degree and started a clothing line there, and opened a couple of stores. Then the recession hit, and he and his wife decided to move back to Erie, where he now operates The Box Street Couture on 37th and Peach streets with his partner Dom Box. But you probably also know him from his association with Drips & Beats.
"'Drips & Beats' is every third Thursday of the month at the crooked i, the idea is that we can mix fashion, music, and art," said Box. "We've also done a couple of all-ages shows with Mark Tannenbaum at PACA, but one thing we're doing with Drips & Beats especially for this month is called 'Grinders Give Back.' Grinder – like a machine, like a V8 engine. It's a street term for people who work so hard to achieve their goals."
Throughout the month of December, members of Erie's diverse musical community – from metal to hip-hop – have been and will be collecting toys before performances at a host of area venues.
"Poverty doesn't just happen in other states," Box said. "It's happening in our own backyard. So we reached out to different artists and musicians to start a toy drive during the events.
This effort will culminate on Friday, Dec. 21 with a performance by highly-touted Pittsburgh hip-hop group "The 58s" at the crooked i. Bringing a toy to this show will help a needy local child, and will also help you avoid a portion of the cover charge. It will also help you erase the mental stereotype of rappers as irresponsible, egotistical thugs who seek only to damage society through violence and misogyny.
"In reality, hip-hop artists and musicians just have a different way of expressing themselves," said Box. "If anything, coming from the street we have firsthand experience in the poverty and the struggle we have to go through."
Box's disposition turned serious – then lighthearted – as he related his own experience with struggle and achievement.
"Everybody laughs at me because I didn't have toys when I was growing up," he said. "My mom couldn't afford to provide for all four of us, so every Christmas, I'd get sneakers, and that would be it. For the whole year. Every day, wearing the same sneakers. And on my birthday, I'd get formal shoes, and that'd be for school, church, everything. So when I got older and moved out and was able to provide for myself, I thought, maybe I could try to get a little of my childhood back. I have 128 pairs of sneakers now."
Walk a mile in Jon Box's shoes; acquire a mile of ink on your skin at Tattoo; ride a mile with Chad Zaczyk and the Bikers of Erie County. This diverse collection of individuals who comprise our society – the greatest society the world has ever known – may not think like you, or act like you, or look like you, but they demonstrate their concern for our community by performing great works.
They have dedicated themselves to putting smiles on the faces of those who may have little reason to smile this holiday season. And if you haven't yet donated to one of these worthy causes, perhaps it's good that Chad, Ashley, and Jon are not like you – this holiday season, they're giving, instead of taking; they're the kind of people who are helping to make the United States the greatest society the world has ever known, and the greatest society the world will ever know.
Cory Vaillancourt can be contacted at CVaillancourt@ErieReader.com.