Considering the City
New Orleans' Crescent City Farmers Marketplace and what Erie could learn from it. 
October 29, 2014 at 7:30 AM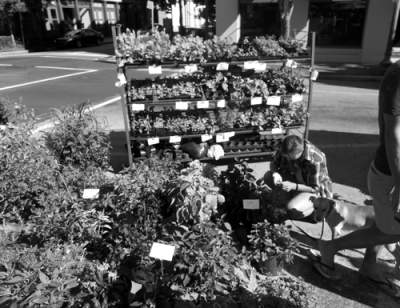 During the first week in October, a friend and I discovered the Crescent City Farmers Marketplace (CCFM) in New Orleans. Established in 1995, this Saturday-morning enterprise initially showcased twelve vendors. Almost twenty years later, the CCFM boasts more than thirty stands selling plants, edibles, and food-based products.
A CCFM employee, Emory Sannier, commented that the market provides "dollars to local farmers" with "no middle-man." The marketplace "increases food access" and creates a "wonderful community," he added.
Although it isn't always a quick process, the use of tables, tents, and umbrellas helps to incubate businesses at the CCFM. The owners who co-founded Essos Foods Fresh Pasta in 2005 couldn't afford a bricks and mortar business. But, after nine years of selling squid ink fettuccine and sweet potato gnocchi at the weekly market, Blythe Ellise says the owners hope to have their own store "within a year."
Traditional produce, like the kind sold in Erie, was available at the CCFM, but this marketplace also offered more: shitake mushrooms, baby okra, washed collards, and dinosaur kale. A dozen types of hot peppers were for sale including Trinidad Scorpion, Chocolate Habanzo, and the Red and Yellow Ghost. Couldn't an Erie market follow suit and sell a variety of local grapes and apples as well as all of the locally grown vegetables?
Shrimp "caught just a few hours ago" were displayed in Coleman coolers. In Erie, we could support area fisherman by selling their bass, perch, walleye, and trout. Erie marketplaces could also work with hunters to sell venison, rabbit, squirrel, turkey, pheasant, duck, and geese. Perhaps an entrepreneur could make dried Erie "jerky" from this Noah's Ark of protein options.
One CCFM vendor offered tastes of five handmade pestos, including a cilantro chipotle. The Rockin R Dairy featured Cajun Chevre. Why don't Erie marketplaces sell Great Lakes jam, jelly, and honey? Couldn't a food-historian reinvent some of the Eriez Indian cuisine? What did the French and English eat while they ruled here?
In Erie markets, bananas and other produce shipped in from outside the U.S. are sold alongside local items. But CCFM directives encourage prepared foods with "locally-sourced ingredients" that reflect the "region and culture." Adoption of these ideas in Erie would help support our local farmers and foster a regional identity.
The line at Isabel's Tamales was long, but quick-moving; many shoppers enjoyed tamales for brunch. Here in Erie, more than 10 percent of the residents were born in another country – but, at present, there aren't ethnic food options at our markets. Why don't Erie markets sell international fare from Bhutan, Iraq, Pakistan, Sudan, or Uganda? I would love to stop by a Burmese stand selling gyin thoke, a ginger salad with sesame seeds and fried beans.
CCFM manager Andrew McDaniel said the weekly market is held year-round, "rain or shine" on the William B. Reily Company parking lot (adorned with a mural of Louisiana farmlands on walls of adjacent buildings.) A thousand people shop there each month and 9 to 11 percent of customers utilize food assistance via WIC, SNAP, or Senior Coupons.
In addition to these coupons, cash, credit, and debit cards may be used to purchase market tokens. The tokens feature images of Eula Mae Doré (a Cajun cook) and James "Billy Corn" Burkett (a farmer). Erie could adopt these strategies and make market shopping easier.
While there, we observed in one corner of the CCFM market, a craftsman sharpening kitchen knives on a grinding wheel. In another, a pre-teen dressed in an all-pink chefs outfit demonstrated how Cool Kids Cook (while an adult sold books of the same title.) In Erie, vintage Griswold pans and cookbooks, along with the ReCap Mason Jar lids (created by a Lawrence Park native) could help to bring a local identity to this city's marketplace.
The layout of the marketplace helped create a great atmosphere. Ornamental okra and bright yellow sunflowers marked an entrance along Magazine Street. Instead of using the linear organization followed by Erie's State Street market, the CCFM vendors formed an outer ring around a center of picnic tables with umbrellas that encouraged friendly conversation.
Aspects of Crescent City Farmer's Market could be adopted here in Erie. However, residents of Erie are resistant to change. But, to embrace our city's unique potential, we have to be willing to try something new.
How about checking out an alternative to the big-box-Black Friday? On the day after Thanksgiving, Nov. 28, a young entrepreneur is organizing the second "Made in Erie Marketplace" at the Masonic Temple Camelot Room from 5 to 8 p.m. To find out more, email: miemarketplace@gmail.com
The Civitas collaborative (co-founder of All Aboard Erie, Innovation Erie and Preservation) Erie is working to creatively help Erie catalyze its potential through projects in economic development, transportation planning and adaptive reuse. Email lisa@civitaserie.com.