Considering the City: Don't miss Toni Griffin on April 28th
Once again, volunteers are offering Erie a gift, a vision. Will Erie accept?
April 13, 2016 at 2:00 PM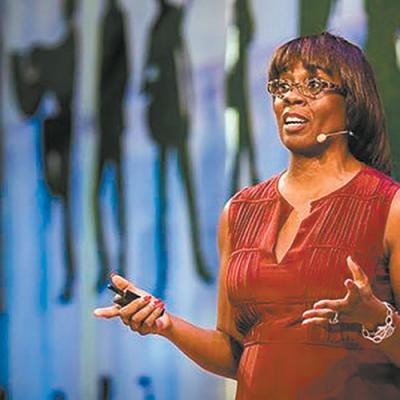 Of the more than 100,000 architects practicing in the U.S. today, only three tenths of a percent are African-American women. One member of this select group is the visionary planner Toni Griffin.
Trained at Notre Dame and Harvard, Griffin is the founding director of the J. Max Bond Center on Design for the Just City at the Spitzer School of Architecture, City College of New York. Through the Bond Center, Griffin has worked in Chicago, New York, Detroit, and other cities to create a "shared vision for equity, inclusion, and access." On April 28, thanks to Preservation Erie (PE) you have two chances to hear Griffin speak about designing a Just City.
A Just City
In her 2015 essay, "Defining the Just City Beyond Black and White," Griffin outlined three typical "conditions" of urban injustice. They are: 1) "concentrated poverty" that creates "spatial and social isolation"; 2) "divestment, crime, and the architecture of fear … with uninviting, barrier-like building materials …"; and 3) "socio-economic isolation" by natural or man-made physical divisions. As solutions, Griffin suggests 10 values from which residents may choose to help collectively create a just city: equity, choice, access, connectivity, ownership, diversity, participation, inclusion, and belonging, plus beauty and creative innovation.
This is a perfect time for Erie to discuss the idea of a Just City.
Faced with increased poverty and crime, a sea of blighted properties, ongoing job losses, long-term school funding issues, a shrinking tax base, and an ever-growing underclass trapped in poverty, residents understand that, to stop the decline, Erie must embrace dramatic change.
Opportunities abound. The City of Erie has received Charles Buki's comprehensive plan. Movers and shakers are pushing ahead with an Emerge 2040 plan. Even the Erie Times-News has joined the conversation with their recently launched "Erie Next" project.
But are these projects visionary enough?
In her TED Talk, Griffin proposed an entrepreneurial future for Detroit in which local business owners own property in "live-make neighborhoods." At the Booker T. Washington Center last August, Dr. Mindy Thompson Fullilove noted that one antidote for unjust cities is "planning to stay." A commitment to a place helps one take the longer view. John Norquist, the former mayor of Milwaukee and the 2015 PE Greater Erie Awards keynote speaker, encouraged us to end the war on congestion, encourage housing downtown, better connect pedestrians with the waterfront, and preserve the McBride Viaduct as a convenient walkway connecting east side neighborhoods.
Erie leader Cindy Purvis says "our community has so much potential" but "we have to start building it up." We must embrace a vision, commit to the work, and collaborate across traditional divides.
Two Opportunities to Hear Toni Griffin Speak in Erie
Everyone is invited to a free, first-come, first-served luncheon at noon on April 28 at Shiloh Baptist Church, 901 East Fifth Street (Perry Street entrance). Following lunch, local journalist Liz Allen will moderate a panel discussion with Griffin and Reverend Richelle Massey-Harris (former city planner in Buffalo) and Adam Trott (principal of AJT Architects). Titled "Bridging Erie's Divides: A Panel Discussion on Urban Design, Race & Economic Development," this event is collaboratively hosted by Preservation Erie, Shiloh Baptist Church, Civitas, and the new east side advocacy group ErieCPR (Connect + Respect). Allen has volunteered to moderate the panel because she knows "this is a critical time for Erie's future" and that we must "learn how other cities have turned themselves around."
Griffin will deliver her presentation "Design for the Just City" during the PE Greater Erie Awards, which begin at 5:30 p.m. on April 28 at the Masonic Temple, 32 West Eighth Street (second floor ballroom). The 2016 honorees are Curry's Spectacle Shop in the former Bank of Wesleyville, U Frame It in a former soda fountain and drug store at West Eighth and Liberty Streets, and the Victory Christian Center on Pennsylvania Avenue at East 12th Street in the former St. John's Romanian Orthodox Church buildings.
PE Greater Erie Chairman Eric Dahlstrand commented that this event "engages the community by recognizing accomplishments," inspires attendees with nationally-renowned speakers, and provides residents with an "opportunity to step back and realize what a great city we have." Tickets to the PEGE Awards are $35 and may be purchased online, from a PE board member, or at the door.
Who needs to hear Griffin?
Besides you, dear reader, representatives from all of the regional municipalities, educational leaders from local universities and Erie's Public Schools, and leaders from Erie Next, Erie Together, Unified Erie, the United Way, and other anti-poverty and social justice organizations should all hear Griffin. Likewise, folks involved in health-related fields, environmental efforts, and community organizations like neighborhood associations and watch groups should attend, as should local spiritual leaders. Furthermore, anyone involved in zoning, architecture, real estate, manufacturing, or business should be at one of these two events.
Once again, volunteers are offering Erie a gift, a vision. Will Erie accept?
Civitas members can be reached at civitaserie.com, via Facebook at CivitasErie, by emailing Lisa@civitaserie.com, or by scheduling a Friday morning meeting at the Civitas office in the Masonic Building.