Considering the City: EMTA Stakeholders
Lisa Austin on how the EMTA board needs transit stakeholders.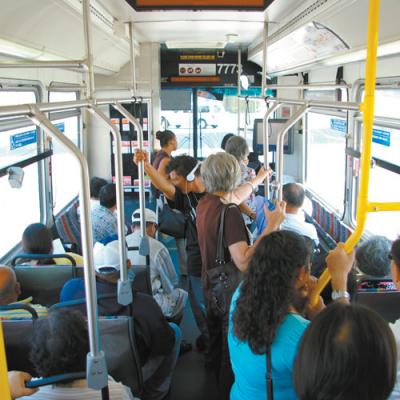 On Erie's Zoning Hearing Board, one of five seats is reserved for "the building trades." Having actual construction experience is considered to be an important viewpoint to have in zoning discussions, and this makes sense.
In the last few weeks, there has been a lot of discussion about the current method of making appointments to the board of the Erie Metropolitan Transportation Authority (EMTA). Some propose to decrease City EMTA appointments and to increase County EMTA appointments.  While the dialogue has centered around which governmental authority should make board appointments, this conversation doesn't address the skill-sets of those serving on the EMTA board.
Perhaps seats on the EMTA board should be reserved for stakeholders, somewhat independent of geography.
Seat #1 DIFFERENTLY-ABLED RESIDENT: Allow the board of Voices for Independence (VFI) to appoint someone to the EMTA board.  VFI was founded "by a group of individuals with disabilities…to provide independent living supports and services that are consumer driven, and responsive to and respectful of people with disabilities."
Ms. Shona Eakin, the VFI Executive Director, commented, "it makes sense to have members of the user community on the board" because "we know how the Authority affects individual lives," and "we know firsthand what it is like to need, and to use the services."
Eakin said the EMTA can be "great" but that an appointee by VFI would "help to impact and implement (EMTA) policy" and "offer advice on training EMTA staff."
Seat #2 NEIGHBORHOOD WATCH LEADER: Give one EMTA seat appointment to the Erie Council of Neighborhood Watches (ECNW). Mr. Steve Simmelkjaer, ECNW Chair, responded to this idea saying that having EMTA board members who are also transit users is "absolutely vital." Simmelkjaer added, "I myself am a user" and that EMTA board members who currently "may not be involved in their communities…have the power to make decisions."  He describes the current structure of user input as "minimal."
Seat #3 COMMUNITY TRANSIT LEADER: Give an EMTA board seat to All Aboard Erie (AAE).  AAE advocates for local, regional, and national transit – especially bus, light rail, rail, and high-speed rail. AAE's Assistant Executive Director, Julie Minich, is a committed EMTA rider, who says she selected her home "based on its proximity to bus lines." Minich, an expert on the Erie's bus system, already volunteers and attends EMTA meetings. Minich should be invited to serve on the EMTA board.
Seat #4 INTERNATIONAL RESIDENT: Make the EMTA board international by giving one appointment decision to the leaders of the E.F. Smith Quality of Life Learning Center, the Multicultural Center, and the International Institute. These organizations could jointly select an EMTA board member from Greater Erie's community of Latinos, immigrants, refugees, and New Americans.
Seat #5 MINORITY REP: Our minority community represented by the NAACP, the John F. Kennedy Community Center, the Martin Luther King Community Center, and the Booker T. Washington Center could appoint one EMTA board member.
Seat #6 SENIOR VIEW: Erie's Senior Centers could meet with leaders of CAT (Cable Access Television) seniors who organize the "Amazing Grays" program. Together our elders could appoint an EMTA board member.
Seat #7 YOUTH IDEAS: Erie County's colleges, universities, high school student government officers and Young Erie Professionals (YEP) could appoint a youthful EMTA board member.
And while we are on the subject of the EMTA, here are a few more suggestions: Link bus service to Amtrak and Airport schedules; establish bus service on Sundays and holidays; investigate use of smaller vehicles for less-populated routes; investigate the maintenance of an underpass bike and pedestrian path on Division Street; eliminate free parking for EMTA staff and visitors ("free" parking is paid for by taxpayers, and "free" parking discourages transit use); consider housing some buses overnight in distant points in the county to eliminate empty early morning buses heading from Erie to Edinboro, etc.
Freda Tepfer, a lifelong transit user, served for four years on the Citizens Advisory Committee of Community Transit in Snohomish County, Washington. During that time she successfully worked with other riders to organize schedule change to accommodate commuters from a Park & Ride in Arlington to their jobs Darrington, 45 minutes away.
Tepfer says that "Transit Agencies are more responsive to rider concerns when they provide a regular means for riders to voice concerns." Tepfer praised EMTA's "incremental" improvements to their website, fare structure, bus service, and smart phone trip planning options. However, Tepfer notes, "the average rider" who cannot attend the weekday daytime EMTA meetings cannot easily question or comment on EMTA policies.
In 1912, famed urban planner John Nolen claimed that many urban problems could be countered by a (single) planning agency with the authority to "exercise collective power in the name of the community" in decisions about streets, transportation, waterfront, buildings, and open spaces. If Erie had listened to Nolen, we'd not have the well-meaning but misguided decisions by our mono-cultured, siloed Authorities.
Because the Erie Metropolitan Transportation Authority's 50 year contract is up for renewal, we have a chance to shorten the contract's length from a half-century to a decade, and, to make the EMTA more responsive and effective.
It's time to make the EMTA board representative of the varied constituencies who actually ride the bus.
Learn more about the candidates at their websites and Facebook pages. Civitas members can be reached at their website www.civitaserie.com, via Facebook at CivitasErie, by emailing Lisa@civitaserie.com, or by scheduling a Friday morning meeting at the Civitas office in the Masonic Building, 32 W. Eighth St.