Considering the City: Erie's Greyhound Station
Hometown history, national landmarks, and job creators
January 15, 2020 at 10:30 AM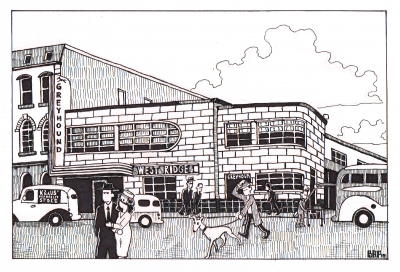 Most Erieites know of Mayor Lou Tullio, composer Harry T. Burleigh, and naval commander Oliver Hazard Perry. Tullio's portrait hangs in City Hall, Pfeiffer-Burleigh Elementary School honors Burleigh, and Perry Square features a statue commemorating Perry's victory. All important history — but only a part of Erie's story.
In the Erie Times-News, Sarah Grabski recently honored Joe Rayburg, a World War II Army vet on his 100th birthday. After harrowing missions aboard a B-25 bomber, Rayburg returned to work — at the Greyhound Station on Perry Square. As a bus mechanic, Rayburg helped Erieites visit relatives, head off to college, or embark on their honeymoons. 
Decades later, the station remained a transportation hub. In November 1977, Dave Stull and his high school pal Jimmy Mook caught a Greyhound to Fort Dix to join the Army. Dave still remembers the location of the ticket seller's cage at the back of the terminal past "freaky characters," tired bathrooms, and side doors to the buses. The station, a physical embodiment of collective memory, is what historians call a "primary resource." When we demolish places like Erie Malleable Iron, Koehler Brewery, the Viaduct, McAllister, and Greyhound, we are erasing Erie's history.
Built in 1939, the Greyhound Bus Terminal was designed to line up with the older buildings of Perry Square. Today the Greyhound remains a contributing element to North Park Row. A rare example of the Art Moderne style, the Greyhound is listed on the National Register of Historic Places. But, that recognition doesn't offer any protection because Erie has not enacted any local preservation legislation. 
Like the rest of the world, Erie no longer builds with the architectural quality once commonplace. Since the mid 20th century, most new construction features less durable materials and cruder workmanship. Thus, an on-the-record demolition review of anything built before WWII is needed. Yes, sometimes things can't be saved, but claims that a building (or a bridge) are "beyond repair" should require proof. 
Some people in Erie still remember the old City Hall on Perry Square, which stood almost opposite the Greyhound Station. In his book Lost Erie, John Claridge described old City Hall as a 19th-century brick and brownstone Richardson Romanesque building "three-and-a-half stories high with a tower rising 156 feet." It was demolished in 1963 to create a parking lot for the new City Hall at 626 State St. Back then, Erie wasn't alone in "trading down." 
In 1963, the firm of McKim, Mead & White's magnificent New York Penn Station was replaced with a cramped subterranean train station. In the face of their loss, New Yorkers took action. Two years later, New York created the Place Economic,, subsequently protecting over a thousand structures. In 2019, Erie landmarks have no protection.
"The station, a physical embodiment of collective memory, is what historians call a 'primary resource.' When we demolish places like Erie Malleable Iron, Koehler Brewery, the Viaduct, McAllister, and Greyhound, we are erasing Erie's history."
OK, preservation sounds nice, but, what about jobs? According to Donovan Rypkema, author of Place Economic, a million dollars "spent on new construction" created 32 jobs in Virginia while "that same million dollars in the rehabilitation of a historic building" created 36 jobs in Virginia. What about this state? Preservation Pennsylvania reports that preservation "is not simply a matter of aesthetics" but is a tool for "smart growth and job creation."
Attention environmentalists: architect Carl Elefante reports that "the greenest building is the one that is already built." Much labor and fuel was used to manufacture the Greyhound's glazed tiles, glass brick, and aluminum materials. If demolished, all that "embedded energy" will be wasted. Forward thinkers are already reusing Erie's buildings, including Joel Deuterman at VNET , Bob Jensen at Basement Transmissions , Mark Tannenbaum at PACA, Julio Reyes at the Maennerchor, and Alex Anthes and Ashley Pastore at Grounded Printshop. 
In the Erie Refocused Comprehensive Plan, Charles Buki told us to invest in our "existing assets" including our waterfront and historic built environment. Buki urged City Hall to delay demolishing the McBride Viaduct and hold a public hearing, but City Hall ignored the advice. The Port Authority ignored Erie Refocused and demolished the McAllister. In additional rejection of the principles of Erie Refocused, PennDOT has proposed a $100 million roadway expansion along the waterfront and the Erie Downtown Development Corporation is poised to tear down the Greyhound. 
What can be done?
Consider this: the Erie County Bar Association was all set to tear down the William Brooks House at 437 W. Sixth St. But, public/private pressure led the attorneys (bless them) to donate the rundown mansion to a development firm promising to create "an asset for the Erie Community."
Apply pressure and urge others to join you. Contact the Mayor and City Council, Preservation PA, Preservation Erie, and the Erie Downtown Development Corporation.
As Eldridge Cleaver famously said, "If you're not part of the solution, you're part of the problem."
Lisa Austin is a social sculptor and Edinboro University Art Professor. She co-founded CIVITAS in 2004 to undertake "aesthetic and functional interventions in public space." You can find her at lisaaustinpa.com