Harry T. Burleigh and the Legacy of American Music
Recounting the Erie-born composer's long-lasting impact on popular culture
November 6, 2019 at 1:00 PM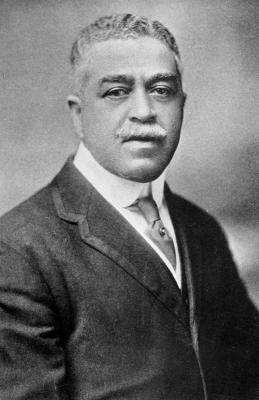 This past August, the New York Times published a collaborative initiative called the 1619 Project. First proposed by journalist Nikole Hannah-Jones, the project's purpose has been to reexamine the way in which we view the legacy and lasting impact of slavery in the United States and to recenter the conversation.
As a part of the project, journalist Wesley Morris wrote a story about the history of black American music. He described black American music as providing "a means by which singers and musicians can be completely free, free in the only way that would have been possible on a plantation" and that it was "born of feeling, of play, of exhaustion, of hope." Spontaneity and improvisation were foundational.
"The attempt to rerecord it seems, if you think about it, like a fool's errand. You're not capturing the arrangement of notes, per se. You're catching the spirit," argued Morris.
Black American spirituals embody these attributes. As they were initially shared through the oral tradition, their use of improvisation and freeform notes and rhythms made them especially difficult to document. How could the spirit and feeling of such music possibly be captured in an arrangement?
It was 70 years ago this year that a man who had dedicated his life to that very challenge passed away.
Harry T. Burleigh was born in Erie on December 2, 1866, less than a year after the end of the Civil War. His father, Henry Thacker Burleigh, Sr., was a veteran of the war and his mother, Elizabeth Lovey Waters, was a graduate of Avery College who taught at the all-black school in the city.
His maternal grandfather, Hamilton Waters, was well-established in Erie's black community and had been an integral agent in the region's Underground Railroad. Decades before the war, Waters was enslaved, but purchased his freedom (along with his mother's) before eventually settling down in Erie.
Burleigh was a vocalist and a classical composer of hundreds of original songs, trained at the prestigious National Conservatory of Music in New York City. It was through his grandfather though that Burleigh learned many of the spirituals that he would dedicate so much of his time to arranging, songs including "Go Down, Moses (Let My People Go!)," "Go Tell It on the Mountain," "Nobody Knows the Trouble I've Seen," "Deep River," and "Swing Low, Sweet Chariot."
"The plantation songs known as 'spirituals' ... are practically the only music in America which meets the scientific definition of Folk Song," Burleigh wrote in 1917. "Success in singing these Folk Songs is primarily dependent upon deep spiritual feeling. The voice is not nearly so important as the spirit and then rhythm."
Burleigh recognized what Morris described in his New York Times story: it was the feeling, the spirit, the rhythm that was most important, not the voice.
He arranged and advocated for spirituals at a time when white Americans knew little of such music beyond what was portrayed in popular racist Jim Crow minstrel shows. Burleigh openly criticized minstrels for portraying spirituals with humor and through caricature rather than with the serious attention that they deserved.
"Their worth is weakened unless they are done impressively, for through all these songs there breathes a hope, a faith in the ultimate justice, and brotherhood of man," explained Burleigh. "The cadences of sorrow invariably turn to joy, and the message is ever manifest that eventually deliverance from all that hinders and oppresses the soul will come, and man — every man — will be free."
Burleigh's life and accomplishments should continue to be acknowledged and celebrated. Today, his legacy lives on through the work of The Harry T. Burleigh Society and other scholars, as well as through biographies such as Jean E. Synder's 2016 book Harry T. Burleigh: From the Spiritual to the Harlem Renaissance. There's even a street in Downtown Erie named for the composer.
"Burleigh led the way for both black and white composers in his solo and choral arrangements of spirituals in the early part of the twentieth century," wrote Snyder in her introduction to the book. "His work helped preserve and transform one of America's earliest contributions to the world of music, the songs that arose out of the sufferings of slavery but give voice to an indomitable human spirit and have engendered some of America's most vibrant musical traditions."
Burleigh's arrangements were essential to the preservation of spirituals in our historical memory. They also remind us of the cultural significance of black American music. What is American music without the spiritual? Without it and the work of black men and women such as Burleigh dedicated to preserving and advocating its legacy, there likely would have been no Harlem Renaissance. There would be no blues, no jazz, no ragtime, no rock 'n roll — and without Robert Johnson, Billie Holiday, Ella Fitzgerald, and Chuck Berry, there is no Frank Sinatra, Elvis Presley, Bob Dylan, or Rolling Stones.
"After a long and distinguished career as a singer, composer, and arranger, [Burleigh] died in relative obscurity on September 12, 1949," Ellsworth Janifer wrote for Phylon in 1960, an African-American academic journal created by W.E.B. DuBois two decades earlier. "Henry Thacker Burleigh should be remembered as one of the outstanding song writers of the early twentieth century. He deserves our highest respect."
Just as Harry T. Burleigh worked to ensure that the legacy and memory of black spirituals lived on, it is up to us today to collectively ensure that we do the same for Burleigh.
Jonathan Burdick runs the historical blog Rust & Dirt. Follow them on Twitter @RustDirt, and on Instagram @RustandDirt.