Considering the City: The Legacy of Wilbur Henry Adams
Good design makes business sense, but how do designers make products look "better", and what can Erie do to attract more designers? 
December 23, 2014 at 10:05 AM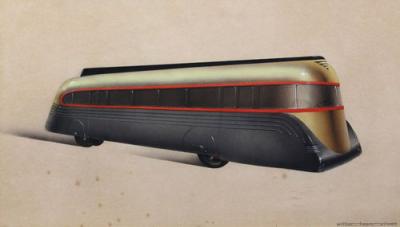 Streamlining America, currently on display at the Erie Art Museum, will remain open until March 29, where visitors have three months to discover the work of Erieite Wilbur Henry Adams (1906-1958). 
Wilbur Henry Adams, once a student of George Ericson at Academy High School, took courses in Pittsburgh at the future Carnegie Mellon, and earned a degree from MIT. He worked in Pittsburgh, Erie, and Cleveland, producing designs for domestic, commercial, and industrial products, as well as interiors, buildings, and even a bridge.
Despite this, Adams isn't well-known today. His early death cut short a prolific career, and his decision to work independently, without a team of other designers in a large firm, resulted in much of his work being discarded over the past half century. 
With this exhibit, curator and historian Alexa Potter is placing Adams among the fathers of American industrial design, including Walter Dorwin Teague, Raymond Loewy, and Norman Bell Geddes, and she describes the designer as having "had his own vision" yet being "very practical" knowing that "at the end of the day" his job was "to move forward the sale of a product." 
On display in this well-researched exhibit are some of Adams' notebook sketches, finished drawings, commercial posters, and designs for toilets, stoves, a car and a bus, toys, a city hall in Perry Square, a floating bandstand, and an airport and a futuristic landing field. The show includes one of Adams' fashionable bikes, a retro gas pump and toy models of tractor designs. 
But the collection is more than solely his work – it is a triumph. Local animation studio MoreFrames has created an animated celebration of Adam's work.  Kids will love the free "styled by Adams" tattoos. The tiny illustrated exhibition brochure, a gem, is also free with admission. 
In the show, a copy of a 1938 publication, PM Magazine, provides "before" and "after" images showing how Adams updated products. PM praised Adams' aesthetic improvements of tractors and air compressors noting that "manufacturers now realize that appearance design is a valuable sales asset." 
Okay, good design makes business sense, but how do designers make products look "better"? 
First, designers learn to "see" – usually by drawing. Skilled artists and designers "see" better than the rest of us. Try this: Pick up a flower, a shell, or a branch. Look at it for a minute. Then, continue looking and draw the object for ten minutes. You will be frustrated, but you soon will see more than your first glance revealed. 
Designers learn about materials. One particular photograph in Streamlining shows Adams shaping clay; in another he turns and carves wood on a lathe.  Designers model, bend, fold, weave, sew, carve, cast, rivet, weld, solder, and glue things together. While today's designers embrace digital modeling and 3D scanners and printers, they still benefit by working directly with their hands.
Designers consider the "job" of each object. In well-designed products the form (the shape of the object) is inspired by its function (the object's job.) Paola Antonelli, curator of architecture and design at the Museum of Modern Art, describes the elegant functionality of "simple" paperclips, Post-it notes, LEGOS, and M&Ms in her book, Humble Masterpieces.
In addition to art and engineering, industrial designers need business skills. Knowledge of marketing, patents, budgets, billing and project management is necessary to become commercially successful. While our regional universities offer degrees in art, business, and engineering, no school has an industrial design program. 
According to the Industrial Designers Society of America, of the 7,000 higher-education degree-granting institutions in the United States, only 65 schools have Industrial Design programs. Luckily, almost half of these are within an eight-hour drive of Erie – the closest being 100 miles west, at the Cleveland Institute of Art.
Unlike Adams, however, when some students go away to school, they don't return to Erie – or if they do return, they may not find design work. Observing the lack of design opportunities, local industrial designers Bob Smith and Mike Yurkewicz helped found the InnovationErie design competition in 2008. 
While InnovationErie has helped a dozen new products come to market, the Erie Community still need to work to foster design excellence. Let's establish an Erie County Industrial Designer Laureate to attract Erie-born industrial designers to make a visit home – or – to showcase the designers already here. These industrial designers could visit our schools and offer workshops. Perhaps the Manufacturers' Association could commission the Erie County Industrial Designer Laureate to work with a local industry.
In 2011 in Detroit, a few people decided to take a risk and embrace the city's manufacturing legacy. They founded Shinola, a company specializing in watch, journals, bicycles, leather goods, and more. Shinola's design excellence – from the logo to the portraits of "craftspeople" on the website – helped to sell great products. 
A few weeks ago, the Brookings Institute VP, Bruce Katz, visited Erie. Katz believes Erie will flourish – if we foster a "vibrant sense of place," with "no barriers" for new businesses, and we "connect this to manufacturing." Katz encouraged Erie to "set a vision" based on our "distinctive legacy." Inspired by the legacy of Wilbur Henry Adams' industrial design and Detroit's Shinola, it's time – now more than ever – to set a new, bold vision of design excellence for Erie manufacturing.
Civitas members can be reached at their website www.civitaserie.com, via Facebook at CivitasErie, by emailing Lisa@civitaserie.com, or by scheduling a Friday morning meeting at the Civitas office in the Masonic Building, 32 W. Eighth St.