Controlling Your Holiday Food Baby
Need some fashion tips to help you hide those few extra pounds you put on during the holiday season? Cristina Schreckengost has the answers and the fashion you need.
December 28, 2011 at 12:00 PM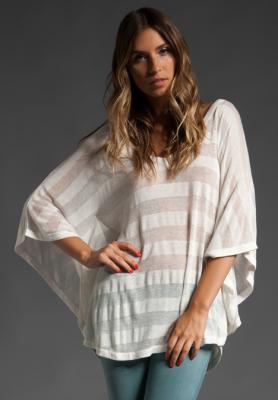 How do you define the holidays? For some it's about tradition, decorations, lights on trees, wrapping presents, and parties. For others it's about church, reflection, giving to those in need, and celebration of the things in life we love and appreciate. For many people it's a combination of all of the above. One thing that remains consistent from year to year about these sentiments is that they all tend to involve food, and no matter how hard we try to avoid it, annual festivities sooner or later lead to some holiday bloating otherwise known as the dreaded food baby. Sure, it goes away after a day or two, but who wants to party in bloated discomfort—especially this time of year when there is always some place good to be?
My sentiment this season is for the social holiday butterflies out there that suffer from a lack of cookie tray control. Sure, it feels great to start the season out in a pair of hot skinny jeans and a sparkly top, but by the time Christmas or New Year's Day rolls around that favorite pair of sweat pants is starting to look pretty good. I am here to tell you to save the tracksuit for the gym because there are plenty of tips and tricks for minimizing and hiding your holiday food baby while still partaking in the seasonal delights.
Let's start out with the office-going ladies. This time of year can be dangerous with all the baked goods going around, small work parties, and people dumping their yuletide leftovers in the break room. The easiest way to avoid the food-baby bump in this situation is to bag a lunch. If you bring healthy food from home, you're less likely to overindulge at the break room buffet. When it's time for the actual party, show up in a high-waisted skirt paired with a loose fitting blouse. The "Poly-Viscose Pleated Schoolgirl Skirt" in black from American Apparel, paired with the "Navajo Blouse" by Blu Moon from Piperlime is perfect for hitting up the snack table in holiday style. The high-waisted skirt is not only a great addition to the work wardrobe, but because of its placement on the waist, it conceals a small amount of bloating comfortably. Tuck the Navajo printed blouse in, slip on a pair of shimmery black tights, and finish everything off with basic black heels. This look will allow for several trips to the cheese tray in comfort and style.
The next social situation is a little trickier. This is the time of year when there is really no shortage of excuses to spend a night out wassailing. Between catching up with old friends, an onslaught of party invites, and sneaking out from family gatherings with cousins, it's pretty easy to find ourselves sitting at a bar, consuming our fair share of alcohol and appetizers. We want to look our best this time of year, but with the high caloric count of pub fair, skinny jeans just seem painful. That's why I personally recommend the party dress. My favorite go-to retailer for an affordable option is Urban Outfitters. The "Staring at Stars Pleated Chiffon One-Shoulder Dress" in red is perfect for a festive night out. Between the hemline and the chiffon pleated panel, this dress shows off your legs and shoulders while keeping your tummy elegantly tucked away under a soft knit fabric.
Keep in mind that it's not only the dress's responsibility to help prevent belly bloat. If you are concerned with the evening's dietary options, opt for wine over liquor or beer, since wine has less calories than liquor or beer and won't result in "feeling full" after you have had a couple glasses.
The last of the holiday gatherings (Christmas and New Years Day) are the easiest to dress for. Honestly, most of us can show up at mom and dad's house in jeans and a holiday sweater, but why not mix it up a little bit this year? I recommend swapping out the jeans for leggings and upgrading the sweater to a poncho. Let's face some holiday facts. There is no getting around the food baby on Christmas day, so you might as well be comfortable.
Ponchos are extremely cute and trendy, but more importantly you can wear leggings with them. With a pair of knee-high boots everyone will think you're a fashion genius in this outfit, but secretly you've come prepared to stuff your face. This same theory applies to New Year's Day dinner as well. I recommend (and already own) the "Striped Poncho" from The Limited. The neutral colors in this poncho allow for many different styling options. You could even do a bright red legging with it just for the season. Layer on a long statement necklace and you will look like a holiday rock star.
Once New Year's Day finally passes, and all the leftovers are gone, we will hopefully start to come down from our foodie high that we have been riding since Halloween.
Starbucks will have run its course of seasonal lattes and cookies will no longer be seated high upon the food pyramid, shifting the most magical, and indulgent, time of year into a season of resolution. Many will begin new workout regimes and diets, turning their food babies into ghosts of Christmas past. And what will that food baby ghost of Christmas past remind us of? Hopefully that we had a great time being with the people we love because that's what the Holidays are really about.
Happy Holidays everyone!
http://www.americanapparel.com/rsavt300.html?cid=151&c=Heather%20Taupe
http://piperlime.gap.com/browse/product.do?cid=64474&vid=1&pid=101855&scid=101855002
http://www.urbanoutfitters.com/urban/catalog/productdetail.jsp?id=22189047&color=040&itemdescription=true&navAction=jump&search=true&isProduct=true&parentid=W_APP_DRESSES