Counting Galleries on Gallery Night
February 27, 2019 at 11:45 AM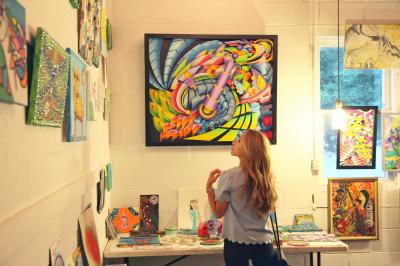 Friday, Mar. 1
Does art imitate life or does life imitate art? Well, you're not going to figure it out posing with your private collection of 20th century furniture at home. Get off your crushed velvet rocker and partake in all the liveliness surrounding the arts in another edition of the Erie Art Museum's Gallery Night — the first of 2019 and the event's 12th season overall. Twelve galleries join the Art Museum in welcoming guests to peruse exhibits, enjoy complimentary refreshments, and, in many cases, meet and greet the artists themselves. Many pieces, as well as handcrafted items from local artisans, will additionally be available for purchase.
Visit as few or as many galleries in whatever order you please, but if you start at home base — the Erie Art Museum (20 E. Fifth St.) — be prepared to "be moved," whether it's by one of the thousands of pictures in the "Everything But The Shelves" display or the music of Jeremy Jaeger of Division Street Machine (with or without the aid of select $2 beers). Other ongoing exhibits include Kids as Curators 2019, Donna Nicholas: The Space Between, Tyanna Buie: Recollections, the wirily whimsical metalwork of Bill Brady, and the driftwood menagerie of Brian Pardini.
And now for a stroll through the other offerings (with few exceptions, most of this Gallery Night's participants are within easy walking distance of one another).
Art for Well-being Everywhere (AWE): Get in touch with your Feminine Spirit, as the work of women Anne Cameron Cutri, Holly Nowak, Elizabeth Kelly, Jane Davis surely packs a wallop in terms of visual interest. Oil, watercolor, and acrylic paintings share space with woven, beach glass, and driftwood art and the music of Maia Chisholm on harp. — 915 State St.
Ember+Forge: Warm up with a coffee and peruse a series of prints and paintings from Mexican artist Marco Sanchez entitled Mischievously Clever or Self-Willed Persons. Sanchez will be on hand, as will Steve Maynard setting the mood with an assortment of vinyl tunes. — 401 State St.
The Office of Dr. Jack Jamison and Dr. James Loeslein: Emphasize a thoughtful and upright posture for a session of Exploring Watercolors at these local chiropractors' office. Enjoy eye-popping colors (and nary a popped disc) in this collection of paintings curated by Artlore Studios, while musician Eric Brewer plucks his six-string with precision. — 2220 W. Eighth St.
D'Hopkins Denniston Gallery & Boutique: Lightly refresh yourself as D'Hopkins Denniston observes lucky anniversary number seven. Featuring art across a variety of media (including some you can wear), it should be a treat for the gallivanting Gallery Night-goer. — 5 W. 10th St.
John M. Lilley Library Gallery: Make a pit stop at Penn St. Behrend before heading downtown (gallery closes at 8 p.m. — that's the way the cookie crumbles; but please enjoy a free cookie) for Greg Zbach's Beyond Boundaries digital media exhibit. Zbach is serving as juror of the Patricia S. Yahn Student Art Show at Mercyhurst's Cummings Art Gallery. — 4951 College Dr.
419 Artifacts: Talk about a big reveal; 419 Artifacts is letting it all hang out for International Boudoir Month. Be enticed by this salon-inspired exhibit(ionism), which will feature vintage boudoir items including custom lamps, bed dolls, period clothing, vanity items, and more. Au naturale-y, adult beverages and mature cafe music will accompany the affair. — 419 State St.
Oasis Market: This aptly-titled year-round indoor farmers market and small business incubator aims to be a worthy disruption to the downtown food desert. Browse and shop to live music in between gallery stops. — 914 State St.
Erie Art Gallery: Local artists Kris Risto, Corey Thompson, Luke Powers, and Jared Faulkner debut The Fallacy of Ambiguity, a mind-bending sampling of surreal portraits highly subject to subjectivity. — 24 W. Eighth St.
PACA Building, Attic Rehab, and Erie ClaySpace: Capitalize on two stops under the same roof —Attic Rehab provides the backdrop for the Edinboro Drawing and Painting Club's faculty and alumni art show and auction, while Erie ClaySpace will host a garden tile decorating session and throwing competition on PACA's third floor. — 1501-1505 State St.
Masonic Temple Association: Whether you're a part of a secret fraternal organization or not, it's no secret that Erie's Masonic Temple boasts some of most exquisite architectural detail in the city. Tour the Grand Ballroom, Lodge Room, Camelot Dining Room as a Mason directs your attention to other points of interest along the way. — 32 W. Eighth St.
Glass Growers Gallery: Next door to the Art Museum, feast your eyes on paintings from Heather Miller Kanazawa (As Above So Below) and handcrafted semi-precious gemstone jewelry from Anna Balkan while feasting your stomach on wine and chocolate. — 10 E. Fifth St.
— Matt Swanseger
7 to 10 p.m. // various locations // erieartmuseum.org/events-gallery-night