Curated Curiosities on Chestnut
Copper Carriage owners Stephanie and Joe Hunt creatively reuse antique items and decor
Before walking through the door of the Copper Carriage, a unique antique shop nestled into the old offices for the factory at 1909 Chestnut, a sign reads: "Beware, fluffy guard dog on duty." That's Izzy, a little, snuggly floof who runs up to greet you as if you came to visit her at home. 
And it's that feeling of home that owners Stephanie and Joe Hunt are trying to elicit. Stephanie explains: "I always said that if I ever had a shop I'd want it to feel like you were walking into my home but everything is for sale." So, the couple has worked to create a space that feels comfortable, familiar, and inviting. The Hunts didn't start out with the plan to own an antique shop, but the road rose up before them as their hobby of collecting antiques grew into what is now a successful small business in a beautifully reused historic space on Chestnut Street.  
And the couple isn't keeping their success to themselves. In the summer of 2021, Copper Carriage hosted their first open-air market featuring local vendors, makers, antique sellers, as well as local food and drink for 814 Day in August followed up by an "Autumn and Oddities" Halloween-themed market in October and a chilly Spring Market at the end of March. These events have been so well received that the Hunts are working to continue the tradition and make the markets a regular event for the Erie creative community.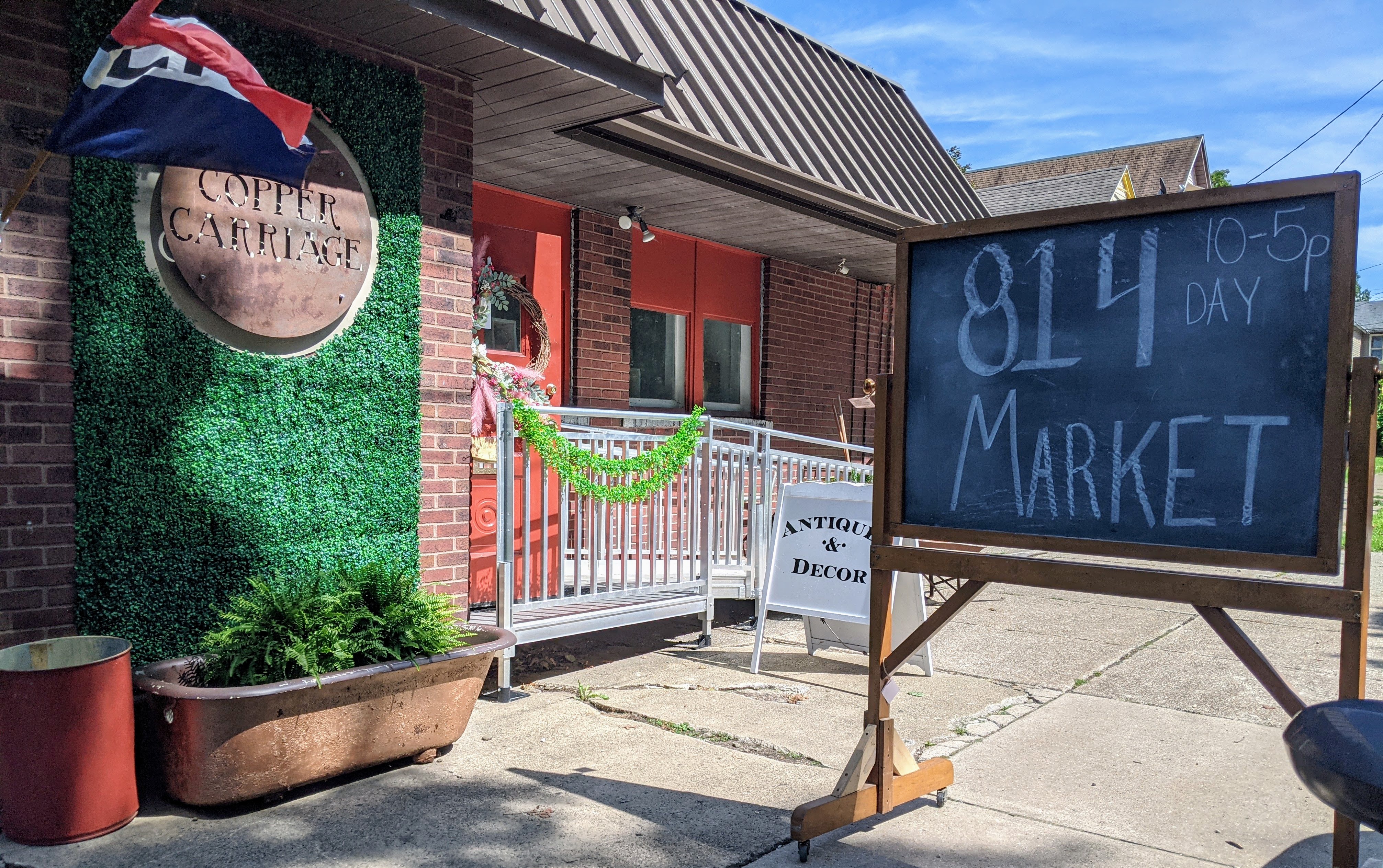 The entrance to Copper Carriage at 1909 Chestnut street on the day of their first Market on 814 day started a regular event featuring local vendors, artisans, food, drink and music.
The story of Copper Carriage began when Stephanie went to pick up an antique cabinet one day. "It all started organically; we moved into an old house in early 2017 and we just started collecting for ourselves," Stephanie recalls. "Some of the very first pieces we got were from this local guy who was a lifelong collector/picker. I went to pick up a cabinet that Joe found on Craigslist for the house. I was amazed: this man has an entire barn and house full of stuff. He told me that if you find something but it's not your style but you find it interesting grab it up, because someone will want it." It was this advice that sparked what would eventually become Copper Carriage. The Hunts began by selling these extra items on eBay, and while visiting the Edinboro Antique Mall, asked to be put on the waiting list for a vendor stall. In late 2017, they were assigned a 10-by-10 stall at the antique mall and everything cascaded from there.
In October of 2019, Joe noticed a post on Facebook for a retail space for lease in the Shops at 19th and Chestnut. The Shops are owned and operated by the McCreary family, who previously used the space for their roofing company but have since moved that operation to a different facility and now keep the massive industrial building to lease for art studio space and events. 
At this point, the Hunts had two stalls at the Edinboro market and were busting at the seams. They went to see the available space on 19th and Chestnut and knew they could make it work. After doing some renovations to make sure the shop was ADA compliant and conformed to fire code (which meant, thankfully, tearing down the drop ceilings to reveal the gorgeous, original high ceilings underneath), as well as having the property zoned for business with the help of the ever-present Sisters of Saint Joseph Neighborhood Network, they were set to open in November of 2020.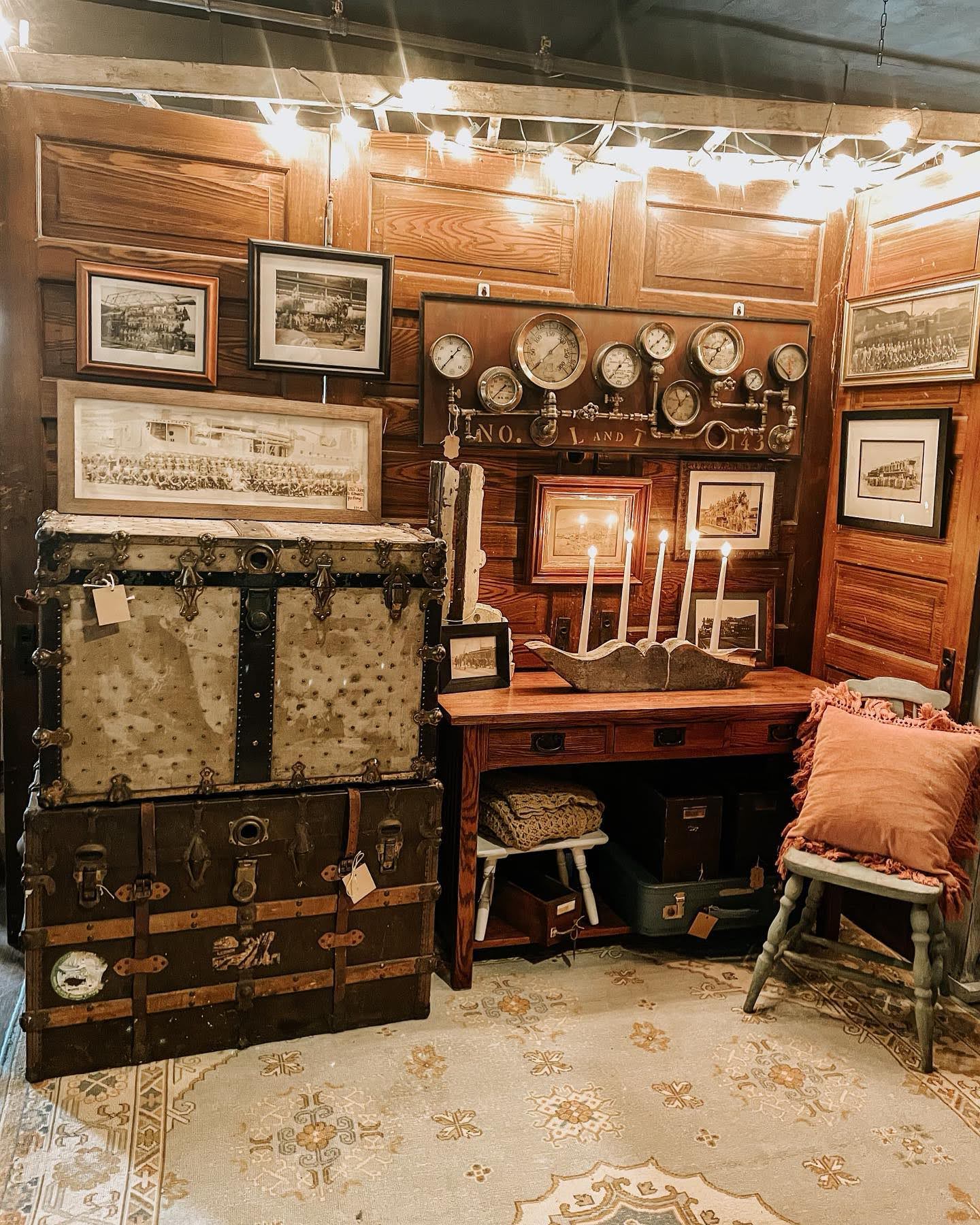 Copper Carriage is curated to look and feel like a beautifully decorated home. The Hunts have divided the open former office space into different "rooms" like an antique Ikea, set up to give their patrons ideas of new ways to use old items, and give them a new life. (Contributed photo from Copper Carriage).

Walking into a well-curated antique store already gives one a sense of the past, but having that antique store in a building that is over 100 years old amplifies that feeling of history. The building itself has been a fixture on the southeast corner of 19th and Chestnut, along the Nickel Plate Road, for more than a century, but in all that time, it has only had two owners: Germann Bronze (which later became Erie Bronze) and the McCreary Roofing Company. Germann Bronze was started by John G. Germann who came to Erie in 1889 and shortly thereafter incorporated his business at 19th and Chestnut. It was highly successful and Germann was a well-respected citizen. However, he suffered from chronic pain, "nervousness and sleeplessness" which led him to commit suicide in 1909, leaving the business to his partners. 
It was shortly after Germann's death that the name of the business was changed from Germann Bronze to Erie Bronze, mainly due to anti-German sentiment following World War I. According to an Erie Times News Article from September of 1993 in which the vice president of Erie Bronze and Aluminum, Kevin O'Connell was interviewed: "The facility with a big sign that said 'Germann Bronze Company' was located along the railroad tracks and every time a troop train went by the building was bombarded by stones. It lost so many windows that the name was changed." Erie Bronze and Aluminum, the same business started in the 1900s, moved their operation to Fairview in 1967, and is still in business today.
And now the building, shorn up and made modernly comfortable by the McCreary Roofing Company who purchased it after Erie Bronze moved out, is being reused to house some of the most creative minds in our town. MenajErie Studio (video production) has their spot on the 19th Street side of the property with Brad Triana's BOTH Studio, and of course, Copper Carriage with their imaginatively laid out shop on the Chestnut Street side. A corner that was once purely industrial is now a hub of creative local talent. 
This mix of history, creativity, and reuse is what drives Copper Carriage; preserving those items, made with the quality and craftsmanship of the past, that would otherwise be overlooked or discarded and showing people how they can be used in different ways. Stephanie explains: "I think it's also about saving things from going into landfills, it's an environmental aspect of reuse. A lot of what we do is repurposing things. Sometimes something can't be reused as it was originally intended. Toolboxes are a good example. No modern carpenter is going to lug around an old wooden toolbox, but it can still be useful and beautiful as someone's centerpiece or as a shelf. People come in here and say 'Wow, I didn't even know this place was here!' and that's kind of like the way we display our things: 'Oh I didn't know I could use it for that!'"
For Joe Hunt, preserving local antiques is particularly important to him: "My family has been here in Erie since like 1820. My fourth-great uncle started Erie City Iron Works. There was so much manufacturing in Erie, that now there are so many collectible items left from those days. Griswold Cast Iron, Marx Toys, Erie Iron Works, even tools like from Reed Manufacturing … For a collector, Erie items are really desirable." 
It is in this spirit of supporting locally made products that the Copper Carriage came up with the idea of hosting their markets, allowing local creatives as well as other antique dealers to have the opportunity to share their wares with a larger audience. "I think it's amazing how many creative people live in Erie." Stephanie continues, "The markets are a way to give back to those people who don't have their own retail space. Everyone wants it to be a success, everybody promotes everybody — we're really working together in that community sense."
Sally Jankowski, former owner of the vintage shop Attic Rehab and a regular vendor at the markets hosted by Copper Carriage, reflects on their importance: "The markets have been great! This is such a fun opportunity to do the creative work I enjoy with furniture and vintage pieces without the stress of running an entire business. I can approach it with a more relaxed mindset." Jankowski continues, "I think so many people are drawn to the markets because it's an easy way to explore the world of entrepreneurship without the risk. I also see the community come out in droves for these events."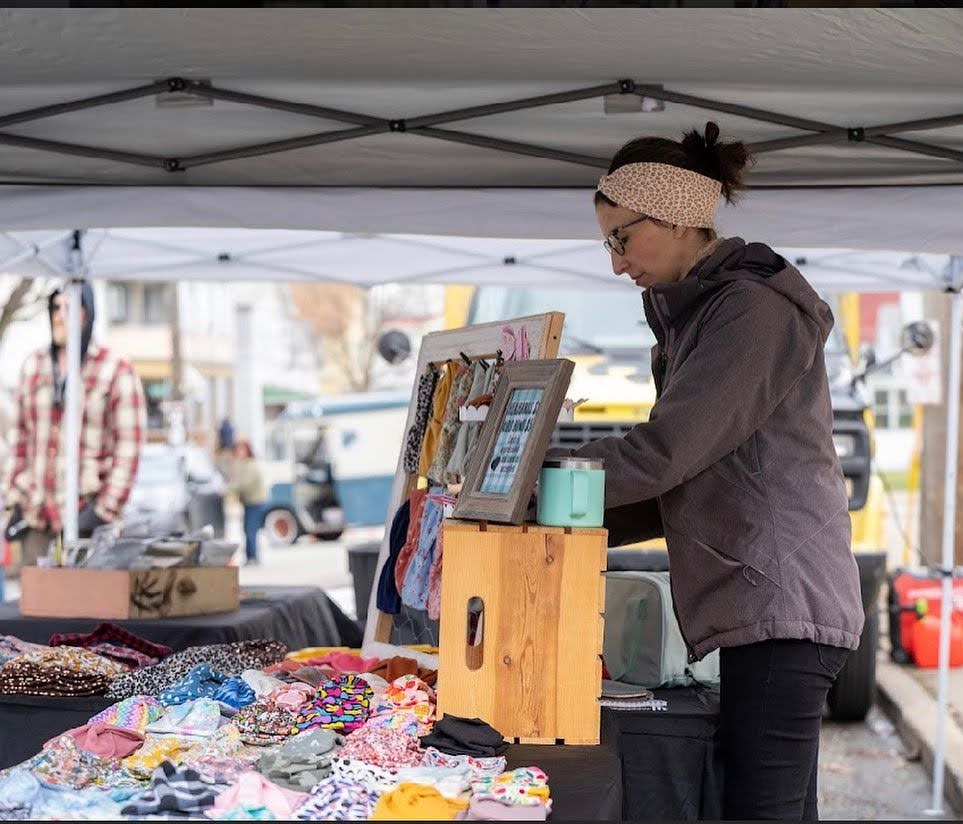 Local vendor, Charmain Wismar, sets up her booth for Copper Carriage's Spring Market which kicked off their market events for 2022. The next market is scheduled for June 25th from 10am-4pm on 19th and Chestnut Streets. (Photo contributed by Menajerie, whose studio is also in the Shops at 19th and Chestnut).
Charmain Wismar, owner of Charmain's Custom Creations is also a happy vendor of the Copper Carriage Markets. She has been overwhelmed with the amount of support she has received from the Hunts, as well as the Erie community: "Copper Carriage is supportive of not just the business I run but of other local businesses. Joe and Steph see the positive in everyone that surrounds them. All it takes is for one person to believe in you and that sparks a fire to succeed. I look forward to the market this summer and all the success and happiness it brings to Erie." 
Currently, Copper Carriage has a Summer Market scheduled for Saturday, June 25 from 10 a.m. to 4 p.m. which will take place on a closed-off Chestnut Street just south of West 19th Street, as well as in the Copper Carriage parking lot. In addition to a menagerie of local vendors, there will also be live music, local beer and spirits, and food trucks. And, of course, the Copper Carriage will be open for business during the market, with all of their best, most unique, and most recent finds ready to find a new purpose in your home.
The Copper Carriage (1909 Chestnut St.) can be reached via Instagram or Facebook at @coppercarriage or at coppercarriage.com. And look for their recurring ads in the Erie Reader for notifications of their upcoming Market events.