Dahlkemper Reflects on Leadership, Legacy, and What Comes Next
An interview with the outgoing Erie County Executive
January 6, 2022 at 3:00 PM
Leadership in elected office can be measured in various ways. Early-morning phone calls. Late-night emails. Battles fought and won and waged and lost between branches of government. Political accomplishments and regrets. Time spent in the office. Time spent in the community. The comparison of the state of the post before one takes the mantle to how one leaves it for those who serve after.
For Kathy Dahlkemper, Erie County's sixth county executive, by the simplest numbers to count, her leadership in the office of Erie County Executive amounts to eight years. Or, 2,922 days. Or 70,128 hours. Or 4,207,680 minutes. After all, as the 64-year old puts it, elected officials are always on.
One might also measure her time leading Erie County by counting the creation of the Erie County Community College. Or, the launch of Blue Zones in Corry; or, the NexGen Public Safety Radio System; or the declaration of racism as a public crisis.
One might also look at her leadership during the COVID-19 pandemic that rages on. Or her push for a Marine Sanctuary Designation for Lake Erie. Or economic development ebbs and flows.
Or her historic second-term election. Or, her decision not to seek reelection again despite being eligible for one more term.
Prior to Dahlkemper, Erie County voters opted for fresh leadership every four years. Only Judith Lynch, Erie County's second county executive, had won reelection. Lynch, who governed in an era predating term limits, won four reelection bids. Dahlkemper, who took office in 2014, won again in 2017, serving from 2014 to 2022 and remains eligible to serve one additional four-year term.
As she exits office, she spoke about her initial decision to run for county executive, her time as an elected official, the legacy she leaves, and what's next for her. Here she is in her own words.
Ben Speggen: Serving as Erie County Executive was not your first time in political office. Why run for county executive? Why did that make sense to you in 2013?
Kathy Dahlkemper: I was a newbie to politics when I ran for Congress in 2007. I was involved in a lot of things that helped make a difference and found that I liked it. I liked being a public servant and was actually pretty good at it and thought there's more for me to give back to this community that I really love and care about.
I actually looked at running for mayor and for county executive since both were going to be in election years in 2013. I looked at what each branch of government does, and I really felt drawn to county-level government, a kind of government definitely about people. We don't pave roads; we don't fix potholes; we don't pick up garbage. We're about serving people, often the most vulnerable people in our community. And that was something that aligns very much with who I am and my mission in life. This may sound kind of corny, but we all need to have our life purpose in front of us. My life purpose statement is: "I lead in order to save lives."
BS: When you came into office, day one, what did you find was your biggest misconception you had thought about the office of county executive but then learned on the job?
KD: It is so much more complicated, and so much more impactful than I thought. I knew it was complex, but the complexity was something that was hard to grasp from the outside until you're actually in the middle of it.
BS: What's the biggest misconception the public has about what the county executive does?
KD: I still think there are a lot of misconceptions around how county government is probably the most impactful branch of government in terms of people's daily lives in Erie County. One of my goals was to try to help the people better understand county government in general.
BS: You started going on TV daily at the onset of the pandemic to give updates. Why was that important?
KD: There was a lot of national and global coverage, but someone needed to be the face, somebody needed to be the one who brought the information about our community, specifically — what was happening right here where people lived, to help allay their fears, and to help give them the pertinent information they needed to protect themselves or family, and those they love. With the health department under my jurisdiction, and that being the lead agency, with a pandemic, it just felt like the right thing to do.
BS: What has been the most challenging thing for you during the pandemic?
KD: The misinformation that people have grabbed on to and believe, and the belief in that misinformation around science, around something that's a virus, became political in many ways. It's been frustrating, it's been sad, and it's been concerning because people are dying because of that.
BS: So not unlike your predecessors, you ran for a second term. But unlike all of your predecessors, except for one, you got elected to a second term. What did it mean to you to be reelected county executive, to become only the second person in Erie County history to do that?
KD: It was huge. I mean, we were doing so many good things at the time, there was so much more I wanted to get done, but it was a tight race. The community college was actually the issue. I felt like it was almost the Affordable Care Act election all over again. That was very divisive, and I was in the middle of it.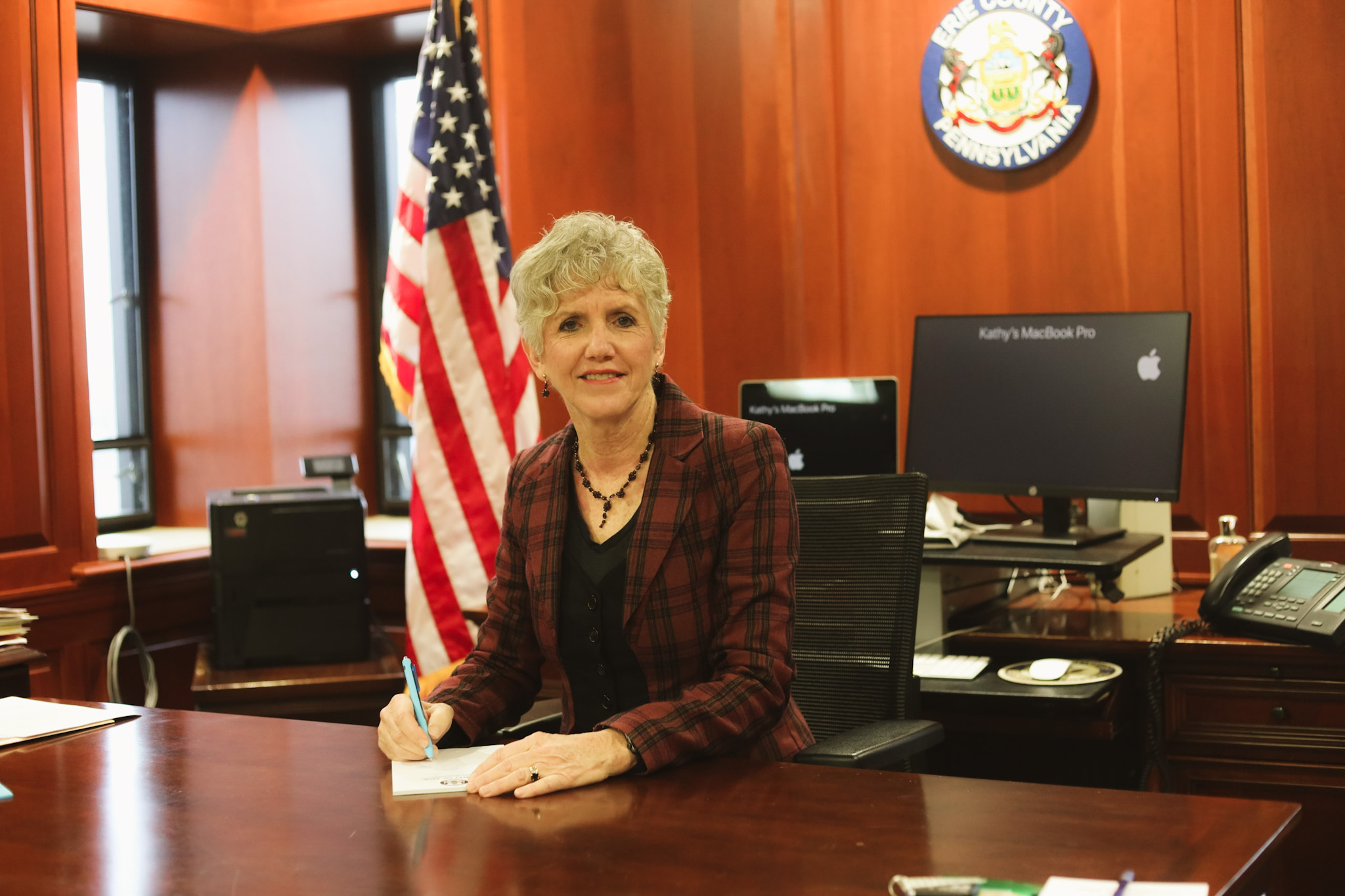 BS: What does it mean to be leaving the office now with your county having a community college?
KD: It's one of the greatest achievements that not just my administration, but collectively with others we were able to achieve in Erie County in decades. It will have many, many long-lasting positive effects on our economy. But more so, I think just on people's ability to get out of poverty to find a future, to actually live the life they want to live.
BS: You're eligible for one more term; why not run again?
KD: A lot of reasons, but my energy is waning. I'm an all-in person, and if I can't give it my all, then maybe it's time for me to step back. And I could feel my energy waning, and COVID probably had some piece of that.
BS: I tend to think there are two types of executive leaders exiting office: One that remains somehow politically involved, charged, in the orbit; and the other that just walks away and is done. Do you know which one of those you are?
KD: I'll be walking away, and I'm done. I'm still going to do some of the things I really believe in, like trying to convince women to run for office, because I think that's really important. But I'm not going to be out there, real politically active, and in the middle of stuff. It's not who I am.
BS: What would you say was the riskiest decision that you made in office that paid off?
KD: The community college because I almost lost a race because of it.
BS: Besides the community college, if you had to pick one — and this is probably like picking a favorite child — what do you think your biggest accomplishment has been while in office?
KD: Besides the community college, there are a lot of things I'm extremely proud of, but the Erie County Next Generation Public Safety Radio System is huge. The one I'm most looking forward to in the long run that I think will make a big difference if it's done right, is our resolution that proclaims racism a public health crisis and the creation of the Diversity, Equity, and Inclusion Commission.
BS: The wheels of government sometimes can move very slowly. If you had a magic wand that you could wave to do something big on your way out of office for the better of Erie County, what would be your one wave of the magic wand?
KD: To have NOAA to give us our National Marine Sanctuary. That's something I really feel will make a huge difference for our community.
BS: What do you think you're going to miss the most?
KD: The people. This government really has some amazing employees who are so dedicated to their work. I'm going to miss being in the know, whether it's a transportation thing, or whether it's something in human services, or economic development, or whatever, you're in the middle of it all.
BS: What are you going to miss the least?
KD: I'm not going to miss the loss of my personal life. As an elected official, you're always on.
BS: What's one thing that people may not yet know about you?
KD: I love to dance.
BS: Jan. 3: what are your plans?
KD: I'm hoping that we have a ton of snow [laughs]. I'm going to go to the Wilderness Lodge, and I'm going to ski for a few hours.
BS: When it comes to executive transitions, people sometimes think of the letters U.S. presidents leave for each other in the Oval Office. Two-part question: did you get a letter from your predecessor, and are you leaving one for your successor?
KD: I did not get a letter. And I've thought about leaving one, I have. I haven't decided what I would say yet, so it depends on if I feel I have something valuable to say. I've got to go back to mull that.
BS: What advice would you give Brenton Davis on the record that we could print from one county executive leaving the office to the next?
KD: I would say find the best people you can to lead each department and then let them lead and don't micromanage them. There are great people, not only your directors, but a lot of people downstream in these departments. And they do great work. Don't underestimate that.
BS: Twenty years from now, when an historian is sitting down to write about your time in office, what do you hope that they'll focus on for your legacy?
KD: First of all, the economic development ecosystem is in such a better place than it was when I came in eight years ago. And then the other thing is that we have done so many things internally in county government to improve the governance here. And — I mean, I could go on, because of course there's health and safety, Corry and Blue Zones.
I look back, and I know I'm handing the next county executive a very solid government.
This interview has been edited for length and clarity.
Ben Speggen can be reached at bSpeggen@ErieReader.com and you can follow him on Twitter @BenSpeggen.