Dark Star Jubilee Reviewed
Music-driven energy planted right in the gently rolling grounds of Ohio's Legend Valley.
Having been the setting for some of the Grateful Dead's biggest and best shows of the '80s and '90s, Dark Star Orchestra's members and friends say central Ohio's Legend Valley (the venue formerly known as Buckeye Lake Music Center) has the Dead's vibes – a tangible, collective, music-driven energy – planted right into its gently rolling grounds.
Just getting back from the 2nd annual Dark Star Jubilee, I'd say that sure felt about right ... hell, I'm still feeling it right now.
Along with that certain electricity in the air that comes at the front of every good, long outdoor music fest, some of the first things I encountered when arriving on the Valley's grounds last weekend were a noticeable lack of hassles, a noticeable abundance of playful little kids, and a whole lot of friendly Deadheads – all there to share in the getting-down.
And, man, there was no shortage of that: Three nights of high-powered, blow-out Dead sets from DSO; special appearances and performances by Dead legends Mickey Hart and Donna Jean Godcheaux; and long days and late nights filled with stomp-stomp-stompin' sets by Greensky Bluegrass, Yonder Mountain String Band, Karl Denson's Tiny Universe, The Wailers, The Werks, Melvin Seals and JGB, David Gans, Marco Benevento, The Pimps of Joytime, Rumpke Mountain Boys, Cabinet and a whole lot more.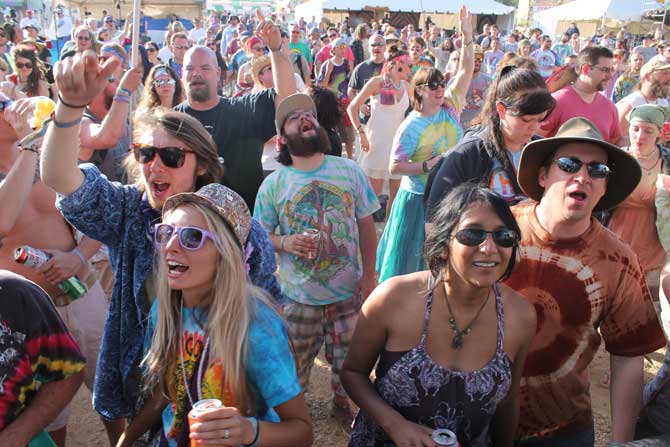 Sure, three whole days of deep-grooving under those wide-open, warm(ish) blue skies – and three whole nights of sleeping under those cold, clear stars – can leave you feeling a little body-tired. But in my experience, the after-effects on the mind and spirit are the exact opposite of exhausting.
Once it all wrapped up, Rob Koritz – a Dark Star Drummer, who also stayed busy with guest appearances and worked with bandmates and other organizers including All Good Presents to bring the festival to life – took some time before he took a (short) rest to share some words on the Jubilee with the Reader.
Here's some of what he had to say:
Ryan Smith: Let's just start out by getting your take on this year's Jubilee. What were the highlights for you all, and what were the feelings you came away with?
Rob Koritz: I thought it went very well. As always, the weather played a factor, and I think the cold nights may have kept some people home. But it was a fantastic production on both sides of the stage. (And there were) too many highlights to name. ...The lineup was stellar, and I got turned on to some groups I hadn't seen yet. I am now a big fan of the Pimps of Joytime -- my new fave. Personally, it's a great weekend for me when we host and our friends come and play. My highlights in that regard would be sitting in with the Mickey Hart band and Yonder Mountain String Band! Very fun.
RS: Any numbers/comparisons on attendance between this year and last? Also, how did the crowd's faces look from that side of the stage?
RK: I don't have finals (for attendance) yet, but I can tell you that the numbers were up from last year, and that is what you are looking for when building a festival. The responses I got from folks in the crowd were all positive about the festival (in terms of its) music, set-up, vibe, etcetera. That bodes well to keep this thing growing. (And) from my perspective, they certainly looked to be enjoying themselves.
RS: Tell us a little more about how Legend Valley suits the Jubilee, its vibe and what the event is all about. With that, give us some details about DSO's chosen (and straight-up on-fire!) sets for the three nights ... And is there anything else you'd like to add about the lineup in general.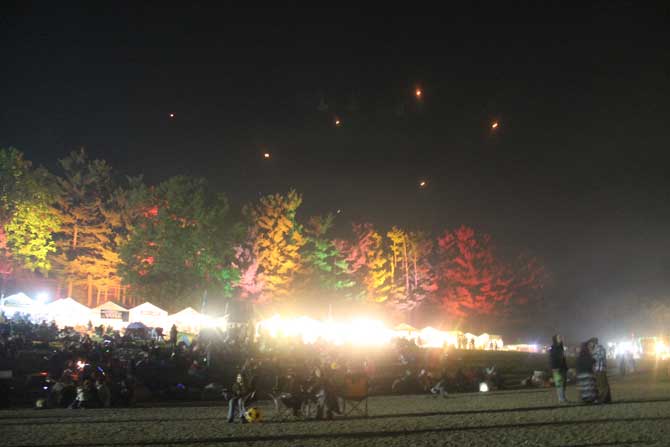 RK: Well, it seems like the vibe is built in to the place with its history of Dead shows and other concerts. The fact that everyone can camp near the stage if they choose gives it an intimacy that you don't get at many festivals. (And) I think my favorite thing is the family friendliness of it all: It is so great to see kids out there dancing with their parents and having a good time. It seems to me that everyone there was pretty well-behaved -- that, along with family camping and a kids village, makes it inviting for families. (As far as) DSO's chosen sets: Well, we always want to do one big '80s blowout, so there was the first night. We wanted to include Donna (Jean Godcheaux) on Night Two, so (that had) the '76 - '79 vibe, and then, to be completely different and try to blow 'em out with our last show (Note: It worked. Man, did it work.), we chose that late '60s psychedelic Dead thing.
RS: So, what's some of what's next on Dark Star's horizon?
RK: Finishing up this tour this week, then a much-needed break. We have some pretty exciting things happening. We're doing DSO High School in August. That's a chance to come and take classes and workshops with us, and really focus musically on what the Dead were doing -- and what we are doing with it now. (And) we will be performing every evening. We've also confirmed our 2nd annual (DSO-hosted) Jam in the Sand, scheduled for next March in Jamaica. I can't recommend that highly enough.
Wanna go and check out some of Dark Star Orchestra's ongoing and ever-growing adventures in raising the Dead? Visit darkstarorchestra.net and facebook.com/darkstarorchestra for info on the band, its upcoming shows, DSO-hosted special events and more.