Dealing a Helping Hand
How the MCRC and Presque Isle Downs & Casino guide refugees toward playing their cards right.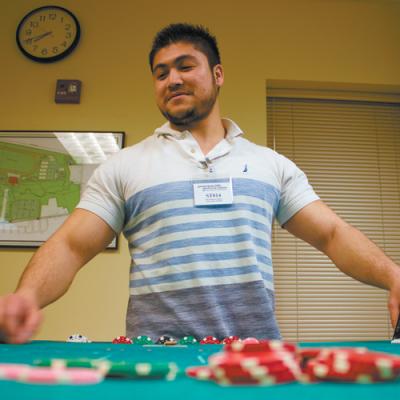 What does it mean to be understood? It means congruency among people. It means that although others may not agree with what you say, they will, at the very least, get the general idea of what you're conveying. It's a privilege often overlooked by anyone living in the country of their native tongue.
This idea came to fruition after I spent just a couple of hours with a group of refugees learning to become card dealers via a program offered at Presque Isle Downs & Casino. The roughly five-week program is designed to teach participants the ins-and-outs of card dealing and is open to the general public.
Shortly after the casino started table games in 2010, however, the Multicultural Community Resource Center (MCRC) imagined career opportunities for refugees. The MCRC began its relationship with the casino in hopes that refugees would later be employed there, as well as in other casinos throughout western Pennsylvania.
The class is about halfway through when I show up at the Presque Isle Downs & Casino administration building on a snowy February Tuesday. One class runs from 4 to 8 p.m. and another from 8 p.m. to midnight, once weekly. Many of the participants are ready to take their final test – an audition in front of panelists consisting of other table game managers from the casino – to determine whether or not they are ready to become full-time casino card dealers.
The noise level has been at a low hum with the occasional blackjack shout-out until I ask Sarbajit Chhetri, 29, "If you could tell an American anything about being a refugee, what would you say?"
The room halts in silence.
Truly. In my recording, the background buzz subsides almost immediately other than a few translating murmurs. The quietness stiffens. There's a lump in my throat.
"We want to be listened to," Chhetri says simply.
And this program allows refugee voices to be heard, literally. Better yet, it allows them to be heard in a profession where the English language and mathematics collide in front of an audience, forcing nasty stereotypes about refugees into silence.
This program has graduated roughly 150 MCRC clients and is proving that refugees are willing to work just as hard, if not harder, than Americans to reach success. (Currently, most refugees in the program do not yet have American citizenship. Refugees enter the U.S. with an I-94 card that allows them to work. After one year, they can apply for their green card, and after five years, they can apply for their citizenship.)
In fact, since the program's beginning, none of the MCRC graduates have been criticized for tardiness or missing work, explains Paul Jericho, Associate Director of Programs at MCRC and card dealer of 15 years at Presque Isle Downs & Casino. He commends his employer for working closely with refugees. "They have a diverse workforce," he concludes.
Jericho says he's a dealer because it's "the easiest job I have ever had," which I hear several times throughout the night. "I like people and 99-plus percent of the customers are fun and easy to deal with. All of my day jobs have been working in the social service field and your work is never done," he says. "When I finish at the casino, my job is done."
This is a bit of an understatement on his part. Jericho is one of the most hardworking people I think I've ever met and I've only known him through three short emails, two phone calls, and one half-hour visit. His calmness is uncanny, especially considering his schedule. He met with me at 6:30 p.m. to chat a bit before his 8 p.m. to 4 a.m. card-dealing shift next door at the casino. The next day he'll be at MCRC at 8 a.m., where right now he's mostly helping refugees file their taxes.
The idea to start the dealing program came shortly after the casino introduced table games in 2010. The casino itself started the program (which is still open to the public). Knowing it was a good career opportunity for refugees – they don't need perfect English, it's lucrative enough to support a family, and you can take the skill pretty much anywhere – MCRC was able to get several people into the initial training program at the casino. But to Jericho's dismay, only six of the 16 refugees passed the class.
"I knew that many of the individuals were sent home prematurely and they had the ability to be good dealers," says Jericho. He asked the casino if MCRC could fund a class knowing that the participants who were sent home early were quite capable of becoming card dealers with some extra help from MCRC.
The casino agreed and allowed MCRC to fund two training programs, paid for via the Targeted Assistance Program (TAG), a component of the Office of Refugee Resettlement, a governmental office that helps refugees obtain employment. (While MCRC funded two of the casino programs, Presque Isle Downs & Casino has funded the rest of them.) 
At the same time, MCRC began to provide a pre-class where they could screen individuals for their English-speaking and math abilities before sending them to the training program at the casino; Jericho himself created the pre-class, allotting for any costs in his MCRC budget/work plan.
In 2010, MCRC placed 21 individuals into the training program after participating in its pre-class.
All 21 passed their audition.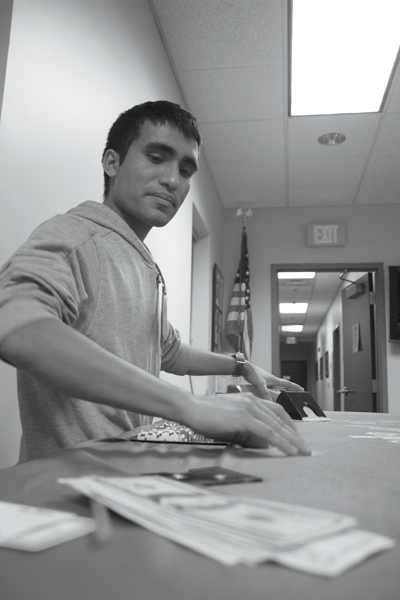 The 15-or-so-person class I attend is almost entirely made up of Bhutanese refugees who fled to Nepal in the early 90s. How and why people become refugees is, of course, complicated, and a thorough investigation is beyond the scope of this article. But essentially, in the early 90s in Bhutan, the Bhutanese government put forth a strict set of "rules" about how to dress and behave in formal settings called the "Driglam Namzha." It also regulated cultural assets such as Bhutanese art and architecture.
Several different ethnic minorities of Bhutan (many of Nepali decent) disliked this set of strict rules and revolted against the Bhutanese government, which in time had them kicked out of Bhutan into Nepal, where the majority of the refugee camps are located. According to the United Nations High Commissioner for Refugees (UNHCR), there are currently 96,000 refugees living in seven refugee camps in Nepal. This means that nearly one-sixth of Bhutan's population is in exile, one of the world's highest populations of refugees.
Let's take a moment to talk about these seven refugee camps. Throughout my interviewing, many people kept explaining the seven camps as if they were all different from one another. The camps are sort of like neighborhoods. One neighborhood might be "better" than another or have different recourses than another, for example. In the early 90s, many of the camps were laden with disease (measles, scurvy, malaria). But now, Nepal's refugee camps are actually becoming smaller because of third-country resettlement – such as in the United States – which helps lower disease by reducing the concentration of people living in small areas.
Tulasha Acharya, 22, from Nepal, came to the U.S. when she was 17. She attended Strong Vincent High School where she often felt nervous and alone but found a group of friends, mostly Nepali, to hang out with. She still thinks of the camps sometimes. "There were lots of problems," she says about working as a young girl building houses after school so her family could afford basic necessities. "I don't have the words to describe," she says, half-defeated. She never wishes to return, she adds.
There are also people like Bishnu Timsina, 21, from Nepal (although his parents are from Bhutan) who moved to Washington state when he was 15 before moving to Erie a few years after. He says the school days in the camps are long, 7:30 a.m. until 4 p.m., with many of the children working after they get home, like Acharya.
Chhetri moved to Erie from New Hampshire with 10 family members in 2010. He is now married to another Bhutanese woman with a baby boy. He started attending the class for the same reasons Jericho began dealing 15 years ago: It's easier than more labor intensive jobs and he's able to meet new people. But any job is good, he settles.
One unusual coincidence about this program is that all of these Bhutanese refugees were in the camps in Nepal, but they never met each other until they moved to Erie and enrolled in the casino training class.
"When we come here for the first time, we don't see anyone from our country. You are alone," Timsina explains. "We are so surprised at first when we see people from our country here. We've never seen each other before."
Jericho explains to me that Hispanic people and refugees are the only populations that continue to grow in numbers in Erie. They come here and stimulate the economy, he says, by doing everything from purchasing car insurance to renting apartments.
And, while we're talking about the economy, Jericho wants to point out that it's a myth that refugees don't pay taxes like everyone else – a fact he's sure of this tax season when he has stacks of papers on his desk at MCRC.
In fact, refugees don't come to America for free at all. They arrive often burdened with heavy debt from their International Organizational for Migration (IOM) loan for things like their plane ticket to get to the U.S.
It's safe to say that Jericho is proud of the program, and he should be. He shares with me a success story about one of the first six MCRC people the casino hired. This man is now a dual-rate swing shift dealer (read: he's really good at his job). His wife later joined the casino training program and is now a full-time dealer during day shifts. Jericho says that he was able to see them purchase a home, buy two cars, support their children, and sometimes even financially help their parents. "This individual is sometimes my supervisor when I deal," Jericho notes.
It can be uncomfortable to repeat questions or to ask others to repeat things. It's frustrating when we don't understand something right away. And it takes more time to be patient, to shut up, and to just listen to people.
But it's worth it. It's worth your time to hear what people can accomplish if you give them the opportunities to be successful.
"The single most important thing that individuals can do for refugees is to accept them and understand that every refugee has lost something. Support can go so far in making them feel welcomed."
"The single most important thing that individuals can do for refugees is to accept them and understand that every refugee has lost something," Jericho says. "Support can go so far in making them feel welcomed."
I'm back in the class, after Chhetri finally broke the silence.
Timsina giggles a little, "Come talk to us and we'll explain to you how it was before; we really struggled hard."
He has a child-like smile now, as it's clear we understand each other. "You just want people to listen to you, right?" I ask, facing the class, all still silent.
Everyone nods his or her head.
There it is. That human, atavistic need we all have: to just be understood.
Brianna Lyle can be contacted at bLyle@ErieReader.com.