Democracy by the Book
How reading can re-energize voters
October 10, 2018 at 9:45 AM
By: Liz Allen
On my recent sun-splashed vacation, I took my trigger finger off Twitter, read two books, watched the Mister Rogers' documentary, Won't You Be My Neighbor? — and fretted about the fate of our democracy.
That weighty topic came to mind as I wiggled through the "aqua gym" at the pool and floated in the salty Caribbean Sea because one of my beach-reads was Fear, by Bob Woodward.
I may have been mostly off the grid, but I was definitely on edge as I read Woodward's account of Donald Trump's reckless decision-making, his ignorance of history and his documented disregard for facts.
But Woodward's book is more than a chronicle about how the chaotic Trump presidency imperils our country. For me, it affirmed the need to read actual books — not just 280-character rants — to understand complex issues and stand up for our freedoms.
It's the potency of storytelling and the willingness to shout out, "Hey, I've read a good book!" that will save our civic souls.
My thoughts about reading, community engagement, civics, and democracy began to percolate before my vacation, during the Jefferson Educational Society's Sept. 11 lecture, "Public Libraries: Breaking Barriers, Building Connections."
Erin Wincek, the Erie County Library's executive director, said that although public libraries were established so that patrons could "self-educate" and "learn despite their status," libraries had a history of discrimination in the Jim Crow South, which led the American Library Association to formally apologize for past practices.
The Erie County Library wants to make sure that its spaces are accessible and "are built for everyone," she said. Wincek and her staff are examining whether some policies — such as hefty fines racked up since childhood — could "make it impossible for you to come into the library and use the Internet to get a job," if those fines prevent you from using your card.
Chanel Cook, the library's community outreach manager, is exploring ways that the Erie Library can make Erie more equitable. She talked about a new program in Detroit that creates "pop-up" library and literacy services at coin laundries. Along with "wash, rinse, repeat," you have "read, write, succeed," she said.
Cook's words made me think of a cool initiative by the League of Women Voters in Erie. Cook's conversation also foreshadowed part of the message I heard on Oct. 3, when Diane Nash, co-founder of the Student Non-Violent Coordinating Committee, spoke to a packed house at Gannon University's Yehl Ballroom.
"Tonight we get to hear from a real American hero," said Professor Jeff Bloodworth, Ph.D. Nash's actions — in the Freedom Rides, the Nashville lunch-counter protests and the Selma marches that led to the Voting Rights Act — "bent the arc of the moral universe," he said.
Nash, who turned 80 in May, stressed that to make change, it takes "love energy," or what she calls "agapic energy," from the Greek word "agape," for love of humankind.
"Tonight we're in the presence of greatness," Bloodworth said before Nash spoke, and that was quickly evident. "People are never the enemy," said Nash. We can oppose racism, sexism, ignorance and unjust political and economic systems, yet still respect the people who espouse such views, she said.
That's a radical call for how to live out our values, one that I admit is hard to fathom or put into practice in today's toxic environment.
Nash also talked about the threat to voting rights today. "We no longer have one person-one vote. We have Citizens United," she said.
But along with a call to register, to vote, to repel efforts to suppress the right to vote, and to become leaders in the fight against racism, she also urged us to learn about the history of the Civil Rights movement and to educate ourselves about the philosophy and influence of Mahatma Gandhi.
She recommended three books to learn more: The Power of Nonviolence, by Richard Gregg; Conquest of Violence: The Gandhian Philosophy of Conflict, by Joan Bondurant; and Gandhi's autobiography, The Story of My Experiment with Truth.
The day after Nash's speech, at Mayor Joe Schember's press conference, I was invited to join Niken Astari Carpenter, the mayor's liaison for refugees and immigrants, as she announced that Welcoming America has awarded the city of Erie a scholarship so the city can become a "Certified Welcoming" community.
Drawing on Nash's inspiring talk, I suggested that Erie's efforts to embrace new Americans could also help us to examine our own racial history and become a more equitable place for all, including African-Americans.
My mention of Nash prompted Patrick Fisher, the new executive director of Erie Arts & Culture, to introduce himself after the press conference. He, too, had heard Nash speak the previous night.
Fisher, 33, who moved back to Erie after serving as community and collaboration manager for the Cultural Council of Greater Jacksonville in Florida, immediately suggested a book to add to my reading list, in addition to Nash's three recommendations. In fact, he offered to lend me his copy of the book, It Was Never About a Hotdog and a Coke! A Personal Account of the 1960 sit-in Demonstrations in Jacksonville, Florida, and AX Handle Saturday, by Rodney L. Hurst.
Fisher followed up by putting me in touch with Hurst by e-mail, so I could learn more about how Hurst became involved in civil rights as a teenager and about a civic engagement program in Jacksonville that teaches teens about that city's civil rights history through the use of public art (that will be a topic for a future Erie Reader column).
Jacksonville uses Public Art Week "as a way to address larger societal issues," Fisher said, as we chatted about the need to make Erie more inclusive and diverse.
This was also my cue to tell Fisher about an initiative by the League of Women Voters of Erie County, to educate youth, including young children, about the importance of voting.
Lorraine Morse-Dolan, league secretary, got the idea to create a curriculum for little kids after she saw a read-aloud book at the League's national convention in Chicago in June. The book, One Vote, Two Votes, I Vote, You Vote, by Bonnie Worth, employs Dr. Seuss' Cat in the Hat to talk about voting and the presidency in pleasant rhymes.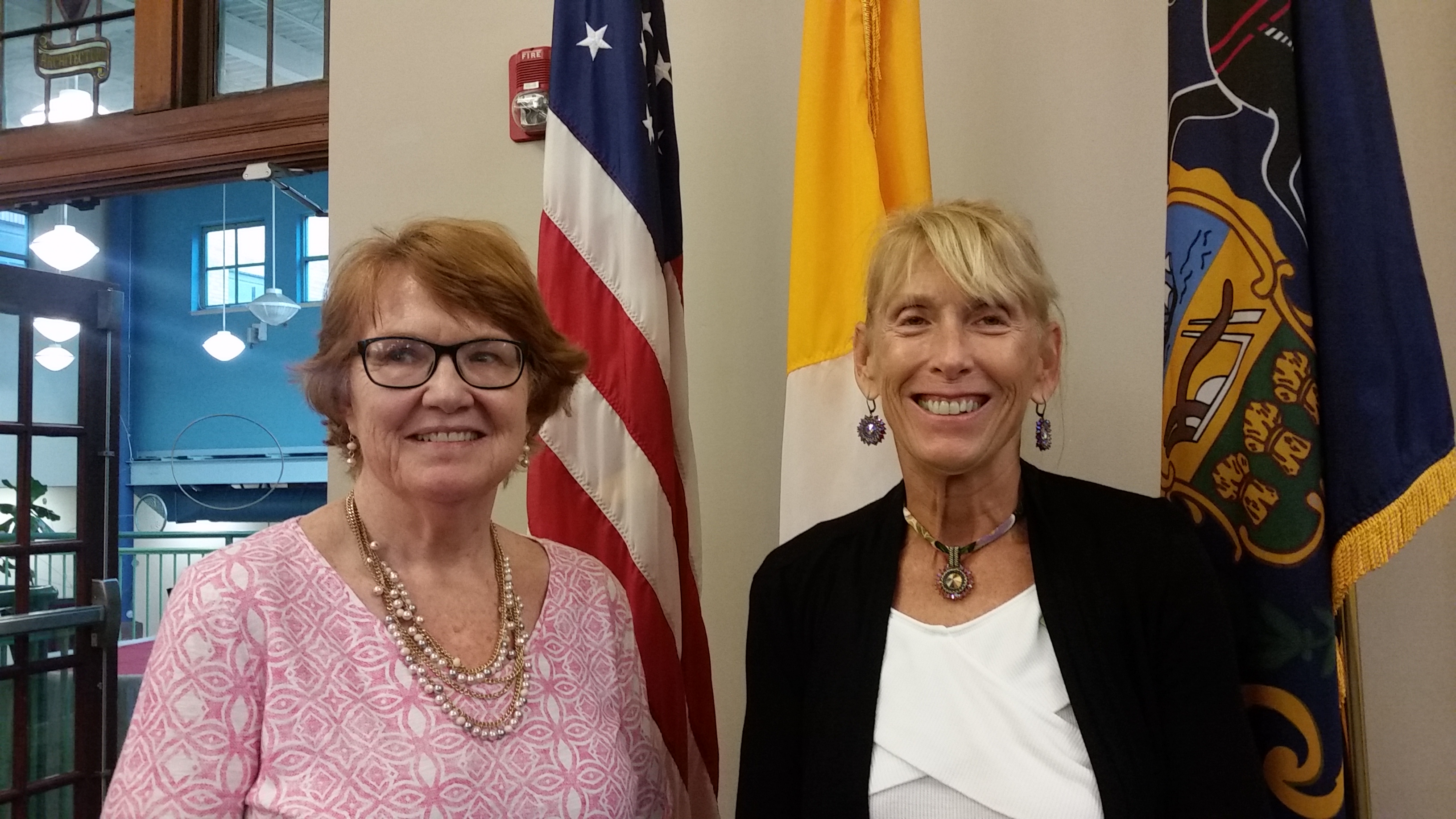 Lorraine Morse-Dolan, right, meets up with Colleen Holmes before a recent program at Gannon University about gerrymandering in Pennsylvania. Both women are active in Fair Districts PA and Morse-Dolan is spearheading a new voter education program for preschoolers, "League Ladies Literature for Little Ones."
"Since we've been growing our numbers and growing more active in Erie, we're trying to reach students at all levels, at all ages," Morse-Dolan said.
In September, league members spoke about the importance of voter education at four local high schools. League members also talked to students at Erie Day School. Unlike high school students, middle schoolers won't be ready to vote any time soon. But why not get kids thinking about voting at that age, or even sooner? That led Morse-Dolan and other league members to expand their focus on voter education. "Maybe we need to be reaching these students at a younger age and really rebuilding citizenship at a very young age, with preschoolers," she said.
That led Morse-Dolan and her colleagues to create a new program, "League Ladies Literature for Little Ones." The alliteration is clever and the dozen books on the initial reading list should prove enticing to children and parents. Morse-Dolan sought out books with "really good pictures … and enough text to deliver the message."
I got to know Morse-Dolan because of her leadership with Fair Districts PA, the nonpartisan movement by a group of citizens to end gerrymandering in Pennsylvania. The League of Women Voters opposes both political and racial gerrymandering.
But I learned about the new book program for children when Morse-Dolan visited Pressed Bookstore, where I work part-time, to ask Press owner Tracey Bowes to host the first "League Ladies Literature" read-aloud program, on Saturday, Oct. 20, at 2:30 p.m.
Morse-Dolan plans to do three read-aloud programs a year but wanted to launch at Pressed because "it has a beautiful children's reading room."
The Pressed program will last an hour, but Morse-Dolan will play it by ear, depending on how long it takes the youngsters to "get the wiggles out" and settle in to listen to some stories.
"We can always finish early if we're losing our audience," she said.
She also looks forward to adding more books, including poetry, to the reading list, based on suggestions from parents, teachers and others.
Morse-Dolan was inspired to join the League of Women Voters by her aunt, Sunny Morse, who moved to Chelsea, Mich., from Erie after her husband became a teacher at the University of Michigan.
When she would visit or call her aunt, "We'd have these talks about politics, current events, and one day she said, 'You know what? You need to join the League of Women Voters.' I said, OK, I'll do it."
League membership in Erie had dwindled to a small group that met at St. Mary's Home. "At that point, there wasn't a calendar, you had (only) four people, so what can you do?" Morse-Dolan said.
Instead of giving up, the group started "growing our membership, defining ourselves as a league. We have a calendar, we have a budget." Members were trained in "what we can do, can't do," she said.
In addition to supporting Fair Districts PA, the league is busy planning for the 100th anniversary celebration of women's right to vote in 2020.
Along with educating young people about voting, the league continues to stress its message to adults: "Voting is really important. It's the cornerstone of democracy. There is no good reason not to vote," she said.
I am less fearful about the future of democracy after writing this column and because Morse-Dolan recently got a photo of her aunt registering voters — at age 102.
Liz Allen, a member of Erie City Council, says that working at a bookstore is the perfect job to decompress from politics. You can reach her at lizerie@aol.com.