Desmond Jones Brings Bigtime Chops to Rook
This band from Michigan is known for their high-energy concerts
September 25, 2019 at 12:45 PM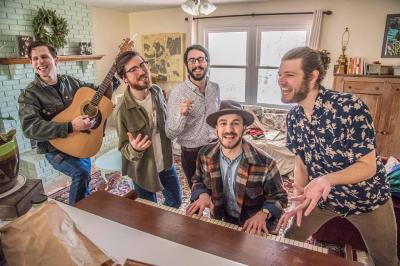 Friday, Oct. 4
It's not every day you come across a band that carries an official, "WE'RE 100% TOTALLY SERIOUS!" disclaimer:
"This five-piece American rock band from Grand Rapids, Michigan is totally kick-ass. Their exciting and high-energy concerts are guaranteed to make your arms wiggle and booty shake in ways that you have never experienced before."
"We're not even joking," it states. "Come see for yourself."
Sounds serious, indeed, and it could be taken as a bit of overkill if it weren't for the fact that it's not every day you come across a band like Desmond Jones. First hired on a beer-for-pay basis to provide the sounds for a blowout year-end party at Michigan State University in 2012, the quintet has since cultivated skills that possibly even pay actual bills, playing across the Midwest and beyond with big-hitters including Papadosio, EOTO, The Werks, The Main Squeeze, and even Here Come the Mummies.
Their current multi-state autumn tour will bring them back to the King's Rook Club stage and we suggest you take them at their word and go check it out.
Trust us, it'll be cool. We're 100 percent totally serious. — Ryan Smith
10 p.m. // 1921 Peach St. // 21+ // facebook.com/kingsrookclub