Dinner Date at Rebecca Mae's Newest Drag Event
February 26, 2020 at 1:30 PM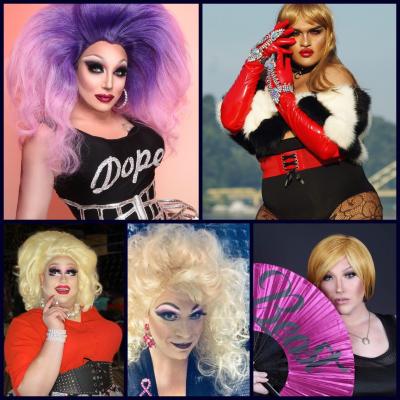 Saturday, Mar. 7
Maybe brunch doesn't work for your schedule. And as great as they sounded, and as much as you stalked her Instagram for glimpses of the fun everyone else was having, Rebecca Mae's Drag Brunches just weren't in the cards for you.
As it turns out, you're in luck.
The Drag Brunch gods — wait no, make that goddesses — have heard your cries and have put together what we can all hope will be the first of many Rebecca Mae Drag Dinners.
Set in the spacious Resolution Nightclub down on North Park Row, the two-and-a-half-hour spectacular joins the forces of Tom Widdowson, the talent behind the sumptuous Rebecca Mae, and The Andromeda Agency, an entertainment company run by Elvis Andromeda Maryshine.
"I'm so happy Andromeda Agency asked me to host the first ever Drag Dinner, with food by the outstanding PROOF kitchen and entertainment by some of Erie's local talented Queens," Widdowson enthused.
The scheduled acts will feature five heart-stopping divas, including the titular Rebecca Mae, with hometown gals Alysin Wonderland, Lovin Heart, and Debbie, plus the divine moves of Agnes Senga, a special guest all the way from the Steel City.
That bit about luck earlier? It wasn't an exaggeration. As Widdowson mentioned, PROOF Kitchen, one of Erie's favorite pop-up dining experiences will be sending out a feast fit for royalty. With Chef Joe Festa on an extended residency in Australia, Chef Stephani Klassen of Give A Crepe will be running the kitchen. (Guests with any dietary restrictions are asked to contact The Andromeda Agency at least 48 hours prior to the event).
Widdowson added, "I've been so lucky to have Jen Martin with Sazerac sponsoring a lot of my events. We will have an amazing cocktail list featuring Dr. McGillicuddys, Yukon, and Black Haus."
A dinner of this size and scale is a sure indication that Erie continues — event by event — to open hearts and minds, grow in acceptance and embrace traditionally marginalized communities.
Said Maryshine, "With the ever-changing social climate, it's important to showcase lifestyles and personalities of some lesser-highlighted groups, like the LGBQT+ community."
Inclusivity, sequins and exquisite cuisine? That's a dinner date worth making.— Cara Suppa
7 p.m. to 9:30 p.m. // 28 N. Park Row // VIP: $30, must be purchased in groups; General Admission: $25 //brownpapertickets.com/event/4495119