Discover PI … on the Snowy Side of the Year.
Presque Isle Partnership has a full slate at PI Snow Day.
February 15, 2017 at 2:45 PM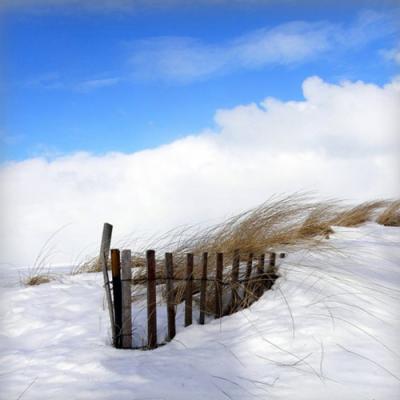 You have no excuse to stay inside on Feb. 18. Snow Day, organized by the Presque Isle Partnership as a winter complement to the summery Discover Presque Isle, features 18 ways to enjoy a (mostly free) day at the park, both indoors and out. It even includes visits from Smokey Bear, the goodwill fire safety ambassador of the U.S. Forest Service.
Jon DeMarco, executive director of PI Partnership, says Snow Day gives the group the opportunity to showcase Presque Isle during the winter months, a time when most people might not even consider venturing out here. "Our goal is to encourage use of the park throughout the year."
"Our goal is to encourage use of the park throughout the year."
So, after you meet the famous ursus, wander over to watch chainsaw carving in action, get to know some sled dogs as they are put through their paces, or watch a park naturalist bring Joe Root to life. If completion is in your blood, you may want to join the snow sculpting contest starting at 10 a.m. Register for free at the PI Partnership table.
Family ice fishing (with equipment provided) will be available, as well as a snowshoe hike and a longer three-mile hike out to Gull Point in hopes of seeing a visiting snowy owl (waterproof boots recommended). If geocaching is your thing, well, they have that, too.
Indoors, everyone can meet some Erie Zoo animals, find food and refreshments, linger over Chinese auction baskets, and the kids can make some crafts.
What's sure to be a hit is the doggy ugly sweater contest. No entry fee or pre-registration required; just show up with your favorite canine decked out in its ugly finery. Representatives from the ANNA Shelter will be taking pictures of the contestants.
Two activities requiring a fee (and some pre-planning) are cross-country ski and snowshoe rentals, and horse-drawn wagon rides. Borrowing skis and snowshoes only requires paying the rental charge; the wagon rides are $8 and require pre-registration (do so at discoverpi.com/events/snowday)
Representatives from Field & Stream and Off-Road Express will also be on hand demonstrating winter-themed gear for getting your frosty party started after this event is over.
As in the past, Snow Day Buttons will be available for $3 (or two for $5, five for $10) and five lucky button holders will be gifted with prizes. All proceeds of button sales and the event benefit the partnership's projects throughout the park.
Embrace the snowflakes, have a good time.
10 a.m. to 5 p.m. Saturday, Feb. 18 //Rotary Pavilion and Waterworks area, Presque Isle State Park // Free admission; fee for some activities // 838.5144