Distant Relatives
Erie still getting its Sister Act together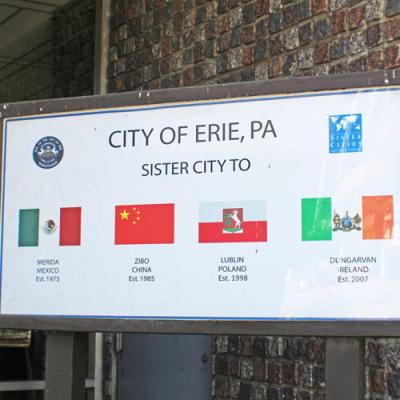 You can choose your friends, but you can't choose your family. You can't always choose your enemies, either — but through dedicated outreach, collaboration, and compromise, you can attempt to redefine those relationships. This was the original inspiration for Sister Cities International (SCI), which grew out of President Dwight D. Eisenhower's White House summit on citizen diplomacy in 1956. Having emerged from two World Wars and numerous other conflicts, Ike sought to repair rifts between the U.S. and its former adversaries by fostering trade and intercultural understanding. He felt the best way to do this was on the community level, where identities and demographics were more concrete — SCI would be the mortar to bring these communities (and the world) together.
Ideally, these "sister cities" (like biological siblings) would become friends for life. In many cases, that vision has come to fruition. One prime example is Kobe, Japan and Seattle, Washington. Since their initial pairing in 1957, the two have established a flourishing business relationship, especially within the tech industry (e.g. Nintendo, whose Japanese and U.S. headquarters are located near the respective cities). This tends to be the case with larger cities and their larger economies — they've already developed a notable global presence and cultural identity and thus connect more readily over a broader range of interests.
Ex. 1:
PARIS: "STOP — you HAVE to tell me where you got that architecture. Is that I.M. Pei?"
NEW YORK CITY: "Yes, I'm kind of obsessed."
[PARIS produces wallet-sized portrait of the Louvre Pyramid; NYC squeals]
Ex. 2:
MEXICO CITY: "What year did you graduate from Spanish rule?
LOS ANGELES: "1821."
MEXICO CITY: "Shut. Up."
That is not to say smaller and mid-sized cities can't click from the get-go — could the union between Boring, Oregon (population: 8,000) and Dull, Scotland (population: under 100) be described as anything but destiny? However, on most occasions, finding the ideal sister city requires a little more effort and research upfront — think digging through genealogy reports as opposed to holding up a sign at an airport. For towns that really have no idea who they might relate to, SCI offers a matchmaking service called "Cities Seeking Cities," laying the groundwork for a fruitful partnership. Scan the list (compiled from SCI analytics), narrow the choices, connect with representatives, sign the documents, and reap the benefits.
What are those benefits, you ask? According to Jill Beck, Assistant to Mayor Joe Sinnott, they include "a better cultural understanding, an enhanced industrial economy, educational opportunities and a better quality of life for citizens of our respective communities."
Erie has formulated four sister city relationships since the program's inception: Mérida (Yucatán, Mexico), Zibo (Shandong, China), Lublin (Poland), and Dungarvan (Ireland). The sister-city designations are somewhat misleading — as they stand, these relationships seem more reminiscent of fifth cousins (twice removed) than besties-by-blood. We might exchange pleasantries at the rare family reunion, but we're definitely not Facetiming one another on the regular.
When e-mailed about the matter, City Councilman Dave Brennan had little to report: "In my time on council I have not seen much activity regarding the sister city relationships. But, I would like to see Erie become more proactive and reach out with more communication and start a few initiatives with our sister cities to benefit everyone." Despite this, he added that "our office still receives updates, invitations, and announcements periodically, so we do keep in touch."
And now, for your cultural edification, it would behoove us to get in touch with our sisters.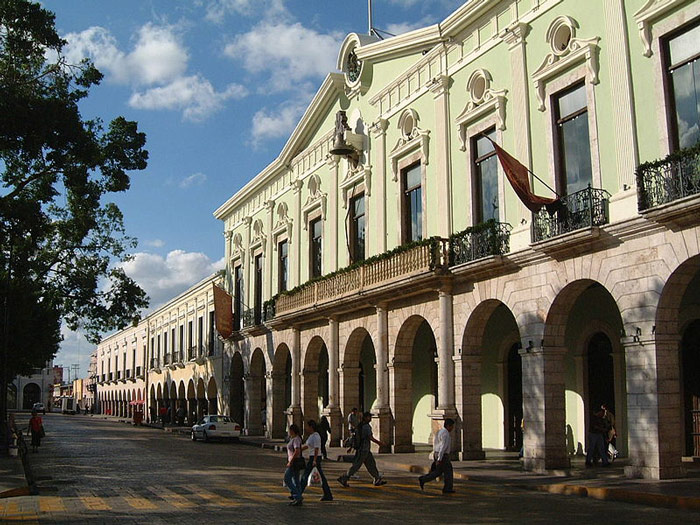 Mérida, Yucatán, Mexico
Sisterhood established: 1973
Population (2010 census): 970,377
Sibling snapshot: Mérida is the capital and largest city in Yucatán, located in the northwest of the state about 22 miles from the Gulf of Mexico. The Spanish conquistador Francisco de Montego y Leon established Mérida on the site of the ancient Mayan city of T'hó, also known as Ichkanzihóo or Ichcaanzihó (the "City of the Five Hills"). Despite the nickname (in regards to its pyramids), the landscape is mostly flat. Already rich in colonial heritage, its wealth exploded around the turn of the 20th century due to the lucrative agave crop (the foundation of tequila, and many a hangover).
Bonding material: Unlike the indigenous Mayans who still make up 60 percent of the Meridian population, the Eriez tribe has all been extinguished from northwest Pennsylvania. Nonetheless, the general resilience of the Mayans can serve as an inspiration for Erieites. Despite their colonizers' attempts to eradicate all vestiges of Mayan influence (although incorporating the carved stones of T'hó into their architecture strikes me as counterintuitive), their spirit lives on in celebrations and traditions such as Hanal Pixan (literally "food for the souls," the region's Day of the Dead). Erie would do well to also embrace where we come from, while keeping an eye towards the future.
BFF barometer: Broken — according to Councilman Brennan, the relationship has gone dormant, with no activity in the past two decades. Many relationships fall victim to changing needs, changing priorities, and/or changing circumstances, and our sister city ties are no different. As you'll see, most of these partnerships were forged on behalf of a specific group for a specific purpose — "by popular request," if you will. In this case, the Mérida-Erie connection was prompted by the Catholic Church, which as a whole has had more pressing issues to deal with as of late (declining numbers in the faith, scandal).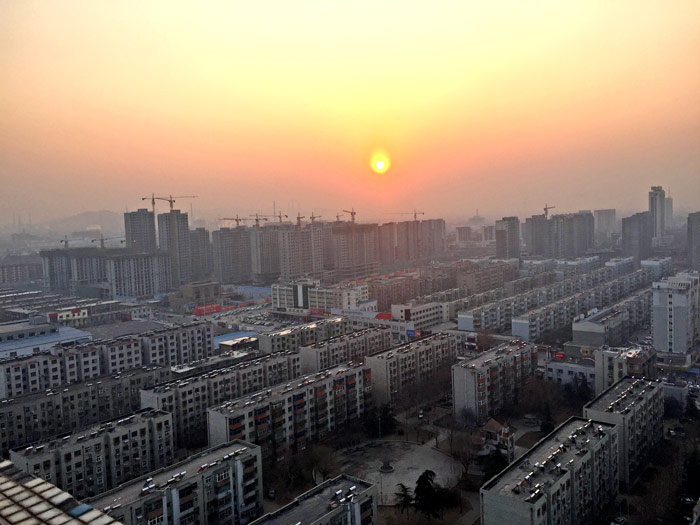 Zibo, Shandong, China
Sisterhood established: 1985 (although relations began much earlier)
Population (2010 census): 4.53 million (on par with the state of Louisiana)
Sibling snapshot: Zibo is a sprawling prefecture-level city in central Shandong province. It is comprised of five distinct districts (each with its own downtown — think New York City's five boroughs) and encompasses 2,293 square miles (that's bigger than Delaware). Its manufacturing sector is thriving, with its major industries being ceramics, petrochemicals, pharmaceuticals, metallurgy, construction materials, machinery, and textiles. It boasts a wealth of mineral resources as well as a storied history that spans millennia. It is the birthplace of Qi Culture (Qi = the life force or vital energy of any living thing; also the most annoying play in Scrabble) and a primordial form of soccer known as cuju (validated by FIFA as the granddaddy of futból). In ancient times, Zibo was a key stop along the Silk Road (silk was a highly-prized commodity, especially in the West) and home to many magnificent structures, such as the Great Wall of Qi, parts of which still stand.
Bonding material: Zibo has taken massive strides in its modernization since former mayor Lou Tullio began negotiating the partnership in the late 1970s, to the point that Erie doesn't appear to have much in common anymore. The Zibo-Erie connection originally came at the behest of the late Henry Fish, chief executive at American Sterilizer, who saw a burgeoning market for his hospital sterilization equipment. Edinboro University and Hamot Hospital piggybacked onto the newly-minted collaborative, implementing exchange programs between the two cities.
Tullio's successor, former mayor Joyce Savocchio had deep-seated misgivings about renewing a partnership with China due to the Tiananmen Square Massacre of 1989, in which hundreds (if not thousands) of civilian protestors were killed after the Chinese government declared martial law. However, after Fish and representatives of Hamot and Edinboro pleaded to preserve the bond, she relented. As a token of their friendship, the Chinese donated two enormous porcelain urns (so huge, in fact, that a special kiln had to be built to fire them) to City Hall. As the cities' economic paths continued to diverge, arts and culture became the hallmark of their communion throughout the '90s.
BFF barometer: Low. Per Councilman Brennan, an exchange program with Erie Public Schools was in the works, but it fell through as the school district's financial crisis took precedence.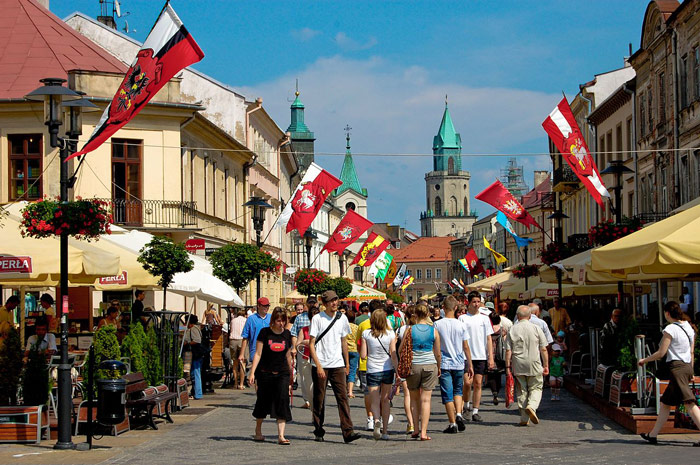 Lublin, Poland
Sisterhood established: 1998
Population (2010 census): 348,500
Sibling snapshot: Connectivity has been in Lublin's genes for nearly 700 years, linking (Byzantine-dominated) Eastern and (Catholic-dominated) Western Europe. Its centrality on major trade routes and its strategic proximity to Poland's eastern border have lent it longstanding historical significance, both for better (the Polish-Lithuanian Commonwealth, which married the two countries in 1569) and for worse (foreign invasions). Lublin is conveniently located between Krakow and the Lithuanian capital of Vilnius (key to its early development as a trading hub), and sits approximately 105 miles southeast of the Polish capital of Warsaw.
Before World War II, it was home to a thriving Jewish community and the study of the Talmud and Kabbalah (schools of Judaism), inspiring the nickname "Jewish Oxford." This ended with Nazi occupation and Operation Reinhardt, codename of the program to exterminate all Polish Jews. Despite the ravages of the war and the political upheaval that followed, Lublin has survived as a bastion of hope (exemplified by the beautifully preserved Old Town) in one of the poorest regions of the European Union.
Bonding material: There's a lot, actually, beginning with the prevalence of Poles in the Erie area. Our Polish heritage was the primary impetus for the partnership and one of the lasting legacies of former City Councilman Jim Thompson, who passed away in 2010.
"Jim came to me with the suggestion of Lublin as the most compatible city with Erie," recalls Savocchio, who was nearing the end of her term as mayor at the time. "He did a lot of hard work to make it happen."
Beyond the obvious ethnic parallels, Lublin closely mirrors Erie County in population and even more so in its economic trajectory — to a point. Both declined as regional industrial centers (the departure of automotive company FSC being analogous to losses at GE) and have begun reconfiguring towards service economies, although Lublin seems a little further ahead in its recovery. Bruce Kibler, Ph.D., a business professor director of the management program at Gannon University and former European resident, attributes that partially to the European Union's "concrete wealth redistribution mechanisms" which "abate losses for the less well-off."
On a lighter note, Lublin is heralded as a "City of Festivals," something Erie can surely relate to this time of year.
BFF barometer: On the lower end of steady — we haven't lost that Lublin feeling, but we could afford to show a little more of it. Dr. Kibler recently collaborated with Lublin's Dr. Pawel Pasierbiak of the Marie Curie-Sklodowska University on a paper (and gave a lecture at the Jefferson Educational Society) exploring our striking similarities, so we're at least keeping tabs.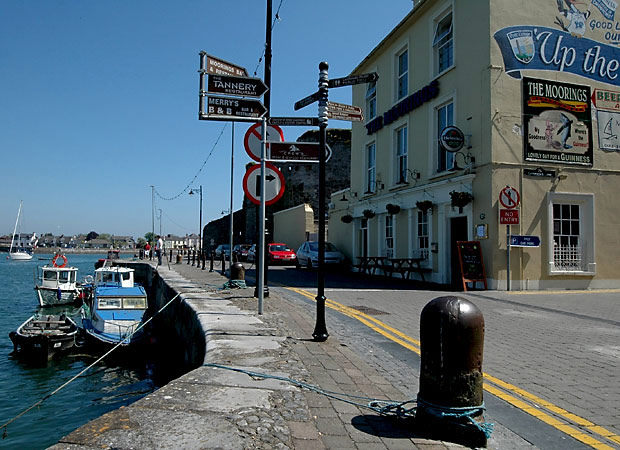 Dungarvan, Ireland
Sisterhood established: 2007
Population (as of 2011): ~8,000
Sibling snapshot: Dungarvan is a quaint and cozy seaside town on the southeastern coast of Ireland. The town's Irish name (Dún Garbhán) translates to "Garbhann's Fort," in reference to St. Garbhan, a 7th century abbot who founded a church at its current site. The Colligan River splits the town into two parishes, Dungarvan to the west and Abbeyside to the east. Dungarvan is the more secular half of town (shopping centers and administrative buildings), while Abbeyside is the more spiritually studious half (due to the influence of the Augustinian monks who established a friary and a college there).
If you're the type of acolyte that believes in an Earth less than 6,000 years old, then the discovery of prehistoric wooly mammoth and giant sloth bones in a Dungarvan cave may seem fishier than a net full of hake (a local relative of the cod and haddock). Those who have followed Dungarvan throughout recorded history know that the biggest thing to happen here was actually manmade — a magnificent turreted castle erected during the reign of King John (1199-1216 C.E.) However, in the late 1400s, the repurposed fortress (retrofitted to accommodate cannons) was toppled.
Bonding material: Erie and Dungarvan have plenty to talk about, made easier because English is our first language. Like Erie, Dungarvan possesses a (presumably swimmable) eastward-facing bay and markets itself as a summer tourist destination. While Erie's bayfront lacks definition, Dungarvan's is tight (as in homey) and toned (a hangout spot for live music). Its corresponding peninsula does not much compare to Presque Isle, so Erie could feel free to brag about that (over a pint of craft beer, in which we share a strong mutual interest).
Education — not beer — was the social lubricant that got the sister city conversation started. Mercyhurst has been recruiting students from Dungarvan since the mid-'80s, in particular St. Augustine's College (a high school more akin to Mercyhurst Prep). John Melody (owner of the UPick 6 franchise and Erie Commodores FC) and John Deasy (an Irish Parliamentarian), graduates of both programs, made the pitch to Councilman/Sister City MVP Thompson to help officialize the partnership.
BFF barometer: Steady, but only because of the exchange program with Mercyhurst. Mercyhurst hosts its annual Global Intelligence Forum in Dungarvan and has even established a satellite campus there. Hopefully these traditions shall endure as long as Dungarvan's wooly mammoth and giant sloth remains.
—-
Now that we've circled the globe with a tour of our sister cities, it is time for some of these partnerships to start yielding tangible results. All persons interviewed for this article agree that more could be done to get the BFF barometer climbing.
Says Savocchio: "When you have sister cities abroad and within the U.S., you can pool resources and talents for products. We've got to learn to reach beyond Erie County and northwest Pennsylvania. We should begin to build relationships that are going to benefit and push our future forward, but first we've got to determine what that future is."
Dr. Kibler echoes her sentiments: "We live in a society, not by ourselves. We can't just stew in our own juices." He adds that Erie needs a "conductor running the concert" and "to embrace change" if it is to be a truly international city.
Common ground is not found merely in where we came from, but where we want to be.
Matt Swanseger has no sisters, but can nonetheless be bonded with at mswanseger@eriereader.com