Does Phil Feel Lucky?
Looking at a century of Punxsutawney Phil's Groundhog Day predictions
February 2, 2022 at 5:50 PM
"Okay campers, rise and shine, and don't forget your booties, because it's cold out there today." With those words, two morning DJs woke fictional weatherman Phil Conners in the classic 1993 comedy Groundhog Day. The big news on everybody's lips though – chapped lips – was: "Do you think Phil's gonna come out and see his shadow?"
February 2 is Groundhog Day, and that's the question at hand once again. 
One thing we wondered though, was just how often does Punxsutawney Phil – seer of seer, prognosticator of prognosticators, and the most famous groundhog in Pennsylvania – actually see his shadow. 
Phil has been doing this for a long time. Much longer than the average six-year lifespan of a groundhog (Marmota monax, aka woodchuck if you're not into latin). Yes, thanks to his special "Groundhog Punch" Phil has been making these predictions since 1886, with the formal event launching the year after. 
Legend has it that if he does see his shadow, we're in store for six more weeks of winter. This is a low estimate anyhow, as spring officially begins six weeks and four days after Feb. 2, but who's counting?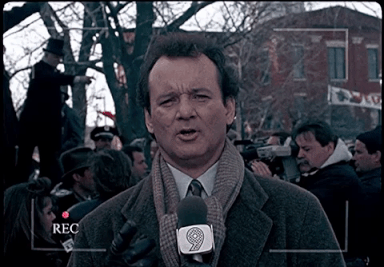 via Columbia Pictures
It turns out that most of the time, he does see his shadow. If we look at the last century not only do we get some easy-to-determine percentages, but we see a few tendencies. 
Since 1921, Phil has seen his shadow 81% of the time. There were 18 years where he did not see his shadow, and one time in which Phil did not appear at all. 
It's really only in the last few decades that Phil has decided to mix it up. Since 1983, Phil has not seen his shadow 13 different times. 
In fact, the only time he has consecutively not seen his shadow was last year, over the course of 2019 and 2020 (there was some less-than-dependable record-keeping during the 1890s where no shadow was recorded). 
So, Phil could have possibly gone for an absolutely unprecedented hat trick of not seeing his shadow, but this year he did not. 
The prognostication from Groundhog.org on the morning of Feb. 2, 2022 read as such: 
Here ye, here ye, here ye,

Today, 2-2-22, welcome to Punxsutawney to celebrate Groundhog Day. the one hundred thirty sixth annual trek of the Punxsutawney groundhog club.

Punxsutawney phil, the seer of seers, the prognosticator of all prognosticators, was gently lifted from his burrow at  7:25 am, and held high to see. His faithful followers had returned with glee!

Placing phil on top of the stump, where in Groundhogese, he directed the president, Jeff Lundy, and the inner circle to his prediction scroll that reads:

Winter has been bleak and dark and bereft of hope. Yet winter is just another step in the cycle of life

As I look out over the faces of the true believers from around the world, I bask in the warmth of your hearts.

I couldn't imagine a better fate, with my shadow I have cast, than a long and lustrous six more weeks of winter.
Here is the history of Punxsutawney Phil's shadow-seeing according to the York Daily Record.
What is this, Miami Beach? Not hardly.
1921 Saw shadow Six more weeks of winter
1922 Saw shadow Six more weeks of winter
1923 Saw shadow Six more weeks of winter
1924 Saw shadow Six more weeks of winter
1925 Saw shadow Six more weeks of winter
1926 Saw shadow Six more weeks of winter
1927 Saw shadow Six more weeks of winter
1928 Saw shadow Six more weeks of winter
1929 Saw shadow Six more weeks of winter
1930 Saw shadow Six more weeks of winter
1931 Saw shadow Six more weeks of winter
1932 Saw shadow Six more weeks of winter
1933 Saw shadow Six more weeks of winter
1934 No shadow Early spring
1935 Saw shadow Six more weeks of winter
1936 Saw shadow Six more weeks of winter
1937 Saw shadow Six more weeks of winter
1938 Saw shadow Six more weeks of winter
1939 Saw shadow Six more weeks of winter
1940 Saw shadow Six more weeks of winter
1941 Saw shadow Six more weeks of winter
1942 No shadow Early spring
1943 Did not appear
1944 Saw shadow Six more weeks of winter
1945 Saw shadow Six more weeks of winter
1946 Saw shadow Six more weeks of winter
1947 Saw shadow Six more weeks of winter
1948 Saw shadow Six more weeks of winter
1949 Saw shadow Six more weeks of winter
1950 No shadow Early spring
1951 Saw shadow Six more weeks of winter
1952 Saw shadow Six more weeks of winter
1953 Saw shadow Six more weeks of winter
1954 Saw shadow Six more weeks of winter
1955 Saw shadow Six more weeks of winter
1956 Saw shadow Six more weeks of winter
1957 Saw shadow Six more weeks of winter
1958 Saw shadow Six more weeks of winter
1959 Saw shadow Six more weeks of winter
1960 Saw shadow Six more weeks of winter
1961 Saw shadow Six more weeks of winter
1962 Saw shadow Six more weeks of winter
1963 Saw shadow Six more weeks of winter
1964 Saw shadow Six more weeks of winter
1965 Saw shadow Six more weeks of winter
1966 Saw shadow Six more weeks of winter
1967 Saw shadow Six more weeks of winter
1968 Saw shadow Six more weeks of winter
1969 Saw shadow Six more weeks of winter
1970 No shadow Early spring
1971 Saw shadow Six more weeks of winter
1972 Saw shadow Six more weeks of winter
1973 Saw shadow Six more weeks of winter
1974 Saw shadow Six more weeks of winter
1975 No shadow Early spring
1976 Saw shadow Six more weeks of winter
1977 Saw shadow Six more weeks of winter
1978 Saw shadow Six more weeks of winter
1979 Saw shadow Six more weeks of winter
1980 Saw shadow Six more weeks of winter
1981 Saw shadow Six more weeks of winter
1982 Saw shadow Six more weeks of winter
1983 No shadow Early spring
1984 Saw shadow Six more weeks of winter
1985 Saw shadow Six more weeks of winter
1986 No shadow Early spring
1987 Saw shadow Six more weeks of winter
1988 No shadow Early spring
1989 Saw shadow Six more weeks of winter
1990 No shadow Early spring
1991 Saw shadow Six more weeks of winter
1992 Saw shadow Six more weeks of winter
1993 Saw shadow Six more weeks of winter
1994 Saw shadow Six more weeks of winter
1995 No shadow Early spring
1996 Saw shadow Six more weeks of winter
1997 No shadow Early spring
1998 Saw shadow Six more weeks of winter
1999 No shadow Early spring
2000 Saw shadow Six more weeks of winter
2001 Saw shadow Six more weeks of winter
2002 Saw shadow Six more weeks of winter
2003 Saw shadow Six more weeks of winter
2004 Saw shadow Six more weeks of winter
2005 Saw shadow Six more weeks of winter
2006 Saw shadow Six more weeks of winter
2007 No shadow Early spring
2008 Saw shadow Six more weeks of winter
2009 Saw shadow Six more weeks of winter
2010 Saw shadow Six more weeks of winter
2011 No shadow Early spring
2012 Saw shadow Six more weeks of winter
2013 No shadow Early spring
2014 Saw shadow Six more weeks of winter
2015 Saw shadow Six more weeks of winter
2016 No shadow Early spring
2017 Saw shadow Six more weeks of winter
2018 Saw shadow Six more weeks of winter
2019 No shadow Early spring
2020 No shadow Early spring
2021 Saw shadow Six more weeks of winter 
2022 Saw shadow Six more weeks of winter
This article has been updated with the 2022 outcome