Dollar Duck Race and Recycled Sleds at Winterfest '17
Paint your face, paint the snow – it's all good, cold fun in February.
February 1, 2017 at 3:00 PM
Ever wonder what it's like to be a squirrel packing its cheeks full of nuts to hide for winter? Want to go ice fishing but don't know how? At Lake Erie Arboretum at Frontier Park's (LEAF) Winterfest, you can answer these questions while taking part in outdoor activities everyone can enjoy. If you think February is a time to hunker down, LEAF says: Think again.
"Winterfest is our annual family-friendly event showcasing cold weather activities," explains Catherine Toews, LEAF program manager. "It's an opportunity to have fun in the snow while getting acquainted with all that we offer here at the arboretum."
Each year, the recycled sled contest (participants use such materials as rope, cardboard, old garbage cans, and plastic containers) proves to be a hit with Winterfest attendees of all ages. Prizes are awarded to the sled that goes the farthest and the one that utilizes the greatest variety of materials.
"One year, somebody made a black dragon out of milk cartons, cardboard, pop bottle tops, garbage bags, and gauze," Toews continues. "Everyone loved it."
Returning again this year will be ice sculptor Bill Sandusky of Erie Ice Works to chisel a kids' ice bowling lane and a sculpture unique to Winterfest. Other popular festival returnees include the horse-drawn wagon rides and the snow painting station. A new bird-feeder-building crafts table will be available, as well as an ice-fishing demo and face painting.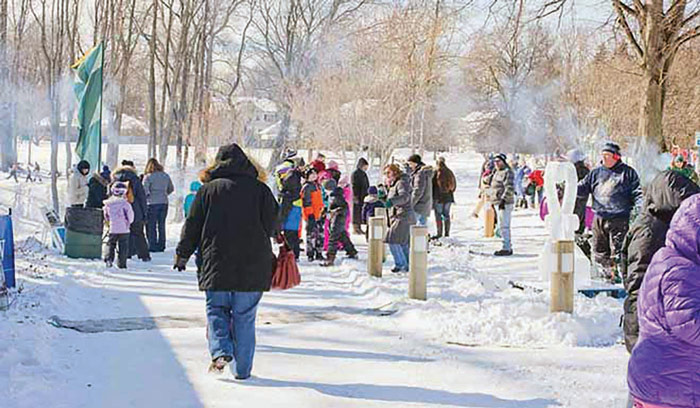 The event will culminate with a 50/50 fundraiser duck race down Cascade Creek at 3:15 p.m. Ducks can be purchased for $1, with the winner taking home half of the funds raised for the race.
Noon to 3:30 p.m. on Sunday, Feb. 12 // Frontier Park, snow or shine // free admission; fee for some activities // Full schedule: leaferie.org // For more information, contact Catherine Toews at education@leaferie.org
Ti Sumner can be reached at TSumner@ErieReader.com