Donate to Kathy Schreckengost's "Ride of My Life" Charities
A one-stop convenience post for giving to across-the-country biker Kathy Schreckengost's charities.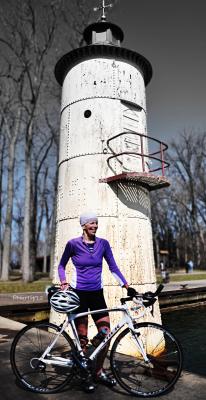 In last week's issue, I wrote a profile of Kathy Schreckengost, a woman who's riding across country to raise money for a number of charities. 
Schreckengost is riding for 9 weeks, and raising money for a different charity each week. The article didn't have space to list all 9 charities, not to mention adding a contact link for each, but I can do that here in the Bloggery. 
For starters, you can find all of the charites and links on Schreckengost's Facebook page, "Ride of My Life." Simply like the page, and you're good to go.
If you're Facebook phobic or averse (and I'm halfway there myself) -- or you're too lazy to click the lnk above -- here are the charities for each week of Schreckengost's ride.
Week 1: Leukemia and Lymphoma Society, "helping patients with blood cancers live better, longer lives." In memory of Kathy's sister, Suzie.
Week 2: Barber National Institute, "making dreams come true. for children and adults with developmental disabilities." (Add "Ride of My Life" in Designation Information.)
Week 3: Autism Society of Northwestern Pennsylvania, "improving the lives of all affected by Autism." In honor of the graduates of Ready, Set, Ride bike camp.
Week 4: Presque Isle Partnership, "developing, funding and implementing projects and programs on Presque Isle State Park, while protecting the natural environment." (Donate under "membership.")
Week 5: National Alopecia Areata Foundation, "research, support and education for autoimmune hair loss."
Week 6: Kanzius Cancer Research Foundation, "researching the world's most promising cancer treatment." (Add "Ride of My Life" in Additional Notes.) In honor of Kathy's mother.
Week 7: Arthritis Foundation of Western Pennsylvania, "supporting research and educational programs." In celebration of Kathy's living with arthritis for 25 years.
Week 8: Kelly Anne Dolan Memorial Fund, which "helps and hopes for families with seriously ill children." (Write "Ride of My Life" in the comment section.)
Week 9: American Heart Association, "devoted to the fight against heart disease and stroke." In memory of Kathy's father.
They're all worthwhile causes, and you don't have to give much, but every little bit counts.