Downtown's Moving Target?
What happens when city renters must relocate
September 11, 2019 at 11:15 AM
Chuck K., a 58-year-old roofer who's experienced a heap of sorrow and woe, knew he had found a church home in Downtown Erie when he discovered that he could wear his ballcap during services.
"They had a sign that said, 'All are welcome.' I felt welcome," he said.
Now Chuck, who asked that I not use his full last name, is wondering where he's going to hang his hat in November, when he must vacate his one-bedroom apartment in the 400 block of State Street. 
The Erie Downtown Development Corp. has purchased the DeLuca complex, which includes his apartment. While EDDC has been proactive in making sure that tenants know their options and have assistance and financial help in looking for a new place to live, the prospect of moving has rattled Chuck. He needs structure in his life. He also admits he's not very good at keeping track of the paperwork involved in the process of finding a new place.
I interviewed Chuck on Labor Day, at the McDonald's at West Fifth and State streets. He eats there and at Taco Bell on occasion because he doesn't like to cook. "I used to enjoy cooking if I had someone to cook for," he said. He has no family in Erie.
I offered to buy him a breakfast biscuit but he stuck to the fruity smoothie he was drinking because his mouth ached after having eight upper teeth extracted.
The missing teeth make him self-conscious. So does his curly hair. He likes to wear it long, down his back, but two years ago, on Christmas Eve, he donned a baseball cap to conceal the "wicked" hack job that someone had done to his long locks in an effort to spruce up his appearance.
He was at the McDonald's at West 12th and Sassafras streets when he saw a card promoting a Christmas Eve service at Basement Transmissions, 145 W. 11th Street. The service, at an "all-ages music and arts venue," sounded appealing. It was sponsored by The Cross, a downtown ministry, which now meets at St. Paul's United Church of Christ at 1024 Peach Street. "I've always been a person of faith, but my walk with the Lord has waxed and waned," he said.
Originally from Wellsboro, Pa, Chuck was a weightlifter with a chance to go to college but he dropped out of high school. A near-drowning left his memory impaired. He's also had what he calls a "colorful" past. He has been jailed for misdemeanors and served time for a felony DUI at the State Correctional Institute in Albion.
Chuck was living at a halfway house — and had also done a stint in rehab — when he decided to go to that Christmas Eve service at the Cross. "I don't know anybody in town. I knew I needed to get involved in a good church. So I prayed about it," he said. 
In July 2018, he also figured that his prayers had been answered when he found his one-bedroom apartment in the DeLuca building.
The apartment was furnished, so he didn't have to buy appliances or furniture.
He's glad that his monthly rent of $550 includes utilities; that makes it easy to pay everything at once.
He can lock his bike, which he rides to his job as a roofer, in the first-floor hallway. He can't afford a vehicle, so he's also happy that the bus is right outside his door, and is relieved that there is a laundry room on the second floor.
In a few short sentences, Chuck summed up why the elderly, the working poor, those who were once homeless, and those with physical and intellectual disabilities like living downtown. Walkability and mass transit are desirable amenities for middle-class city dwellers, but they are a necessity for those who are needy.
Erie Refocused, Erie's 2016 comprehensive plan, recommends, in sterile language, the "relocation of human service functions to areas beyond the central business district" to help turn Erie around, but does not spell out if that also means "relocation" of those using those services.
Nor does the plan address the situation of someone like Chuck. He works to pay his rent and relies on his church, not a social-service agency, to help him through his rough patches. And there are rough patches. "Life is good but I'm still going through a lot of struggles," Chuck said.
When he finds himself associating with the wrong people, his pastor helps guide him back to the right path. 
I wonder if anyone is keeping a tally of the number of tenants who will have to move as downtown revitalization gains ground. I am not criticizing revitalization plans. My husband and I recently took a road trip to Wisconsin, where our college friends proudly showed off lively downtowns in Milwaukee, Racine, and suburban Wauwatosa. In each locale, I spotted local restaurants and brewpubs with sidewalk dining, illuminated by twinkling lights.
I saw cyclists and bike-repair shops. People of all ages were riding scooters.
In Milwaukee, we took the electric trolley. Known as The Hop, it was packed with locals and tourists as it looped around downtown hot spots, including the Public Market.
In all three towns, I noticed splashy murals, imaginative pocket parks, leafy streetscapes, and sparkling waterfronts — previews of the scenery we'll be seeing in Erie.
But my college friends and I also believe that economic progress and social justice can be intertwined. In fact, my former roommate, Ann Heidkamp, played a key role in championing the creation of an Equity and Inclusion Commission in Wauwatosa, which the city's Common Council approved unanimously on June 4.
In the campaign to build support for the commission, Ann's group, Tosa Together, encouraged elected officials to see that a commitment to equity and inclusion isn't pie-in-the-sky. Rather, those values are key to attracting millennials, supporting new businesses and entrepreneurs, retaining existing residents, and strengthening neighborhoods.
As we tout millions in investment in Downtown Erie, we should also figure out how to help others who will face Chuck's predicament.
Those who work with people who have experienced homelessness have been pondering how to respond. One goal is to make sure that someone like Chuck doesn't slip into homelessness. 
"When people have their housing taken care of, they can focus on the things that make them thrive," explains Chuck Nelson, the pastor of the Cross. "We see the cycle of poverty at our church. Having stabilized housing is when we see most of our progress."
Getting someone like Chuck into public or subsidized housing likely isn't the answer. There's a two-year waiting list for public housing, according to Michael Fraley, executive director of the Housing Authority of the City of Erie. The waiting list for Section 8 housing vouchers won't open again for a couple of years. Some types of felonies can also bar people from public housing.
Kurt Crays is executive director of the Erie United Methodist Alliance, whose motto is "Helping those who are homeless, one heart at a time."
Crays and Nelson agree that Erie has made great strides in streamlining the process to move people from homeless shelters to permanent housing. 
"The issue now is that we have to make sure we aren't evicting them, adding to the cause of homelessness," said Nelson.
"We have affordable housing in our community. We're blessed by that," said Crays. "I can get you permanently housed within 30 days."
But he also knows that Erie faces huge ongoing challenges because "we concentrated poverty in our community" in the 16501 ZIP code, due to decades-old policy decisions.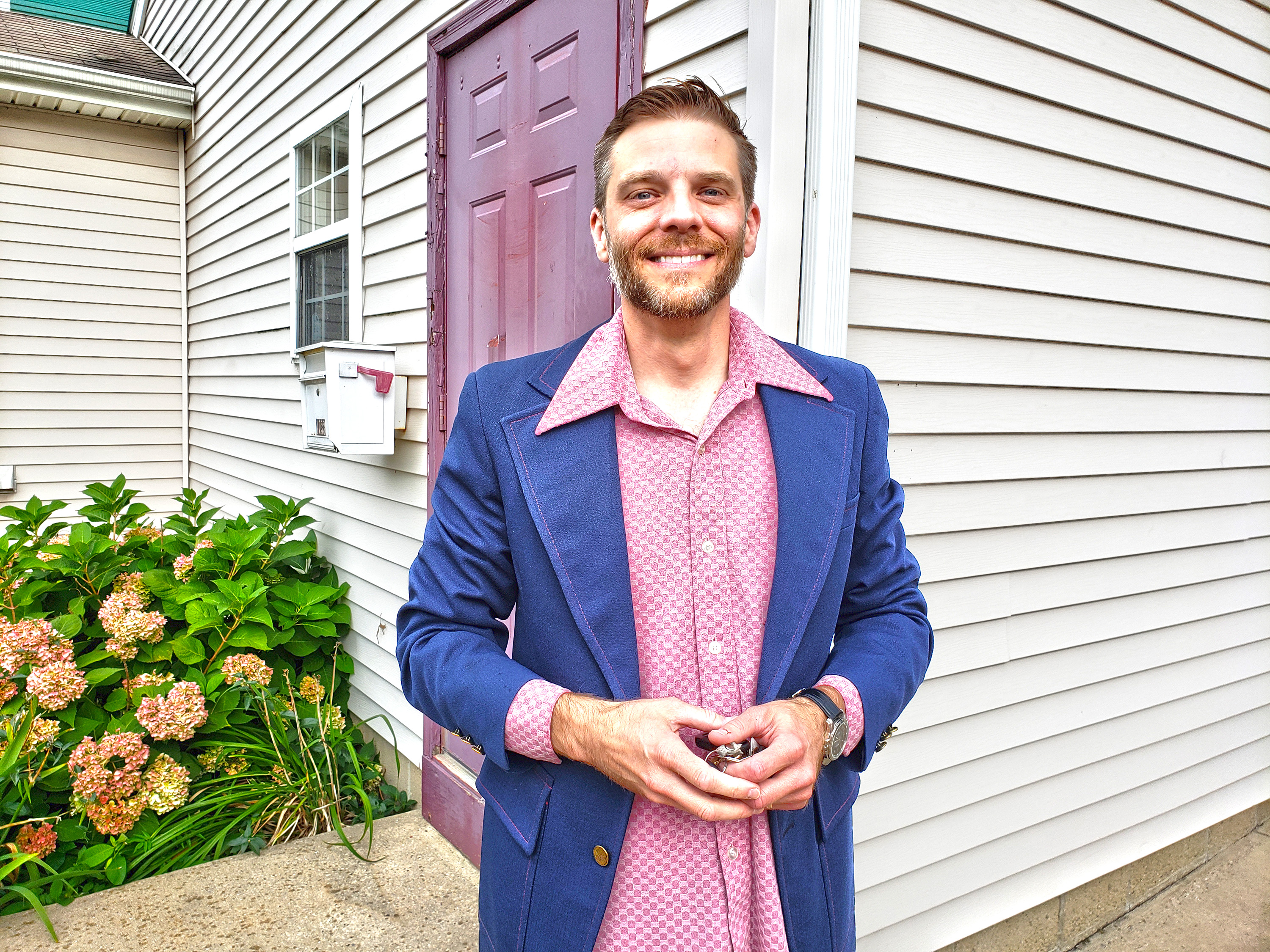 Kurt Crays is executive director of the Erie United Methodist Alliance, which works on homeless issues. Erie faces tough decisions in balancing the need for market-rate housing in downtown Erie with the needs of low-income tenants, he said.
Crays thinks that diversity will make Erie a healthier community for all. "I want to be next to my neighbors who look different and have a different economic status and a different worldview," he said.
But to achieve that ideal, he also said that we need fair-market housing downtown. He thinks a lot about Chicago, his former home. More than 20 years ago, that city decided to demolish the high-rise public housing complex known as Cabrini-Green, displacing 2,000 residents. Two decades later, the area is just now being redeveloped with mixed-use housing. That experience "is a warning for us to do better," he said.
As far as I can tell, no one is yet keeping count of how many people have been or will be required to move due to rehabbing of downtown housing units. EDDC has taken the right steps to help tenants in the DeLuca building but other groups are also rehabbing properties, requiring renters to move.
Mark Alexa, executive director of Community Shelter Services, said there are programs to help rehouse people who are being displaced. But the money that the city or county would spend on such assistance "would mean our folks in shelters have to stay there a little longer," he said. "It impacts us. We're fighting for the same scarce resources."
Still, there have been success stories in helping groups of people who face unexpected eviction. Crays said that tenants forced to move when the Granada Apartments in Millcreek Township were condemned were able to quickly find new housing thanks to a swift, coordinated response to the emergency.
Alexa said that Erie County also helped residents at the Moon Meadows campground in Greenfield Township when they had to leave due to a sewage contamination issue a few years ago.
As for Chuck, he said that moving into his own place more than a year ago "was very liberating. It was peaceful."
He speaks wistfully about all of the things he likes about his current apartment — the furnishings, the location, the laundry room. "What it all comes down to is, how am I going to find this place again?"
---
Fast facts 
John Persinger, chief executive officer of the Erie Downtown Development Corp., and Al DeLuca, owner of the DeLuca Building complex, at 425, 427, 429 and 431 State St., met with tenants prior to the closing to sell the building to EDDC, according to Nicole Reitzell, the organization's vice president of community engagement.
EDDC wanted the tenants to "know what they could expect after the closing," she said.
Tenants were provided with information about EDDC's Tenant Assistant Program, including these details:
All tenants, even those with month-to-month leases, will receive at least 90 days' notice to vacate.

Tenants will be offered assistance in finding a new apartment through Glowacki Management Co., EDDC's professional property management company, which will provide lists of available, similarly priced units that may be a good fit for the tenant.

If a tenant relocates prior to the lease expiration, the EDDC will forgive any rent that would be due after vacating.

EDDC "fully expects that in most cases security deposits will be returned in full. For example, deductions will not be made from your security deposit for common expenses like cleaning, patching of nail holes, painting, carpet replacement, etc."

Connections to social service support will be provided, as needed, through the property management company.

Those who are moving from a fully furnished apartment may take the furnishings and appliances

when they move.

Cash assistance, in the form of early departure stipends, will be paid to tenants who choose to relocate before their lease expires, according to the guidelines set out in the Tenant Assistance Program. These funds could be used to help with moving expenses. 
Reitzell said that tenants must meet with the Glowacki Co. to review their options and receive assistance in locating a new apartment. "We've been able to work with Glowacki to put together a list of, not just available units, but landlords that are willing to rent to individuals with criminal records and/or registered sex offenders, as we know this can make renting a new apartment a challenge for some," she said.
---
What's next?
Erie Arts & Culture has signs in the window of the former office of Vincent Bayer, chiropractor, at 429 State St., inviting people to share ideas for this and other vacant spaces.
"Bringing placemaking experts like Peter Kageyama to Erie helped reinforce that public engagement takes many forms. Sometimes, the most honest and sincere input is obtained through non-traditional tactics," said Patrick Fisher, executive director of Erie Arts & Culture.
"We have a number of underutilized commercial properties in Erie's urban core, some of which have sat vacant for so many years that it's almost unfathomable. I couldn't help but ask the question when was the last time that residents of the neighborhoods where these buildings are located were asked what business types they'd like to see present in their communities?" Fisher said.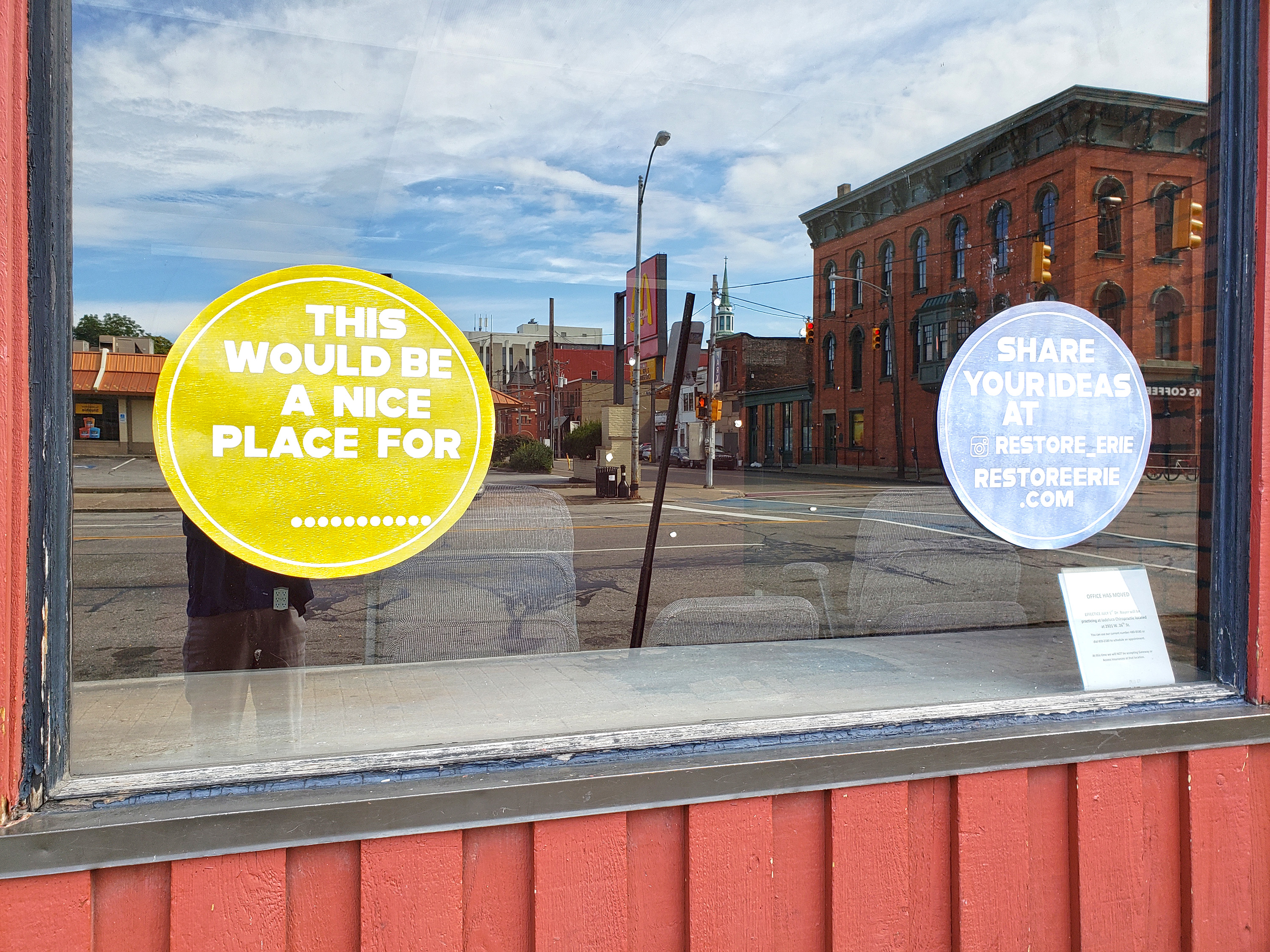 Signs in a former chiropractor's office at 429 State St. invite Erie residents to share their ideas for re-using buildings in Erie's downtown core.
"As we move Erie forward as a city, it's important that residents feel that they are a part of the process.  I think Restore the Core is one of the ways that we can assure that residents' input is being taken into consideration."
The project is part of the organization's New Horizons initiative, which is funded in part by the Erie Community Foundation.  This project specifically is also funded by the Erie Downtown Development Corporation. Artist Ashley Pastore designed the three emblems that can be found in windows of vacant commercial properties, he said. 
"We have received a lot of great suggestions. Some are what you'd expect -- grocery, coffee shop, etc. Others are completely unexpected, such as a comic book publishing company, a micro-gym, an art supplies store, and more," Fisher said. The information collected will be shared with the city of Erie's Department of Economic and Community Development, the Erie Regional Chamber and Growth Partnership, the Erie Downtown Partnership, the Erie Downtown Development Corporation, and various neighborhood organizations," Fisher said.
"A husband and wife have recently made an offer on one of the buildings included in the current roster of Restore the Core buildings. I was thrilled that they reached out to Erie Arts & Culture as part of their due diligence to see what ways the community would like to see the building utilized," he said.
More properties will be added throughout the fall. 
Learn more at www.restoreerie.com.
Liz Allen takes it as a sign that she was humming the hymn, "All Are Welcome," by Marty Haugen, an hour or so before she was introduced to Chuck. You can reach her at lizallenerie@gmail.com.