Dramashop Continues its Radius CoWork Studio Production of Waiting for Godot
Whether or not you understand Godot — or love it or loathe it — it's worth seeing.
November 11, 2015 at 10:00 AM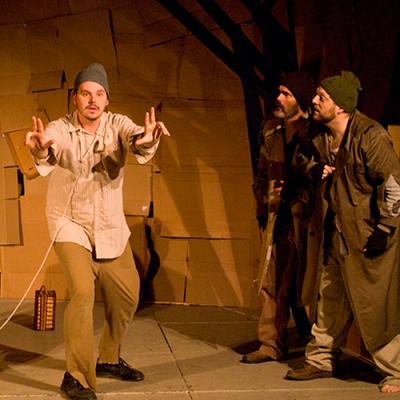 Friday, Nov. 13
Written in 1948, Samuel Beckett's Waiting for Godot is the tale of two characters, Vladimir and Estragon, who await the arrival of someone named Godot. The play's seemingly simple premise has invited infinite interpretive complexity over the years — not to mention audiences with pretty strong opinions.
"If you know Godot, you probably know that it has confounded and frustrated audiences for more than half a century," wrote Artistic Director Zach Flock on Dramashop's Facebook page. "If you don't know Godot, I may have just turned you off of this play by describing it as confounding and frustrating."
He also makes the point that Beckett changed the landscape of theatre with Godot. And Godot's influences reach far beyond the curtain. In his song "Road Ode," Loudon Wainwright III sings, "Out on the road, out on the road / You're Willy Lowman, and you're Tom Jode / Vladimir and Estragon / Kerouac, Ghengis Khan."
The Soft Machine's 1969 song "As Long As He Lies Perfectly Still" likewise references Godot's two characters: "Estragon and Vladimir / Waiting for something that's already there / Heaven on Earth or is it the moon?"
And then of course is my personal favorite: Christopher Guest's mockumentary Waiting for Guffman, in which the cast of a small town Missouri production waits hopefully for a Broadway producer to finally recognize their giftedness.
Whether or not you understand Godot — or love it or loathe it — it's worth seeing (especially at $5) for all of the cultural references you'll finally understand. — Katie Chriest
8 p.m. // Nov. 13, 14, 20, 21 // Dramashop // Renaissance Centre, 2nd Floor, 1001 State St. // $5