Dramashop has theater down to a science with Copenhagen
Erie Reader writer reviews Dramashop's Copenhagen, as the Tony Award-winning play returns to the Rennaisance Center stage Thursday, Feb. 6 for a final weekend run.
February 5, 2014 at 9:49 PM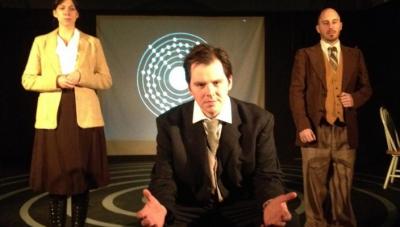 "With great power comes great responsibility."
While Uncle Ben may have imparted those wise words to Peter Parker before he passed away, the phrase could easily be worked into the Tony Award-winning Copenhagen, Michael Frayn's play based on the mysterious meeting of physicists Niels Bohr and Werner Heisenberg in Denmark's capital in 1941, a story that examines the moral responsibilities of scientists as they continue to make discoveries that could shape the future – and potentially the end – of humankind.
For those that may be intimidated by science or are just not all that enthused by the subject, don't fret, as Copenhagen is far more than a lecture on fission, relativity, and quantum mechanics. No, the play, which returns to the Renaissance Center at 8 p.m. Thursday, Feb. 6, is as focused on the people behind the uncertainty – just why did Heisenberg come to Copenhagen in 1941? – as it is in scientific ideas like Heisenberg's Uncertainty Principle.
That doesn't mean you won't have to pay attention, however. Clocking in at two hours and 20 minutes, Copenhagen is a show that requires focus to keep up with the dialogue, and there's plenty of it. Fortunately, the people at Dramashop have some experience bringing thought-provoking material life on stage, even if the play calls for only three actors – Heisenberg, Bohr, and Bohr's wife Margrethe – minimal staging, and few stops to give the audience a break from the moral debate raging on stage. It's a verbal onslaught that could easily turn sour if not for the careful direction of the Rev. Shawn Clerkin and excellent performances from Dramashop newcomers David Baltusavich and Josh Mizikowski, and Rabbit Hole cast member Jessica Annunziata.
It's a joy to watch the trio bring their characters to life – or death, as the characters are ghosts ruminating the real reason behind Heisenberg's 1941 visit – as all three actors control the stage, despite rarely ever leaving it. Baltusavich is impressive as Heisenberg, providing his character with an undeniable energy suiting his quick-thinking, at times impulsive nature. Mizikowski balances his counterpart out with his methodical take on Bohr, while Annunziata shines in her role as Margrethe, providing human insights into the physicists long, and at times personal, scientific debate.
When given your full attention, Copenhagen is an impressive display of wits, words, and wisdom, a study into the world of morals, competitive desire, and how much the past can affect the future, adding another strong production Dramashop's resume.
Copehagen will be performed at 8 p.m. Feb. 6-8 on the second floor of the Rennaisance Center. Tickets can be purchased at dramashop.org for $12 or $15 at the door, or for $5 with a student ID.