Dramashop Takes Part in Fringe Festival with "The Killing of Sister George"
Dramashop hits the stage with "The Killing of Sister George" at the Renaissance Center Theatre.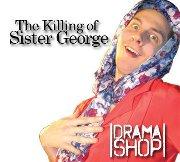 Some say the third time's a charm, but chance has nothing to do with success if Dramashop is involved. The local, independent theater house is building a healthy bit of momentum after its first two performances. Dramashop burst onto Erie's theater scene with "reasons to be pretty" in October 2011, followed by "God of Carnage" this past January. Dramashop selects contemporary theater productions based on factors, such as entertainment and provocation. Anyone who is already involved with the almost-year-old theater house embraces not only the finished product of a show, but the entire creative process.   
The theater house's third production, "The Killing of Sister George," will be a part of Gannon University's Schuster Fringe Festival—an event inspired by the annual Edinburgh Fringe Festival in Scotland, where Gannon's performing arts students anticipate attending using the proceeds. Each performance is $5, while "Sister George" is free, since Dramashop receives a combination of grant money and contributions from the community.
The four-member cast is all that's needed to bring this 1960s' script to life. Sister George—our obvious main character—is a beloved British radio personality, but it's a different story in real life.
"She's an awful person," says director Jessica Ciccone of the main character. "The radio station tries to kill off her character and she doesn't deal with that well."
"The audience is in for a treat," says Emily Cassano, who plays the part of Sister George's boss, Mrs. Mercy. "The show is a British farce, so they're going to have to wrap their heads around what we're joking about and what we're not. It won't be easy to pinpoint what the motive of each character is."
Known for their comedic qualities and tight-turned plot lines, farces, if they were a road, would be the famed Lombard Street of San Francisco.
"The show has a different vibe," explains Jessica. "Comedy can be tricky, but this cast can handle it."
This is the first official Dramashop performance for Emily. "I performed with the founding members in a show called 'The Book of Liz" in October 2010, which was kind of Dramashop's 'unofficial' launch," she says.
Jessica is one of those founding members, and "Sister George" is the first show she's directing for Dramashop. She also directed "Richard III" as a part of Gannon's Shakespeare Summer Nights last year, and has been performing in local productions since 2005.  
"When we founded Dramashop, we went in with a game plan and looked at our production schedule a year in advance," says Jessica.  "We're not trying to edge anyone out; we just want to do something different. So far there's been a lot of community support."
"The Killing of Sister George" is no exception to "something different." The show has an all-female cast. Well, sort of. Sister George herself is played by Nathan McCarty. So there's even more to wrap your head around.  "We wanted to do a female comedy from the beginning, and having Nathan play Sister George in drag will only add to the hilarity," says Jessica.
In addition to Emily and Nathan's thespian contributions, Erika Krenn will play the part of Alice Childie, while Brittnie Knight will take the role of Madame Xenia.

"The Killing of Sister George" will be at the Renaissance Center Theatre from March 15 to March 17, each night playing at 8 p.m.  
"People will leave thinking 'I don't know what I just saw, but I liked it'," Emily predicts.
Want to give acting a go? Dramashop auditions are open to everyone. "We're happy to keep branching out into the 'unusual suspects'," says Jessica.
The "unusual suspects" include actors in the making, who Dramashop encourages to audition for their next production, "The Pillowman." Again, this theater house embraces the entire creative process, and that includes developing acting skills for those who are interested. Dramashop offers classes, and their education and outreach director Domenic Del Greco holds an Open Workshop on the first Saturday of every month, which is free and without any need to register for in advance. For more information, visit www.dramashop.org.
In the meantime, we'll see you at "Sister George."
[Editors' correction: This article lists Brittnie Knight in the role of Madame Xenia. Valerie Jacques is actually playing that role. The Erie Reader regret this error.]