Drift Over to the Library for a Whimsical Art Experience
Erie's Blasco Library features the whimsical driftwood art of Brian Pardini through January.
January 22, 2016 at 2:43 PM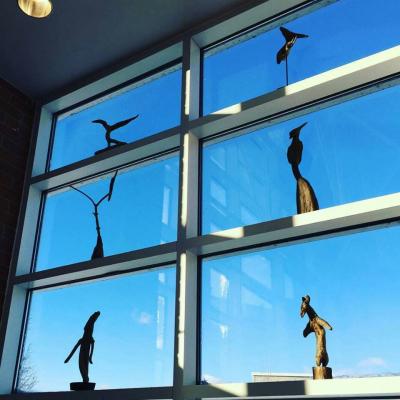 There is something so amazing about a person who finds beauty in things that the majority of people walk by, over, or on. Brian Pardini is an artist with that gift. I first encountered Pardini's art at The Lincoln Community Center in Fairview, where I was mesmerized; and my children were likewise enchanted by the spirit Pardini conveys through driftwood.
Living along the shores of lake Erie, driftwood is something that I see every time I head to the shore; and once in awhile, a piece looks enough like a snake that it makes me jump. However, I overlook the magic that Pardini gifts us through his interpretations. From pieces that look like the faces of ancients, to those that look like something from Where the Wild Things Are, Pardini evokes a sense of whimsy. Through the end of January, the display will be featured at The Blasco Library.
Upon entering the library, three of Pardini's larger pieces are visible. In the Peninsula Room, several of Pardini's smaller pieces are displayed in the windows. The Peninsula Room provides a perfect setting for the quirky charm of driftwood ancients, animals, icons, and monsters that grace the view of the bay beyond. The display is particularly stunning at sunset, according to Erin McCracken, outreach services manager at the library.
It is worth a trip to the library just to see this fascinating display. But I would encourage you to go to see the display and stay to appreciate one of the greatest gifts that we have in Erie. The Erie County Library offers so much more than books. (As if books aren't enough!) Crafts and storytime for children. Classes for children and adults. You can even get a fishing pole and go out to the dock to fish, or get a family pass to the Erie Art Museum.
One final note, it is fantastic to have a library that supports and displays the work of artists like Pardini; but did you know that the permanent art on display behind the counter at Blasco could at one time be checked out of the library to those who needed to appear suddenly affluent and cultured? A visit to the library provides you with a great experience and a lot of fun facts. Go check it out!