Driving Rain and Driving Thoughts
A cross-town drive leads to a hopeful destination.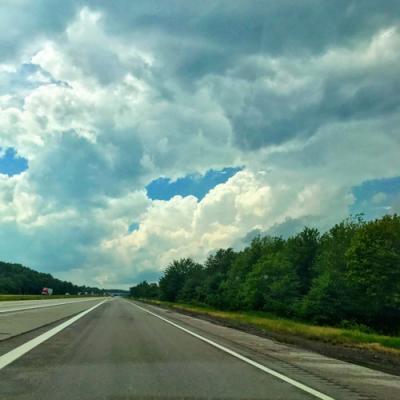 I was recently driving across Erie county — Harborcreek to almost-Fairview — in a relentless downpour. My husband and I planned on going to Virginia for the weekend, but the weather stopped our trip before it really began. So, I got back into our rental car — we always rent for trips since our family vehicle has never heard of good gas mileage — and headed across town.
Our attempt to take the highway was downright awful; our GPS was giving us grief (Virginia inexplicably wasn't on the map? At all?), and the rain was coming down in the sort of buckets that render windshield wipers useless. We turned around, headed home for reprieve from the rain, then realized we'd have to return the rental to the airport. I was anxious about driving in the rain, but we set off.
Almost immediately, I noticed I was calmer. The rain didn't let up, and traffic was picking up since it was now lunchtime rush hour, but my little hatchback was no longer a nest of anxiety. 
It wasn't until I was about halfway through town that I realized why. 
As I was navigating between potholes and puddles on West 32nd, singing along to Rocket 101's lunch hour, it hit me. I know these streets. I know when to head north of Peach to avoid the traffic lights, and I know exactly where to stop outside Valerio's to let people out, while still making the green light myself.
I know Erie.
I've lived here my whole life. I grew up in Millcreek, where my friends and I (in our charmed eyes) ran our neighborhood. My years at Gannon gave me a profound respect for downtown, and my education was often enhanced by its urban setting. Now, I work in Harborcreek and live in the center of the city — two areas that quickly became as comfortable to me as that subdivision I grew up exploring.
The county itself is familiar, it's home and it's comfortable. The variables are what keep it exciting. I'm proud of my fellow rose-tinted millennials; where so many people have been quick to write off this apparently stagnant city, we are embracing our unique situation and making it into something wholly new. 
I love the way we embrace seasons so fully — it's amazing to remember that this saturated blue June sky will soon be impenetrable white, the clouds heavy with snow. I even love the potholes in a way, their gaping cracks a reminder of the change in temperatures we experience like no other city. 
My drive across Erie this week was, truthfully, nothing more than an errand. And with the circumstances, it should have been aggravating, a frustrating waste of time. But, like the city I drove through, there was an undeniable charm to it. Finding that charm is what's kept me irrevocably in love with this city. I hope that's something we can all hang on to. 
Meredith Wilcox is a freelance writer and photographer who happily lives in the city of Erie with her husband. Find her at meredithann109@gmail.com and at meredithwilcox.com