Eating Disorder Awareness Week
White Pine Center lights up the Bicentennial Tower in commemoration
February 23, 2023 at 8:00 AM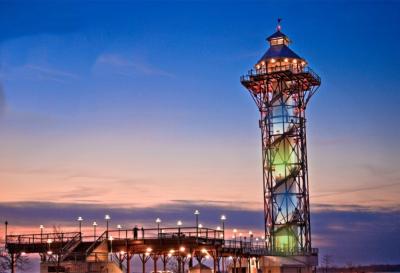 Erie's Bicentennial Tower will be lit up in the nationally recognized colors of blue and green to commemorate Eating Disorders Awareness Week (EDAW) which is Feb. 27 through Mar. 5. White Pine Center for Healing (WPC), the tri-state area's only non-profit organization specializing in the treatment and prevention of eating disorders (EDs), will be illuminating the tower for the first time ever. This tower lighting is in participation with the annual Lighting Campaign held by the National Eating Disorders Association (NEDA).
This visual symbol of hope is important as eating disorders have the highest mortality rate of all mental health illnesses, second only to opioid addiction. It is estimated that half of the U.S. population either suffers from an ED or knows someone who does, whether they are aware of it or not. One person dies of an ED every 56 minutes, according to NEDA. A projected six million new cases of eating disorders will be diagnosed in 2023 alone. 
In response to these alarming statistics, White Pine Center for Healing developed their mission to offer specialized treatment that the community had been lacking. The organization offers individualized therapy, group therapy, evidence-based prevention education, and community resources. While it is only natural to focus on the lives impacted and the health implications of eating disorders, there is also an economic toll to consider.
According to the Harvard University Strategic Training Initiative for the Prevention of Eating Disorders (STRIPE) in a report titled The Economic Impact of Eating Disorders, the impact of EDs in the U.S. annually is an estimated $64.7 billion. In Pennsylvania alone, over $2.5 billion is lost each year in the cost of medical expenses, emergency room visits, government spending, lost wages, lost revenue, and other factors. This combination of economic and health implications make Eating Disorder Awareness Week a crucial opportunity to turn our community's attention to the facts and consequences of these devastating diseases.
These health and economic impacts show the broad reach that EDs have in our society. They can impact anyone from any walk-of-life regardless of age, race, socio-economic status, geographic location, religion, occupation, sexual orientation, physical ability, or gender identity. 
White Pine Center understands this, so the organization offers prevention and awareness programming to middle schools, high schools, colleges, corporations, and organizations to educate about the signs, symptoms, and risk factors, as well as share preventative messaging. Programs like "The Body Project," "Love Your Tree," "Confident Body, Confident Child," and "Eating Disorders: 101" enhance self-esteem and teach participants to embrace body diversity, which is a protective factor against the development of an eating disorder. They offer therapy at their centrally located West 7th Street location.
WPC is also excited to launch their newest evidence-based program called "Eat Breathe Thrive," which focuses on mindful eating, functional exercise, emotional balance, and fulfilling relationships. WPC is the only organization in Pennsylvania to offer a certified facilitator of this program. EBT is an extension of WPC's therapy and prevention programs. It is available to those transitioning out of treatment for eating disorders, as well as to members of the community who are seeking support and activities to strengthen their sense of well-being and self-esteem.
White Pine Center for Healing is growing to meet the demand for specialized services to treat and prevent eating disorders. There is help for those struggling and WPC is here for them. Here are ways you can support WPC's efforts to offer hope and healing:
Join White Pine Center for Healing at the foot of Dobbins Landing on February 

27th at 6:00 p.m. to observe the tower lights and stand united for those affected by eating disorders. 
Donate to help light the tower and shine a light on the signs, symptoms and risk 

factors of eating disorders: whitepinecenter.org/donate 
Follow WPC on social media for helpful information, community connection and 

helpful resources.
If you or someone you know is struggling with an eating disorder, help is available. Visit the NEDA website nationaleatingdisorders.org to learn more.  If you think you might have an eating disorder, you can take the health survey on the White PIne Center's website, which can act as a preliminary self-assessment to guide.
VisitNEDA's website for more ways to find help, information and support nationaleatingdisorders.org/help-support/contact-helpline