ECGRA's Ignite Erie
Creating the Entrepreneurial Ecosystem in Erie 
February 4, 2015 at 6:40 AM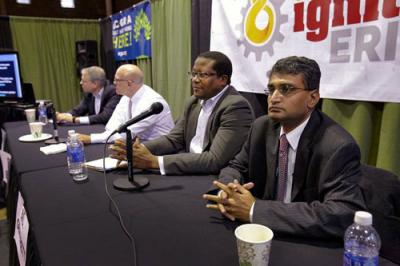 Money, Roger Waters wrote, it's a gas.
Skeptical or not on the topic of finance, Waters is right: Money is a fuel, an accelerator to propel otherwise static objects into motion.
So money, it's not hard to draw the connection, then – or more money – is what would thrust objects – say, elements in Erie's entrepreneurial ecosystem – onward, driving them with force and increased momentum.
"The role of economic development in a community is to unlock investment, to create progress moving forward," says Perry Wood, executive director of the Erie County Gaming Revenue Authority. "We need to empower the people in the trenches with more resources to accomplish their missions."
In short, 'resources' is that energy, and Wood is no stranger to words like it – as well as ones like 'empower' and 'entrepreneurial'-anything. The seed-level investment that ECGRA is now making through Ignite Erie is what he hopes to flick the spark of ignition to Erie's entrepreneurial motor.
That is, he's putting ECGRA's money where its mission and mouth is.
In December 2014, ECGRA announced the launch of the second phase of its small-business-centric initiative, which came with a commitment of up to $3.9 million of investments through 2017 with the goal of spurring inner-city small-business development, creating a culture of collaboration between industry and local universities, and presenting a "broad spectrum of financing products for starting, growing, and reinventing small business."
But this story didn't start there. Rather, it began back in November 2013 with Phase I of Ignite Erie, when ECGRA hosted "A Day of Innovation for Entrepreneurs," which was, as Wood puts it: "designed to be a day to talk about innovation-based economic development."
Wood brought in Pittsburgh-native Richard Bendis, CEO and founder of Innovation America, "a national public-private partnership focused on accelerating the growth of innovation economy in America," and one of the top-five speakers on innovation economy in the world.
In case wrapping your head around just what exactly "innovation" (a pretty word used indefinitely and deafeningly to create a culture of buzz) means or does for communities, Bendis' helpful perspective goes something like this: "Innovation really looks at different ways that we communicate, a way in which people govern, a way that people develop partnerships and collaborate with one another. But, it also is "looking at new ideas and the opportunity in new markets."
In other words, innovation – although it can be – isn't limited to things like the development of the next iPad or even the next Twitter, that while innovation can be found on an assembly line or in the app store, it doesn't have to be.
Wood gleaned three key things from the Ignite Erie Summit: Erie's entrepreneurial culture isn't getting the support (read: financing) it deserves; unlike most communities with robust climates to help support industries to innovate, Erie doesn't have intermediaries (read: Philanthropic Institutions in Northeast Ohio is a good, close example of this); and that while financing structures need to be led by the private sector (read: government bailouts aren't necessarily coming to a town near you), they need to be jump-started with capital from groups like ECGRA.
Which is to say: If there's an influx of money, entities, like Community Development Financing Institutions, can serve as the arbiters of the keys to unlocking capital to trigger growth. Or if this were to be a chemical equation, ECGRA, with its Ignite Erie initiative (read: capital), would be the catalyst creating a novel reaction between two existing elements to produce something new.
Because of its mission to be an impact investor by galvanizing nonprofits toward economic and community development, ECGRA is no stranger to infusing the region with capital to spur opportunity. Through the Enterprise Development Fund, ECGRA's investing in retail, healthcare, and manufacturing, while with the Erie Innovation Fund with Ben Franklin Technology Partners of Central and Northern Pa., it's endowing in the tech-based sector.
"Locally-deployed dollars give business owners more leverage," says Stephen Brawley, president and CEO of Ben Franklin Technology Partners. That enables businesses, he adds, to "grow to a larger extent faster."
But the second phase of Ignite Erie isn't offering just one spark. To encourage and usher entrepreneurs from stage to stage, ECGRA's also incentivizing collaboration between local universities to provide a support system for entrepreneurs. For proof of collaboration between those institutions, one needn't look further than "The Path Forward," a whitepaper by the Council of University Presidents acknowledging the critical role they play in developing the region's economy. Which is a major step forward considering Erie's Second-Tier identity.
To understand Second-Tier Regions (read: Not synonymous with second-rate) and their attributes, turning to urban affairs and economic geography scholar Heike Mayer, who literally wrote the book on it: Entrepreneurship and Innovation in Second Tier Regions, is a good place to start.
While it's a must-read for anyone who's anyone in the world of economic development with an eye on Erie's future, the CliffsNotes version would emphasize how the path to development for Second-Tier Regions doesn't follow the trajectory of larger regions, like Silicon Valley or Boston's Route 128. Instead, these regions use already available resources through partnerships.
Prior to the book, Mayer authored a study for the Metropolitan Policy Program at the Brookings Institute, "Bootstrapping High-Tech: Evidence from Three Emerging High Technology Metropolitan Areas," that focused on Portland, Kansas City, and Boise, arguing that they emerged as high-tech centers despite lacking a major research university in the region, thus proving that although it's "often thought necessary," boasting a renowned research-based university really isn't. Rather, these regions capitalized on policies "[linking] universities with industry, [facilitating] entrepreneurship, and [supporting] the development and commercialization of innovation."
So when Wood posits that Erie's existing strength in applied sciences and manufacturing bridges a gap created by the lack of federal labs and key research institutions, it carries weight. And when Mayer's study notes that both Portland and Boise "started as low-cost manufacturing sites for firms whose headquarters and R&D activities were located elsewhere," it affirms Erie's potential for growth in light of its current assets without the need to rebuild the region's entrepreneurial ecosystem from the ground up. But, as Mayer suggests – and Wood echoes – collaboration is key.
Thus, Ignite Erie's second phase put out the call for applications for those endeavoring to support small-business development and those willing to undertake the facilitation of an industry-plus-university collaborative effort. ECGRA is currently in the process of reviewing those applications, and those grantees will be named soon.
While we await, we can do some self-reflecting. In being honest with ourselves about what we lack, as well as what we have, we can more appropriately fine-tune our equation, or as Wood puts it, understand the parts of "the magic formula for regions of our size."
Being realistic about innovation – that it, as Wood stresses, "starts with creative and educated people" – is both simple and profound. Because the Ignite Erie Summit revealed that Erie's ripe with people with business plans sitting on shelves, ideas being hatched in garages, and entrepreneurs struggling to make it the last mile to the marketplace, half of the formula has been identified. And because institutions here are willing to collaborate to champion development, there's the other half. Aligning the two in economic development marriage has become the work of Ignite Erie.
"Our entrepreneurship ecosystem is comprised of applied sciences at the universities, financing entities, the entrepreneur themselves, local government – all factors that have to come together to create this system," Wood says. Which all already exist in Erie, waiting for the spark to set things into motion toward unity.
So yes, money – it's a gas. And with Ignite Erie, ECGRA's filling the tank, ensuring Erie isn't sitting idly by while other cities pass us on the road to economic growth and prosperity.
Ben Speggen can be contacted at bSpeggen@ErieReader.com, and you can follow him on Twitter @ERBenSpeggen.