ECHS Brings Renowned Developer to Erie for Annual Meeting
Care about the future of Erie? Then this event is for you.
July 15, 2013 at 12:39 PM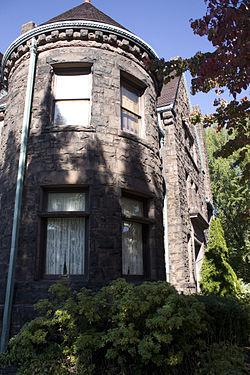 To say that what development occurs on the former GAF site – something we've often described as the jewel in the Bayfront crown – matters greatly is an understatement. Currently, it's, as Jay Stevens wrote in March 2012, a blank canvas. What it will become will be the portrait of Erie for years to come, and something we'll re-evaluate when we celebrate or criticize the Perry 250 in the 2060s.
But the plans are still up in the air.
There's the Erie Convention Center Authority Concept Plan. But that's been met with criticism, and it's led to alternate site concept plans, like the one City Councilman David Brennan's proposing.
The fact that the city is arguing over how it sees its future points to something else: How do we see ourselves now? What's our cultural identity in the wake of the Rust Belt becoming, well, less rusty?
We're suffering a current identity crisis because we're faced with two things: we're used to manufacturing things, and our largest manufacturer already has one foot out the door. So much like the days after the steel mills shuttered their doors in Pittsburgh, Erie's faced with the "so what do we do next" question.
Instead of looking south to Pittsburgh for example though – don't get me wrong, they're doing great, and have even been called the next Portland – let's look north.
Remember when Erie Reader took a trip to Buffalo? We ended up there because we had met Peter Burakowski, who "handles PR for Visit Buffalo Niagara, an organization that markets the Buffalo-Niagara regional assets to attract visitors for tourism and leisure to benefit the city's economy," as I wrote in my recap of those travels. And Burakowski, a guy beaming with pride from his city, actually loves where he lives. He's even in a Buffalo history-rock band, so not only is this guy promoting his Rust Belt city and its future during his 9 to 5, he's rocking the fervor into the wee hours of the morning, gigging around the city. 
During that trip, we met with Leslie Zemsky, who, "with her husband Howard, managing partner of Larkin Development Group – fervently supports the Buffalo region as a place to not only live, work, and raise a family, but as a place to thrive and develop culturally and artistically," I wrote of my encounter with her.
"Leslie spoke in vibrant bursts about her city, discussing how a dilapidated building across the street is being converted into a gastropub, how different seasonal events draw people into the Square, how art is flourishing, how people are returning to the city, how creative types are looking for outlets to express themselves, and how all of this makes her a very, very happy person happy to be in the center of change."
People actively shaping the future of their city – with their own dime. Wouldn't it be great, then, you ask, to invite such people to our city to hear them speak of their development and find out what we can learn from their endeavors.
Ask no more.
Regional preservations and real estate developer Howard Zemsky will speak at the Erie County Historical Society's Annual Meeting Monday, July 15. Using his own money, Zemsky's developed Larkin Square – an area GAF's future could take notes from – and like the potential lying at the foot off Erie's Bayfront, Larkin Square's changing Buffalo from a former Rust Belt, industrial city into something trending, something cool, something artsy, something cultural – perhaps the next, next Portland.
And the Historical Society knows that Erie Reader readers care about the future of the city, the future of the GAF. That's why they're offering a 50 percent discount to the first six – count 'em: six – Reader readers for the evening at $20 per person.
Sounds like a sweet deal, right? Learn from someone who's changing a city in hopes of helping our own. And that's before you learned there's an open bar and heavy hors d'oeuvres. The event, which you can register for here, begins at 6 p.m. and is being held at the Watson-Curtze Mansion, located at 356 W. Sixth St.
Still not sold? Still don't want to hear about how we can listen to someone who knows what he's talking about? Here's a laundry list of Zemsky's accomplishments:

Howard Zemsky is managing partner of Larkin Development Group. The firm is actively redeveloping the historic Larkin District in Buffalo into a mixed use commercial, residential and retail district. Zemsky serves as the co-chair of the Western New York Regional Council for Economic Development, as chairman of the Niagara Frontier Transportation Authority (NFTA), and is president of the Richardson Center Corporation and is chair of the Buffalo State College Council. He also serves on the boards of Buffalo Place, the Michigan Street Preservation Commission, and the Martin House (Frank Lloyd Wright) Restoration Corporation, where he served as chair for five years. Zemsky is a director of Medical Recovery Management LLC and MOD-PAC Inc. Zemsky holds a bachelor's degree from Michigan State University and an MBA from the University of Rochester. Zemsky and his wife Leslie have lived in Buffalo for 30 years and have raised three children.
Ben Speggen gives a damn about the city he's called home for nearly a decade now and will be attending this event tonight. He can be contacted at bSpeggen@ErieReader.com, and you can follow him on Twitter @ERBenSpeggen.