Eerie Horror Film Festival & Expo
Now in its 12th year, the popular festival is returning to its roots.  
October 14, 2015 at 3:30 PM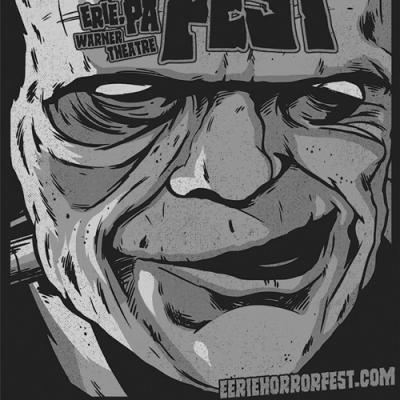 This year's Eerie Horror Film Festival & Expo is gonna be one that scary movie fans will just love (ahem) to death.
To kick off the fearsome fest's 12th year, there's the return of Here Come the Mummies, the all-undead band that made the historic Warner Theatre's roof rattle with their "Terrifying Funk From Beyond the Grave" in 2014.
As usual, there'll be heaping piles of creepy-cool vendors peddling scary movies and awesome memorabilia.
Along with that comes everything else that defines Eerie Horror Fest: Celebrity appearances, autographs, and hang-outs; screenings of some of the coolest up-and-coming horror and sci-fi flicks around; and what's always a genuinely unique atmosphere of macabre merriment.
But this year, according to Horror Fest President "The Rev" Greg Ropp, the festival "wanted to get back to its roots," which means that the "Film" part will be front-and-center.
Remember, kiddies, said Ropp: "We're not a convention. We're a film festival." And this year, the films "are the stars of the show."
Roughly 500 films and screenplays were submitted by independent, up-and-coming moviemakers from more than 30 countries — the best of which will be featured at Eerie Horror Fest. So it's bound to be a starry (but dark, of course) couple of nights.
Promoting their work at the festival "helps young filmmakers get their films screened and [can get] their foot into the door" of the industry-at-large, said Ropp.
As it's grown, and with so many submissions from around the world taking a leading role, Eerie Horror "has become more and more of a truly international event," he added.
So, you of queasy stomachs may ask, what's the draw, anyway? Well, here's the thing: Whether we know it or not, pop-culture history shows that many of us simply love being scared.
In fact, the festival draws about two thousand people to the Warner each year, according to organizers. Its renown and far-reaching popularity "just shows the power the genre has across the globe," said Ropp, a guy who knows — I mean really knows — movies.
"Love 'em or hate 'em, horror movies are a [multi-billion-dollar] business," he said. "It's the most viable and successful genre of film ever created," and "it's been sustained since the very first days of cinema."
Since its debut in 2004, well over 500 films have been screened at Eerie Horror Fest in a competition that opens its yearly worldwide call for entries, fittingly, on Halloween.
Since its debut in 2004, well over 500 films have been screened at Eerie Horror Fest in a competition that opens its yearly worldwide call for entries, fittingly, on Halloween. Many of those films get their world premiere at Horror Fest, said Ropp, and some have even gone on to secure distribution deals with major companies (the ultra-spooky V/H/S, for example).
"You never know what's going to happen with independent films," said Ropp. And seeing them first at Eerie Horror Fest (in the luxuriant Warner, no less) as well as getting the chance to rub elbows with some of the movies' makers and stars "is a really cool thing for people who really love film."
That's just a dead-eye glance at the thing that is the 2015 Eerie Horror Fest, kicking off with the Mummies' performance on Friday, Oct. 16 and crawling around through Sunday, Oct. 18.
You can find out about ticket costs, celebrity guests, film screenings, and all the other stuff going bump in the night by visiting eeriehorrorfilmfestival.com.
Writer/photographer Ryan Smith can be contacted at rsmith@eriereader.com, and you can follow him on Twitter @RyanSmithPlens.