Eerie Horror Film Festival Not Dead Yet
It's just living an alternative lifestyle.
October 26, 2016 at 1:30 PM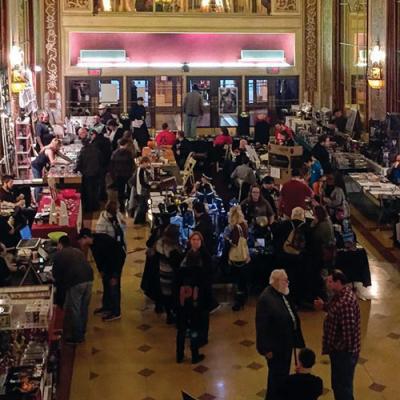 Saturday, Oct. 29 and Sunday, Oct. 30
It may not seem obvious from where you're sitting, but the next big thing in cinema is lurking just around the corner. So step away from that spacious island countertop and the panoramic sightlines of that open floor plan and step into the claustrophobic catacombs of the small-screen underground. At the 13th Annual Eerie Horror Film Festival, you can at least take discomfort in knowing you've given yourself a fright'ning chance.  
Whether they've been practicing scare tactics for months or years, a chance is all amateur filmmakers and screenwriters can ask for. Many worthy projects are buried in obscurity, and gaining that first exposure can be like lifting the cover off of a sealed casket. Like the entrants, Horrorfest Crypt Keeper/Curator Greg Ropp and his diverse panel of judges are forever out for fresh blood. And in his humble opinion, you should be, too.
"If anyone reading this only knows horror from what Hollywood tosses you in the form of sequels and remakes, you need to go to a film festival and see what you are missing, as I assure you nearly every film you will see blows the crapola from Hollywood out of the water," says Ropp. "Steven Spielberg began his career making horror films, as did Francis Ford Coppola and many more. Horror seems to get a bad rap all the time, yet it has always been profitable, always been popular, and has jumpstarted many careers."
That is in part because horror is the most "forgiving" genre out there. "A bad comedy or drama is inexcusable but even a bad horror film is fun," Ropp adds. In fact, Earth's "worst" horror movies are often as hilarious as its best comedies (in that category, Killbillies and Jockstrap Slaughterhouse seem particularly promising).
Less forgiving, however, are the finances required to keep a film festival afloat. The scariest part about this year's event was the prospect of it being the last. Despite drawing fans and industry insiders from all over the world for the past 13 years, Horrorfest has existed with "very, very little help from sponsors or advertisers." Faced with a shrinking budget, Ropp was at a crossroads.
"Shall we throw all we have in and call it a day, or do we simply downsize and survive the storm in order to build a better beast next time? We chose the latter. And here we are."
"Here" this time around is Edinboro University, rather than the usual Warner Theatre. While this year's Horrorfest may lack the fanfare and convention atmosphere of previous iterations, it will certainly not lack for new and unique entries in the horror, suspense, and science fiction genres. Call it "downsized" or call it "more intimate," but don't call it dead. If there's one thing artists (or promoters) have learned over the years, it is how to survive on a budget. – Matt Swanseger
10 a.m. to 11 p.m. Saturday, 11 a.m. to 9 p.m. Sunday // 219 Meadville St., Edinboro // facebook.com/EerieHorrorFest // $3 per two-hour screening block, free to Edinboro students