Eight Minutes With Vanilla Ice
Over the past 20 years, Rob Van Winkle - a.k.a. Vanilla Ice - has seen more ups and downs than an elevator, yet, he's still here - at peace with himself, and moving forward.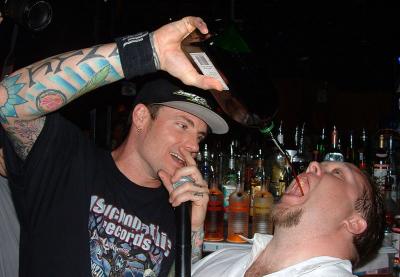 Over the past 20 years, Rob Van Winkle – a.k.a. Vanilla Ice – has seen more ups and downs than an elevator, yet, he's still here – at peace with himself, and moving forward. Last year, he released an album titled "WTF" (Wisdom, Tenacity, and Focus), and he currently appears in the new Adam Sandler movie "That's My Boy." His DIY Network show, "The Vanilla Ice Project," is in its third season, and best of all, Rob will be making a stop in Erie just a few weeks from now to serve as Grand Marshall of the sixth annual "Roar on the Shore" Bike Rally. It's awfully hard not to like this guy; he and his PR people bent over backwards to talk to me, and after several days of mails – both voice and e – he was finally able to take time out of his busy shooting schedule to call me, on the Fourth of July no less. Here's what he had to say about life, lunchmeat, pleather, coffee, and adolescent transmogrified martial artist reptilians.
CV: I read a story last week that said you had died in a car wreck. Tell me, what's it like in hell?
VI: [Laughs] Well…[laughs]…What's it like in hell? I don't know about all that man. I heard this rumor too, man…I'm like "What is going on?" My mom almost freakin' had a heart attack. I don't know how this crap starts, I got like 9 million tweets, texts from everybody, I mean, it was ridiculous, but I'm still alive and kicking. And I lived a personal hell in life.
CV: Let's talk about the late 1990s; it's well known that you went through some tough times. Have you made peace with the Vanilla Ice persona of that era?
VI: Of course, man. Listen, that's the whole thing, isn't it? We are who we are because of who we were. Even though I had a weekend that lasted a few years – that was that personal hell I was talking about, that I lived – I survived it and I can say that with a smile on my face, because yesterday is history and tomorrow is a mystery. I mean, the greatest thing is, now, I love the Teenage Mutant Ninja Turtles. I love it all. It makes you who you are. I'm very proud of it now, even though I hated it at one point of my life. I'm very proud of it now.
CV: You've had a spectacular career in music, film, and now television. Where do you see yourself in 30 years?
VI: I don't do that. I just told you, yesterday's history, tomorrow's a mystery. You always have to expect the unexpected. Believe in karma, and hopefully it will all work out. That's the whole thing – you're not promised tomorrow, and yesterday's already happened, so you can't go back and change it. But you can turn all of your negatives into positives by saying "I'm not going to do that again!"
I always have agendas, and goals, and things like that, but you never know. You could meet somebody, find a job opportunity, you could get married…nobody can sit there and actually say they can see themselves in 30 years.
CV: So have you been to Erie before?
VI: Yes, I've been to Erie before. I believe I'm coming in the night before.
CV: Do you need a place to crash?
VI: Are you offering?
CV: Yeah. I've got a couch you could use. It's leather.
VI: Pleather or leather?
CV: Definitely leather. Well, pleather.
VI: Maybe I'll be there, brother; you never know.
CV: Were you familiar with the "Roar on the Shore" before being asked to headline it?
VI: I'd heard of it before, of course.
CV: What drove you – hehe – to participate in this event?
VI: Well, I'm just happy to be there and get in where I fit in and enjoy the festivities, and put on a good show for everybody. And, bring back some great memories.
CV: How long do you plan to stay in Erie?
VI: Well, I might hang out – I've got a lot of friends who are coming out for the event, and we're gonna kinda marinate for a while. I don't know if you know, but I'm in the third season of the "Vanilla Ice Project" on DIY network so I have to get back and hang drywall.
CV: Yes, of course. And hanging drywall is the worst.
VI: It's a lot of work man; it looks like a pleasure cruise on TV, but that shit doesn't get done as fast as it shows on TV. It takes time, so I'll be leaving Erie to go hang some drywall.
CV: People probably still know you best as a musician. What are you listening to nowadays?
VI: I listen to everything, man. Bob Marley if I'm cruising down the road; I listen to a lot of Pandora, but really, everything. I listen to classical, country…My main thing is hip-hop. I love hip-hop, but, you know, not when you're trying to be romantic with your girl.
CV: I guess hip-hop is not always appropriate.
VI: Cory, Cory, hold tight for a second. I'm pulling through Starbucks, gonna get me a little bit of cof-aaaay.
CV: O-kaaaaay.
VI: (To barista) A grande bold, two sugars, splash of cream. That's it. Thanks. Got it.
CV: So my friend James says his mother never got the word. What should he do?
VI: [Laughs] His mother never got the word? He should go…umm…The word is the word, [laughs] meaning "respect." If she never got that respect, he needs to get his ass in gear and get over there and give his mother respect.
CV: Touché. I've got another friend, John, who wants to know if you remember throwing lunchmeat on naked girls' asses with him at the Ponderosa Sun Club in Indiana.
VI: [Laughs] I don't quite remember that, but it sounds like a fun time. No, I don't think I would do that, personally, but it sounds fun. [Laughs]
CV: Great. Well, I'll shoot you a message on Twitter, and you obviously know how to get ahold of me, so if you need anything, or want to get a few beers, or want to take me up on that couch offer, I'm totally here.
VI: [Laughs] Alright buddy. Sounds good. Take care.
"Roar on the Shore" takes place from Thursday, July 19 to Sunday, July 22. Vanilla Ice performs at Presque Isle Downs & Casino at 5 p.m. Thursday, and then brings the roar to Perry Square at the head of a legion of bikers at 6 p.m. For more information on Roar on the Shore, visit www.RoarOnTheShore.com. Follow Vanilla Ice on Twitter @VanillaIce.