Elective Action
Erie teens get intro to state government
Brainstorming, briefings, and the buzz of political activity — those are a few things that Erie teens and more than 500 of their peers experienced at the 77th annual Pennsylvania Youth and Government Model Convention in Harrisburg April 13-16.
My friend Edison Nicholson, founder and CEO of the Youth Leadership Institute (YLI) of Erie, invited me to cover the convention. The Youth Leadership Institute first participated in the convention in 2019 and sent six delegates this year. Erie's Booker T. Washington Center also sent seven teens. "Our young people need this type of exposure," said Nicholson. "They want to make change but they just don't know how," he said.
The last time I met up with Nicholson in the State Capitol Rotunda was in November 2019, when a large contingent of Erie residents, including young people, rallied with Empower Erie in support of a new community college. Years of well-documented research and advocacy finally paid off when the State Board of Education approved the new Erie County Community College the following July.
Still, as I hoofed it from the Harrisburg Hilton to the Pennsylvania Capitol with the Erie group, I wondered how to cover this jam-packed event in which up to 240 proposed pieces of legislation, summarized in an inch-thick spiral binder, might be introduced, debated, amended, and possibly approved by the full Blue or the Gold legislative chambers.
The actual Pennsylvania Legislature has 203 representatives and 50 senators — dividing the student lawmakers into two separate governing bodies (Blue and Gold) allows for wider participation. Students could opt to join either a liberal or conservative party, but the focus was on civility, parliamentary procedure, research, and public speaking, not partisanship. Committee chairs and presiding officers enforced the rules, including strict time limits for pro and con arguments.
Not all legislation made it to the floor for a vote, but even if legislation didn't advance, I was floored by the wide range of issues that the teens tackled. In addition to trying save our planet, stop gun violence, and protect LGBTQIA+ rights, they also proposed reforming the criminal justice system, abolishing the death penalty, providing day-after contraceptives to female students, funding the arts, stepping up safety measures for first-time drivers, prohibiting discriminatory dress codes, and pushing back against book bans, among many other topics.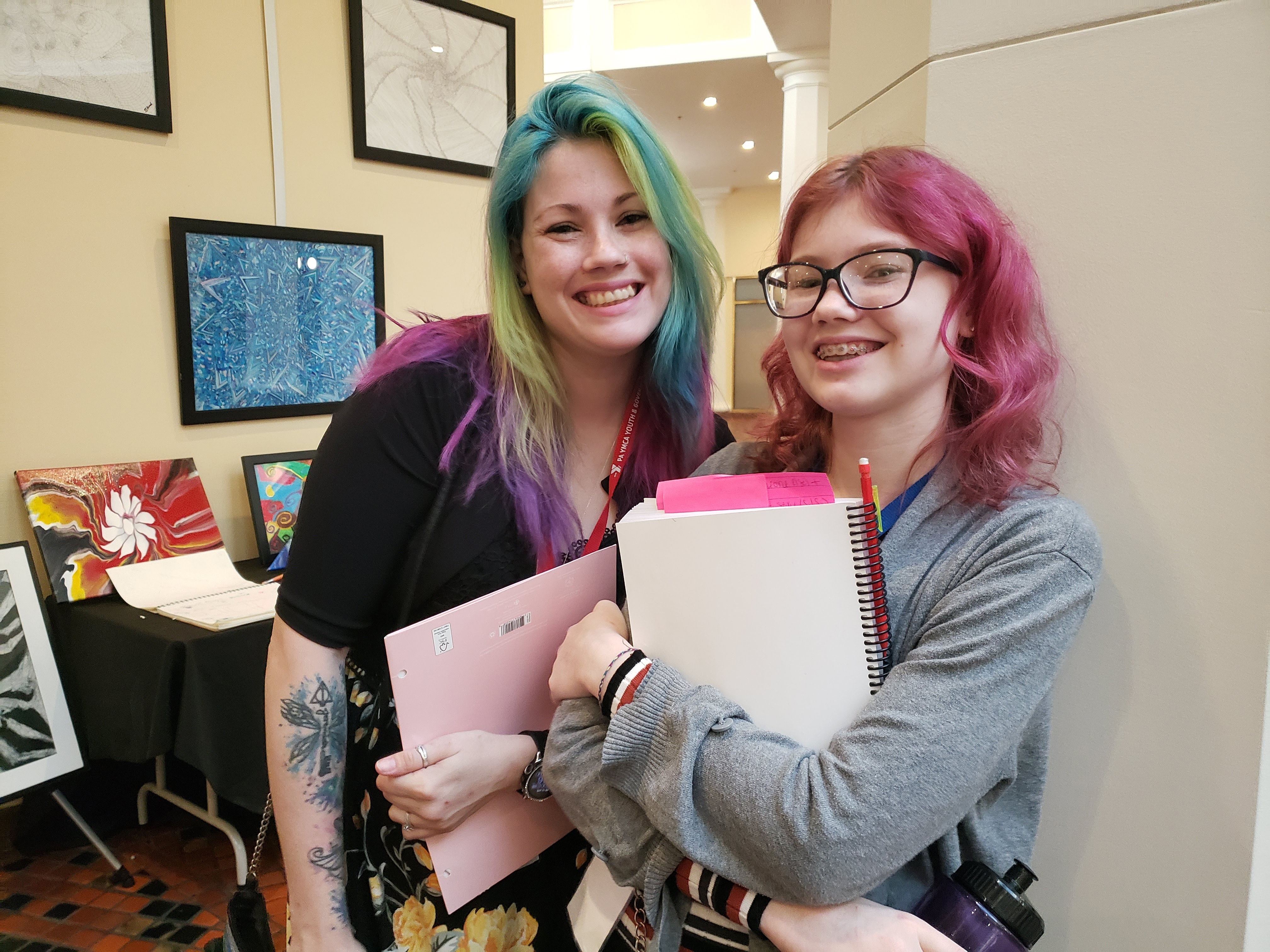 Katie Rodney (left) volunteered as a chaperone for the Youth Leadership Institute of Erie's trip to Harrisburg so she could spend time with her daughter Gabby (right). She also wanted to learn how state government works, especially so she can advocate for cosmetologists to become mandated reporters for domestic abuse.
The "Tampons for All Bill" would allow those getting food stamps or Women, Infants, and Children (WIC) coverage to pay for menstrual products with their benefits. Another bill would stock school restrooms with tampons and pads.
Those bills were just two examples of how vital it is to hear women's voices when it comes to making policy. This was clear from the first night of the conference, when the audience cheered as the female governor, her two female lieutenant governors, and nine female Supreme Court justices, all elected at the 2022 conference, were sworn in.
The next day, Gov. Riley Stoddard, a senior from Garnet Valley High School in Delaware County, conducted a news conference inside the Capitol, aptly fielding questions from teen reporters about her platform and style of governing. When her male predecessor literally fell asleep on the job in 2022, everyone thought that was amusing, she said. In contrast, she has been viewed as "mean and aggressive" because "I'm a woman, I wear a suit, and I have a pretty interesting haircut," she said, referring to her perfectly straight bangs and blunt mid-length bob.
"Women often feel like they have to limit themselves," she added. "It is scary to put yourself out there." Later that day, she led her administration's mock crisis management response to a flood in Central Pennsylvania, which required her to make quick decisions about road closures, communications, evacuations, shelters, and emergency aid.
The young female leaders impressed Katie Rodney, who accompanied her daughter Gabby, a Youth Leadership Institute member, on the drive from Erie. "We're raising smart kids," she said, referring to her own family and to the YLI participants. If she had been pushed to undertake this type of leadership training as a teen, "I would have had a better start at adulthood." Instead, Rodney, 33, "did life backwards," she said, dropping out of East High, getting her GED, marrying at 19, then returning to school recently to become a cosmetologist. She came to Harrisburg to spend time with Gabby but also "to learn from this experience, to learn what government can do and can't do, to know what to look for when it comes time to vote."
She has an advocacy issue of her own; she'd like Pennsylvania cosmetologists to be trained as mandated domestic abuse reporters, as they are in some other states. "Inside a salon we see it all, we hear it all," she said.
Like Rodney, the teen delegates brought their passionate interests to the mock legislative sessions and also expanded their horizons, thanks to their committee assignments. Solomon Ravnell, a McDowell Intermediate High School ninth-grader, is interested in gun control and gun violence and would like to become a lawyer after attending a Historically Black College or University (HBCU).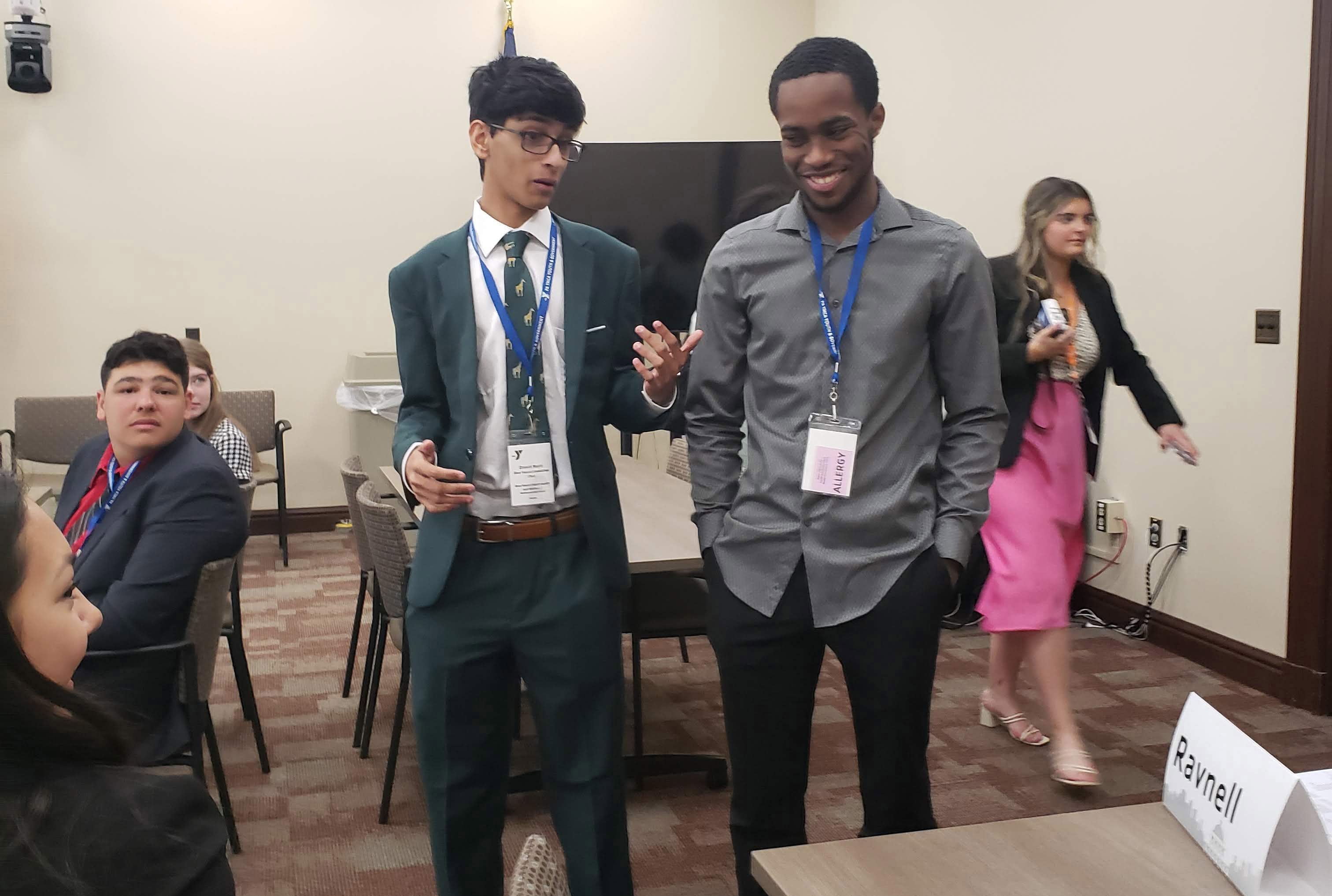 Dravin Murti (left) of Middletown High School, talks to Solomon Ravnell of McDowell High School during a break of the Blue House Public Health and Welfare Committee meeting. Murti chaired the committee.
But as a Blue representative on the House Health and Welfare Committee, he found himself listening to Rep. Christopher Fleming, from the Friendship YMCA in Harrisburg, advocate for the "Prescription Affordability Act," to pay for medicine for chronic illnesses, including diabetes, for those who don't qualify for Medicaid or Medicare. The high cost of insulin hits home for Fleming; his younger sister has Type I diabetes.
Fleming also knows first-hand that the YMCA's Youth and Government (YAG) convention helps to build leaders. He is the son of state Rep. Justin Fleming, D-105th Dist., the keynote speaker on opening night, who was sergeant-at-arms for YAG 25 years ago. "Be open to other ideas. Make new friends and challenge some of the ideas you come in with," the elder Fleming advised. "I look forward to some of you joining me in the General Assembly someday." The Erie teens don't necessarily aspire to elected office but most are already mulling over career possibilities.
Neveah Williams, a ninth-grader at the Charter School of Excellence Skills Center, who worries about teens addicted to drugs and alcohol, wants to go to the University of Pennsylvania to study marine biology or political science.
Gabby Rodney, also a ninth-grader at the Skills Center, is looking at going to art school or becoming a hair stylist like her mom. Erica Gall, an Erie High ninth-grader, is eyeing culinary school. A ninth-grader at Collegiate Academy, Cassandra Gorton would like to become a pharmacist. LeJohna Lindsey, also a ninth-grader at the Skills Center, plans to attend Harvard University and become a pediatrician, following in the footsteps of her sister, a med student at Dillard University, an HBCU in New Orleans.
LeJohna, a Blue representative, got a taste of a healthcare concern that could become a political issue when she sponsored the "Marijuana Usage in School" Bill. Neveah, a Blue senator, was the secondary sponsor. The bill's purpose was "to ensure that children and/or young adults with severe medical illnesses (who are) prescribed medical marijuana have access to marijuana-derived medication such as CBD during school hours." She advocated for her bill along with two other delegates who have ADHD, but it failed by one vote in the Blue House.
The Youth Leadership Institute teens came up with legislative proposals "that they thought our government today, in the real world, could potentially look at," said Hanna Oleski, 24, YLI's youth engagement coordinator. Oleski knows first-hand that participating in training programs such as the Youth and Government Convention can build leadership skills. A major in international studies with a minor in law and business at St. Bonaventure University as an undergrad, she will receive her master's in public administration from Gannon University this month.
At Bonaventure, she was named "all-region" lawyer for three straight years in the college Mock Trial competition in Buffalo. If YAG had been offered when she went to Collegiate Academy, "I would have done it in a heartbeat," she said. Their confidence will grow if the teens return to YAG next year, Oleski predicted. She also hopes that more organizations in Erie will send teen delegations to YAG. "Kids know they want to be politicians or involved in government," she said. "Little kids say they want to be president." The Pennsylvania Youth and Government Model Convention could well start them on that path.
Liz Allen started covering politics at age 16, writing about teens volunteering for the 1968 presidential campaigns. You can reach her at lizerie@aol.com.
Erie-Harrisburg Connections
One bill proposed in the mock legislation at the 2023 Pennsylvania Youth and Government Model Convention directly concerned Erie. Derick Sandstrom, 14, a freshman at Middletown High School, in Dauphin County, sponsored the "Lake Erie's Beach Cleaning by Prisoners" bill, which would have required those guilty of littering, improper waste disposal, contributing to oil spills, or destroying wetlands to clean Lake Erie's beaches for their community service sentences.
The Gold House Environmental Resources and Animal Welfare Committee approved Derick's bill but it didn't come up for a vote by the entire House. "Pollution is everywhere," said Derick, the son of William and Miranda Sandstom. Most of his extended family lives in Erie and they usually spend two weeks every summer here, he said. "Some of the beaches are just, like, super disgusting. You see broken glass and filth everywhere." 
Derick wasn't the only Harrisburg-area resident with Erie connections at the convention. Anastasia Neboga Cerritelli, an English language teacher at Middletown Area Middle School, advised the 90-member teen press corps. As a child, she came to Erie with her family from Ukraine and attended Grover Cleveland and Bethel Christian schools before her parents relocated to Southeastern Pennsylvania for their jobs as hydrologists.
A YAG delegate as a teenager, she told the teen journalists that in covering the conference, they would have "an opportunity to truly make a difference and let other people know about what the program does." The young journalists took photos, shot video, uploaded content to social media and to the website payag.wildapricot.org, and also produced a daily printed newspaper, The Capitol Chronicle.
Davasia Thomas, a delegate from the Booker T. Washington Center in Erie, was featured in an Instagram post by the teen journalists, explaining how she got by on "negative five hours of sleep" with sugary drinks and Doritos. Davasia is interviewed at the 37-second mark in the video: instagram.com/reel/CrERw4ntGxs/.