ER Sports
James Connor smashes Pitt records, General McLane football declares Quad-A status, McDowell football coach Mark Sobeleski resigns.
January 8, 2014 at 8:32 AM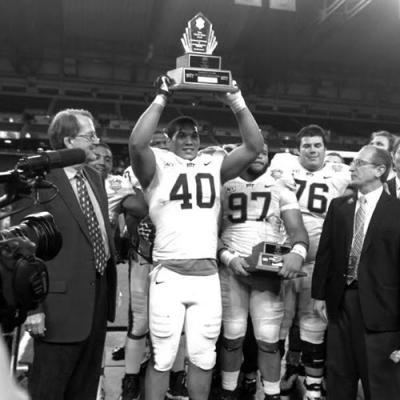 McDowell Grad Shines in Bowl Game
I have watched many Erie athletes perform admirably on the national stage, but I'm not sure anything matched the performance put on by McDowell High School grad James Conner in the Little Caesar's Pizza Bowl held in Detroit. The former Trojan wowed a national audience while sparking the University of Pittsburgh to a 30-27 upset win over Bowling Green State University with an MVP effort.
Conner, who stands 6-2 and weighs in at 230 pounds, rushed for 229 yards and a touchdown while smashing a school record for yards gained in a bowl game previously held by the legendary Tony Dorsett. He totally dominated the second half of play when he picked up 165 of his total rushing yards. 
And he had the announcers buzzing when he also played some defensive end for the Panthers.
As a matter of fact, Conner was recruited out of McDowell as a defensive end but was wisely moved to RB by Pitt coach Paul Chryst after seeing his tremendous blend of quickness and power. The local product will be getting a lot of national attention in pre-season publications because of his tremendous outing against Bowling Green.
General McClane Moves to AAAA
The decision by the General McLane football program to declare Quad-A status was a real head scratcher for football fans in the area as the Lancers, who are closer to AA enrollment than AAAA, will now be playing up a class. The decision has led to an incredible amount of speculation.
One prevailing thought is GM wants to avoid playing Cathedral Prep at all costs, McLane not having much success against the Ramblers in recent outings. While GM will still play CP during the regular season, the Lancers will not have to match up with the Ramblers in the playoffs.
I have a thought that the powers-to-be at General McLane figured McDowell was going to be admitted to the WPIAL and the Lancers would be the only Quad-A team in the area, thus getting a free pass into the playoffs and avoiding Prep. However, the WPIAL squashed that idea when they turned down the Trojans' bid to become a member of that league for football only.
GM will now have to get past McD, a team the lancers have never defeated, to move on in post-season play.
Personally, I don't think it's fair to your football players to move up a class in football, as there is always a chance they can take a beating physically as well as on the scoreboard. If you play "up" in basketball, for example, you may lose by a large score, but you don't take a pounding on the field.
It's a whole different story on the gridiron.
GM will have to live with this decision for two years, and then will have a chance to reconsider this move.
McDowell Football Coach Resigns
The resignation of McDowell football coach Mark Sobeleski was a bit of a surprise as he led the Trojans to many successful seasons despite having to play one of the toughest schedules in the state. It's not easy to compile a great record when the independent slate annually includes powerhouses such as Cleveland St. Ignatius, Cleveland St. Edward, Mentor, Ohio, Youngstown Cardinal Mooney, and rival Cathedral Prep.
He posted a 4-2 mark against the Ramblers, losing the last two after four straight successes.
Professionally, I can only say great things about the former McDowell and Gannon gridder, as he was one of the most accommodating coaches I've dealt with in nearly 40 years of covering sports in Erie.
I firmly believe he will resurface on the sidelines, either as a head coach or an assistant. The coaching passion still burns brightly. 
Regarding his successor, the rumor mill is spinning nearly out of control, as it seems I get calls every day with a new potential coach for the Trojans.
The word I hear is there will be several teaching positions available next year and the McDowell powers will be able to go outside the district if desired. This will be an attractive job to many and the pool should be outstanding – and interesting.
 ***
Obviously, I am very excited about my association with the Erie Reader and I hope all the sports fans will enjoy it as much as I do.
And I want to give a special thanks to my good friend sports photographer-extraordinaire Mike Gallagher who has made his vast files open to the ER and me. Thanks, Gals.
Also, you can email me at jrlSportsReport@gmail.com. I am looking forward to communicating with the best fans in the world. Feel free to send stories, photos, and anything else you think will be of interest to the Erie fans.