ER Sports
The inappropriate statue of Jim Thome, The Return of the King, and an impending meeting with the General Mclane School Board.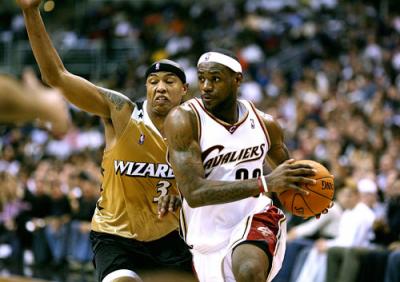 MANY, MANY PEOPLE will think I am being totally shallow on this subject and some Cleveland Indians fans might think this borders on sacrilegious, but it is a something I am passionate about, and I am not about to switch my feelings. Not for anyone.
Most everybody understands how I feel about this disgusting Derek Jeter "Farewell Tour," and how sick it made me when my team – the Cleveland Indians – honored him at a recent game at Progressive Field. As far as I'm concerned, teams should fete their own. So this next statement may surprise a lot of Cleveland fans, but it needs to be said.
On Aug. 2, the Indians front office is going to unveil a statue – a STATUE, I say – of former Indian great Jim Thome. Let me shout from the rooftops, "I would go see Derek Jeter honored in Cleveland before I would think of viewing this ceremony."
Greed is helping destroy sports and Thome left Cleveland for one reason, and one reason only: more money – which he found in Philadelphia. I don't deny the right to do this, and it's easy for me to sit in Erie, Pa. and say someone should take less money for doing a job. But the difference wasn't extreme, and the Indian slugger would've more than made up for this with endorsements and a few other things. 
To me, this was a greedy move and someone who lets money rule the day should not be honored – not with anything, let alone a statue. He opted to take the money and run – to Philadelphia. Let Philly do something to honor him. Maybe they could name a cheese-steak sandwich after him. It could be advertised, "Buy your JT sub here. We make them in Cleveland, but you have to pay for it and eat it here in Philadelphia."
I must say Thome was one of my all-time favorite Indians, but he turned his back on an entire city – and all of its fans, like me – for money, and this is despicable. The slugger made his decision, a decision that was governed by greed and the last thing that needs to be done is honor him with a statue near the great Bob Feller, a player who played his entire career in Cleveland. 
It would be different if Thome was traded and had no say in the matter, but the final decision was his. And his alone.
I can honestly say: I have no idea why the powers-to-be opted to honor him in this way. What about Albert Belle, Kenny Lofton, Omar Vizquel, Early Wynn, Bob Lemon, Al Rosen, Herb Score, or, my favorite Indian of all-time, the great Rocky Colavito?
I would love to see a huge "Don't knock the Rock" granite rock outside the old ball yard.
There is one reason, and one reason only, I would stop at the Thome statue, and that's if my dog Gypsy had slurped down three bowls of water before we left Erie and this was the first chance she had to relieve herself. 
As far as I'm concerned this well-paid athlete – and he did earn his money – urinated on Cleveland, and I would be proud to have my dog reciprocate. 
The statue is going to depict Thome at the plate, pointing his bat forward. I hope it's pointing towards Philadelphia. That would be perfect.
You may think I'm a bitter, non-forgiving sports fan – and you would be entirely correct!
Let's honor the ones that wanted to stay in Cleveland.
With all this being said, let's move on to another subject, an opinion that may surprise some of you after my preceding outburst. And that being the case of the Prodigal Son LeBron James.
Let me give you some background so you know where I'm coming from, and why I'm headed in the direction I chose. This will eventually lead to my opinion of King James.
I am very loyal to the teams I rooted for from childhood, including St. Andrew (before it was shut down) Cathedral Prep, Gannon College/University, University of Notre Dame, Chicago Blackhawks, Cleveland Browns, Cleveland Indians, and the Boston Celtics.
And I was a true fan of all these teams. True, as in obnoxious.
I was a fan of the Cleveland teams, but I became a Celtics fan in the NBA for two reasons. First, I saw Bill Russell play on television (very few college basketball games were on the tube back then) when he was at the University of San Francisco, and I was mesmerized by his grace and athletic ability. So, when he became a Celtic, I became a Celtic – fan. And number two, there was no NBA team in Cleveland at the time, so I was already a Boston follower when the Cavs were formed.
Please bear with me through somewhat trivial history lesson, as there is actually a reason this info is somewhat important, at least in my mind. You can make your own decision to the pertinence in a few minutes.
The fact is, I have remained loyal to all these teams except one – the Boston Celtics. But it wasn't as much I quit being a Celtics rooter, I just didn't enjoy the NBA style of basketball that the league evolved into approximately 20 years ago, a style that appeared to be more roller derby played in sneakers, and not the game I fell in love with. 
And that brings me to a destination I was striving to get to – my point being: When LeBron James made his decision to leave Cleveland, I didn't have a rooting interest in it. 
I will admit I was critical of the way he handled it, but I wasn't emotional over The Decision at all. James always impressed me on and off the court, and I did admire him, especially compared to a lot of today's athletes. 
So, looking back as a semi-interested bystander, I can honestly now say the four-years hiatus the Akron St. Vincent-St. Mary grad took from the Ohio city is the best thing that could've happened for everyone – for James, the Cavs, the fans, and the city of Cleveland itself.
Now I know hindsight – especially in athletics – is a wonderful, wonderful thing, but let me give my reasoning.
First of all, if James had played the past four seasons in Cleveland, the Cavaliers would not have won a championship, and the blame would fall solely on the his broad shoulders. The Cavs just weren't good enough to win an NBA title no matter what the Akron native did on the court.
He would've basically worn out his welcome, the fans acting as most fans do – they would've showered him with boos and heaven knows what else. Now, they will appreciate his presence and applaud his efforts.
It will be a place to be when the Cavs play at home.
Secondly, James now has a pair of championship rings to wear, so there will be absolutely no pressure on him, the fans now unable to scream, "He can't win the big one." He has won the BIG ONE. As a matter of fact, he has now won two BIG ONES.
I don't care who you are, it's a lot easier to perform when there is little or no pressure.
It's easy to over-analyze in sports, but I feel these are two reasonable ideas as to why James and the Cavaliers could be ultra-successful very quickly.
With all this being said, I am proud to announce that I now have an NBA team to root for. Because of LeBron James, I am now a Cleveland Cavaliers fan. You can call me a bandwagon jumper, but it's not about winning and losing. It's about showing some loyalty and concern for your hometown. Happy to exclaim, I respect that immensely. 
Happy to exclaim, "Thanks, LeBron!"
Go LeCavs!
Did you ever think LBJ would be the face of what's right in Cleveland and Thome would be the face of greed?
ONE FINAL NOTE that may interest local sports fans.
On Wednesday, Aug. 6, there will be a special General McLane School Board meeting. This get together will enable the public to comment on the boys' basketball situation – the well-documented boys' basketball situation.
The meeting will be held in the James W. Parker Middle School North cafeteria. Attendees are asked to enter through the gym lobby.
Public comments will be allowed at this session.
I do hope people keep it civil, but it should be extremely interesting.
I'm planning on attending, and I definitely WILL NOT be speaking.
James R. LeCorchick can be contacted at JRLSportsReport@gmail.com, and you can follow him on Twitter @JRLSports.