ER Sports
Celebrating a definitive Erie Great: "Easy" Essie Hollis.
October 29, 2014 at 7:50 AM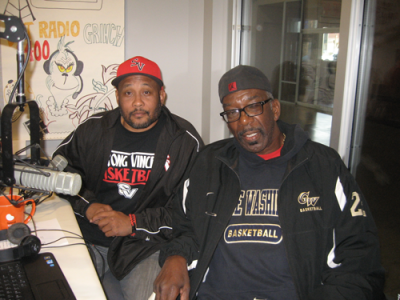 I REALLY HATE arguments where there is not a clear, definitive answer, particularly when it comes to the world of sports, as people sometimes let their passion overrule common sense in favor of stupidity. One of the more senseless – and frustrating – discussions in the wonderful world of sports is the type that begins, for example, "The best football (insert any other sport here) player in the history of Erie athletics is...".
It's strictly a matter of opinion, and there is no correct answer 99 out of 100 times.
However – and this an extremely large however – a recent visitor to our community sparked this thought when former Strong Vincent great "Easy" Essie         Hollis graced our area with a visit, the ex-SV great back to help with a fundraiser for his former high school and to be honored at the same time.
So now I am one of those people I dislike, but Hollis was the greatest basketball player to ever come out of Erie, no question about it. He was truly an incredible performer, and, more importantly, an even better person.
His history on the hard court speaks for itself, as he was an all-state performer for the Colonels, one of the greatest players ever in St. Bonaventure history, an NBA performer for the Detroit Pistons, and a legend while playing in Spain, the Erie native achieving Michael Jordan-type status in that country.
He now teaches Spanish in Florida (he's also fluent in French), while raising his family that includes his son Damein, a 6-8 performer who went on to star at George Washington University, the younger Hollis now starring professionally in Italy.
While appearing on the Sports Blitz with SV hoops coach Shannon Pullium on 1330 AM The Fan, Hollis told the audience why he ended up playing for the Bonnies in college when he had offers from every major school in the country (Bobby Knight sent him a letter or called him every day his senior season at SV).
"I considered attending Florida, Kentucky, Indiana, UCLA, and a few others," he told the listening audience, "But there was one reason, and one reason only, I decided to spend four years of my life in Olean, N.Y.
"I was a momma's boy."
He came from a large, closely knit family, and he wanted his parents to be able to attend as many games as possible. And St. Bonaventure was thrilled, as the Erie native helped the Bonnies to four great years, including an NIT championship.
Obviously, Hollis was a favorite of the Colonel faithful, but I don't ever remember one local athlete being so beloved by fans of all schools, as record crowds used to turn out to watch Hollis and his teammates perform at the Hammermill Center and in the playoffs, including many SRO crowds at Edinboro's McComb Field House when he would show Pittsburgh-area teams in the playoffs, "how the game should be played." He was the consummate teammate and his humility overwhelmed Erie hoop followers.
On a personal note, I have to add, my favorite player of all-time when I was growing up was SV star Mickey Atkinson, but he was bumped down a notch when Hollis appeared on the scene.
I enjoyed a great evening as hundreds of his friends and supporters turned out at the event honoring him, and, as you people well know, I love talking with great athletes from the past, and there was no shortage of top cagers, as I spent hours chatting with these Erie greats. It would've been very easy to assemble a basketball team that could've competed with any schools in the state from the people in attendance.
I had a great time looking back with the likes of:
LIONEL PULLIUM (East) – He was as smooth as they came while starring for the Warriors in the mid-'60s.
SHANNON PULLIUM (St. Pat's, East, Slippery Rock) – He's the son of Lionel (I didn't know that until the event) and is the boys' basketball coach at SV.
KHYL HORTON (Mercyhurst Prep, Gannon) – This powerful lefty shattered local scoring marks with the Lakers.
RICHARD BUSH (Central, Gannon) – He was one of the best players ever and even he admits Essie Hollis was "The Man." Quite a statement from the confident Bush.
JIM BARON (St. John's Prep, New York City, St. Bonaventure) – One of the best points guards in Bona history and a great college coach, currently at Canisius. He's also one of Essie's best friends.
And add Essie Hollis and this is one great basketball team – depth may be a problem.
Of the people in attendance, first of the bench would be:
James R. LeCorchick (St. Andrew's, Cathedral Prep) – Six career points after stints on the freshman and JV teams. Could be trouble if this team has to go to the bench.
As a side note, the SV basketball team is participating in a tournament in Florida, and anyone who wants to help can get in touch with Shannon Pullium (874-6532) or Missy Whalen (874-6500).
ON A QUICK note, it was exciting watching some college football on a Saturday recently, as I was switching back and forth from the Georgia Tech-Pitt game to the Michigan-Michigan State encounter.
McDowell's James Conner was carrying the ball for the Panthers and Prep grad Delton Williams was toting the leather for the Spartans. That was Erie Pride at its finest.
James R. LeCorchick can be contacted at JRLSportsReport@gmail.com, and you can follow him on Twitter @JRLSports.