ER Sports
The dominance of UCONN, Remembering Boys Baseball, and Iroquois' Hire
April 16, 2014 at 5:34 AM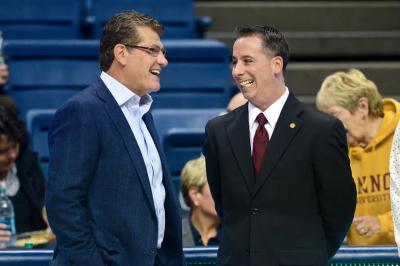 Dominanat UConn
APPARENTLY THERE is a much bigger gap between Division I women's basketball and Division II than I imagined, as witnessed when taking a look back at the Gannon University and University of Connecticut exhibition game played November 1, 2013 in Storrs.
The one thing people have to take into account is this Huskies squad may be one of the greatest women's team ever and that was established when they dismantled at tremendous Notre dame squad in the National finals. UConn finished the season undefeated – and rarely tested – while handing the Fighting Irish their lone setback of the season.
And this is an ND squad that was very seldom challenged as well.
The most amazing thing is the Connecticut-ND game looked like a grade school team against a good college five, basically a women-against-girls battle. It wasn't really a challenge to the Huskies at all.
However, back to the subject of this article, and that being a reflection of the aforementioned UConn-GU contest, a game won by the D-I squad 101-35. That score is correct. The Huskies thumped a very, very good Gannon team by 66 points.
The Lady Knights were one of the top D – II teams in the country, finishing with an overall mark of 28-4, with all four losses to the same team – the Edinboro Lady Scots. As a matter of fact, the Lady Knights rattled off 17 straight wins to start the season following the setback at Storrs.
Let me reiterate, the GU women's team was an outstanding D-II squad, which makes the statistics from their outing in Storrs even more staggering. And let me run these by you and this should give you something to digest when looking at a D-I power and a D-II juggernaut. It's almost mind-boggling. As matter of fact, it is mind-boggling.
Please remember that the Gannon squad was one of the best teams in their class and ranked No.2 for much of the season.
In front of a crowd of 7,021, the home team raced out to an almost unbelievable 55-10 lead at the intermission. It's nearly impossible to comprehend that this powerful GU squad had just 10 points in the first half.
For the game, UConn outrebounded the Erie team 50-22 and forced 30 turnovers. Jen Papich, who garnered Division II All-American honors, led Gannon with 10 points.
But the truth is, as lopsided as the stats were, this is an evening the Gannon players and staff will never forget, an experience they wouldn't trade for anything. There's no doubt that as one-sided as this contest was, playing against this competition prepared the Lady Knights for the regular seasons. Another positive factor was the treatment the Lady Knights received from coach Geno Auriemma, his team, his staff, and the fans.
As GU coach Jim Brunelli said, "It was first-class all the way and a great experience that few teams ever get."
So, when the Huskies dominated undefeated ND in the national championship, there was one group of young ladies that wasn't surprised.
Remembering Boys Baseball
I HAD AN interesting – at least I thought it was interesting – conversation the other evening while out for dinner with a group of friends, eight of us at the table and all former Boys Baseball participants. For me, it was a great night discussing teams and players from the heyday of BB.
It seems we covered everything imaginable regarding Boys Baseball, and I was still deep in thought when I got home, my mind racing as I laid in bed wondering if we missed anything. And I don't think we did.
But I was a bit surprised that many of the guys didn't remember what teams they played for or any of their teammates, let alone their opposition. I found this shocking as we reminisced and had to tell most of them who sponsored their team, what colors their uniforms were, and who was on their team.
Let me share my BB career as I have a special place in my heart for the many, many years of pleasure the organization gave, not only as a player but also as a coach and as a commissioner. As a matter of fact, some of my best friends to this day are from my Boys Baseball teams.
Just to give you a brief rundown, this is what I remember from my playing days, including ages eight through 16.
B LEAGUE:
8-years-old — Elks Club
9 — Knights of St. John's
2B (Lawrence League)
10 — Rictor Motors (Proud to point out that Tom Ridge, former Governor of PA and first director of the Homeland Security was a 12-year-old for Surre Cycles in the league)
11 and 12 — Security Peoples Trust
3B (Kennedy League):
13 — Paul T. Allen Insurance
14 — Sunbeam Bakers
SENIOR LEAGUE
15 — Al Spelta's
16 — Zurn Industries
I also remember all the colors of my uniforms and the colors of our opponents, but we won't go there – at least not today.
I faced many great players and competed against a lot of great teams, but there were a handful of games every year that caught my attention.
It seemed there were always a couple titanic match-ups every season that drew several hundred fans when they occurred, several were during my 10-year-old season, and then there were some fan favorites when I was 11. When I was 10, the contests were in my own Lawrence League played at the Forge Field number one and then the following season all the action was in the Carl Mango League at the third Forge Field.
When I was 10, the biggest pitching duel of the year pitted Jim Marnella of Ken Smith Insurance against ECOMA Sealtests's Rick Scheppner. Fortunately, I never had to face either one as they only hurled against the top teams, and Rictor Motors was not one of them.
As they say, "These two guys could really bring it." Wow, did they throw hard.
The following season, my Security Peoples Trust team was one of the best in the Lawrence League, but the premiere match-up took place down the way at the Carl Mango Field. Thank goodness!
It matched Frank Vendetti of The Lawyers against Lou "Pudge" DiPlacido of The Federation of Clubs, a classic duel between two fire-balling lefthanders. The fact I batted lefty combined with them throwing from the portside had me convinced I would never been able to get as much as a foul ball off either one.
It was also a great rivalry game for the Italian segment of the community as Vendetti was the pride of Little Italy and DiPlacido was hero of the Lower Westside fans, commonly known as the Bay Rats area.
These games drew incredible crowds with the fans ringing the entire playing field.
And these weren't Boys Baseball wonders that you never heard from again.
Vendetti starred at Roosevelt Junior High School in basketball and then went on to Strong Vincent and was outstanding in hoops and baseball.
Meanwhile, DiPlacido and Scheppner (they both went to St. Andrew's Grade School) were star athletes at Cathedral Prep, DiPlacido in football (star running back), and baseball while Scheppner was an all-star in football (star running back) and basketball. Marnella, a fierce competitor as were the other three, played basketball at St. Peter's Grade School and was a three-sport star at CP, playing football, basketball, and baseball.
"Mars" went on to Slippery Rock where he was a standout in baseball and basketball, being selected Athlete of the Year.
These are just a few of my memories from Boys Baseball, but I will always be thankful for the many people who donated their time to make it all possible
Morgan in at Iroquois 
IT APPEARS that it will become official soon: former Mercyhurst Prep coach Matt Morgan will be named the head man at Iroquois High School.
Personally, I don't think the Braves could've come up with a better mentor. He was nothing short of a miracle worker, as he took the MPS program that was coming off a pair of 0-10 seasons and turned the Lakers into a local power.
Meanwhile, the Hurst has to still name a coach, and it will be hard for the Lakers to find someone who performed the magic Morgan did. Plus, Mercyhurst will be moving up to Class AA after being Class A for many seasons.
The good news is there are plenty of good coaches out there; it just takes some time – and luck – to get the correct one.
James R. LeCorchick can be contacted at JRLSportsReport@ErieReader.com, and you can follow him on Twitter @JRLSports.