ER Sports: Catching up with Jon Saraceno and breaking down the Gannon-Mercyhurst Basketball Game
The Erie-native and USA Today writer talks boxing, Ben Roethlisberger, and loving his hometown. And some odd things happened on the court recently.
November 26, 2014 at 9:30 AM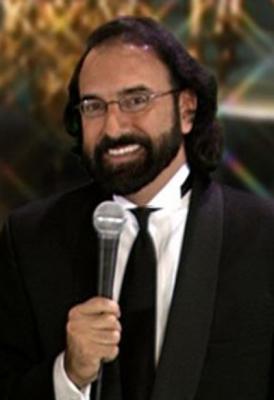 I'M AT THAT stage in my life when some things make you feel old, and some other things make you feel real old. I had one of those latter experiences recently, but it was a positive one so I guess I'm okay with it.
I ran into one of my all-time favorites at a Gannon basketball game and was a bit shocked when I thought how long it has been since I met nationally-known sports writer Jon Saraceno, the talented writer who made quite a name for himself nationally as a beat writer with USA Today.
Saraceno, who graduated from McDowell in 1975, was working for the Erie Times-News in the summer of 1978 when I first met him. I was writing sports at the local paper when I saw him working at a typewriter (you remember those?), and after someone told me who he was, I felt the need to go over, introduce myself, and tell him I thought he had a great gift after reading some of his stories.
He seemed sincerely appreciative, and we just seemed to get along after that day. He was a junior at Penn State, and as they say, "The rest is history."
The former Trojan, who was in town visiting his 93-year-old mother, seemed to always remember his hometown, and that is something I've never forgotten. It was always exciting to hear him being introduced an Erie-native when he would be on a major boxing broadcast or when he inserted the name of his hometown in one of his USA Today columns.
"I love Erie, and I always will," Saraceno told me. "This will always be my hometown."
The PSU-grad mentioned a long-proven adage about ending up with the national publication, as he pointed out, "I was in the right place at the right time."
And the right place, believe it or not, was Danville, Ill.
The personable Erie-native accepted a position with the Gannett Corporation, and that evolved into a spot at USA Today in the Virginia-D.C area in 1984, following a stop in Florida and a few other moves. He started with the national paper as a general assignment reporter, which included auto racing and many other events.
He covered two-dozen Super Bowls in his 30 years on the staff there.
However, it was in the wild, whacky world of boxing he made his name and was also taking part in a labor of love. "I was always watching boxing with my dad when I was a youngster, and it was always something I enjoyed," he told the listening audience while a guest on my Sports Blitz Radio Show.
"Boxing is a great sport, and I loved covering it."
He has many (too many to get into here) great stories about what went on inside the ring, and outside it. He lists Muhammad Ali as one of his all-time favorite athletes he has mentioned over the years. He also enjoyed working with Kareem Abdul Jabbar, Brett Favre, and Joe Namath.
When queried as to some of the bigger jerks, he maintained his professionalism and pointed out some are just tougher interviews than others. He did add that interviewing Ben Roethlisberger was "like going to the dentist."
Saraceno said he worked with broadcaster George Michael and that Michael had one of the bigger egos he ran into. However, he was quick to point out, "He wasn't a bad guy; he just had a large ego – as many on air people do."
He also explained that the TV people are a different breed than the print media. Saraceno said that it was more likely you would end up going out for a beer with a big name writer rather than a broadcaster.
Saraceno, a true-blue (pun intended) Penn State loyalist, had all the respect in the world for Joe Paterno, but wished the Nittany Lions coach had given up the position a few years earlier before the scandal hit.
I did have one last question for him, as I asked, "Are you in the Erie Sports Hall of Fame?" He answered, "I didn't know they had one."
On a personal note, I'm not a big fan of the media entering any Halls of Fame (they should have their own), but I believe it's time Saraceno be informed that Erie has one, and he's going to be inducted – soon.
As far as his association with USA Today, he took an early buyout a year ago. Now I feel really, really old.
I CAN REMEMBER about 60 years of sports, so it goes without saying that I have seen many, many strange happenings in that time, but I must admit the recent Gannon-Mercyhurst men's basketball game caught my attention, the Golden Knights winning on an Adam Blazek three-pointer with five seconds remaining that gave his team a 46-44 victory.
While it was typical GU-MU intense, physical barnburner, thinking about it for a minute, several odd things began popping up.
For starters, the Lakers didn't score a point in the opening 10 minutes but trailed just 8-0 as the Golden Knights also weren't much offensively. And then to top it off, the Hurst actually held the lead at the intermission, up by an 18-14 count.
It appeared the home team was going to cruise to the win when they opened up a 41-25 lead with 10 minutes left in the contest, the Golden Knights' offense being totally shut down. At this point, I commented on the radio, "If Mercyhurst ends with 50 points, they win easily. "
Now keep in mind they had 41 at this point and needed just nine tallies in the final 10 minutes to reach this mark. The truth is the Hurst needed just six points, as 47 would've given them the win.
But the GU defense kicked in and the MU offense went into shutdown, the visiting Golden Ones outscoring the Lakers 21-3 in the final 10 minutes, the winning basket coming with 5.1 seconds to play when All-American candidate Blazek buried a three-pointer.
The most fascinating aspect of this game comes when you do the math and take a look at two 20-minutes phases, the first and final 10 minutes and the 20-minute span in between.
As you look at the figures, MU scored zero points in the first 10 minutes and three (being out scored 21-3) in the final 10. Meanwhile, in the 20-minute span in between, the Lakers scored 41 markers.
So, if you look at one 20-minute duration, the Hurst tallied three points in one half (which adds up to six points for the entire game), or you can look at the other 20 minutes and that computes to 82 tallies (41 per half).
As I said, no matter how many sporting events one goes to, strange things never quit happening.
For those who missed this encounter, another one is scheduled for the Hammermill Center in late January. Don't be surprised if some strange happening occur once again.
James R. LeCorchick can be contacted at JRLSportsReport@gmail.com, and you can follow him on Twitter @JRLSports.