ER Sports: College Basketball
Local "Super Fans" make it easier to face the snowy months ahead.  
November 11, 2015 at 11:00 AM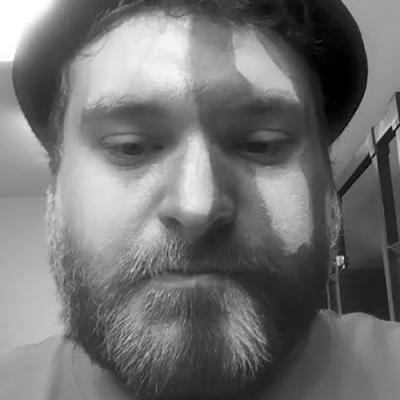 With college basketball underway already, it's time to forget football for a bit and take a look at some hoops. And one of the first things I think of is the reappearance of "Super Fans" that help make this an exciting area for basketball.
This means it's time for Pat Dunn (Mercyhurst) and Everett Wensel (Gannon).
I love the passion of this dynamic duo and it certainly helps me get through the snowy months ahead. Here are a couple short bios on our "Super Fans."
EVERETT WENSEL
AGE: 26
HIGH SCHOOL: Maplewood
COLLEGE: Gannon (2011) undergraduate; (2012) graduate
OCCUPATION: Accountant
This fanatic laughed as he explained, "I have always been for the teams of the schools I attended. I went to Maplewood High School where I was the manager of the football team." You could feel the passion as he added, "I'll never forget the day we beat Union City in football, ending our 33-game losing streak."
That passion transferred to Gannon University when Wensel moved north as he is now a fan of all Gannon sports, and in attendance at many of the contests home and away. And that's not easy, considering he lives in Rouseville. So, actually, away games are sometimes easier for him to get to than home games. But that doesn't stop him from trekking to the Hammermill Center in blizzard-like conditions where he is a fixture – with his face painted – for hoops.
He pointed out that he was in the stands for several Golden Knight soccer games this season and it's no surprise to see him show up for any event that has a GU team competing – home or away. "I just love these games," he explained.
When asked about some memorable moments from his college alma mater, Wensel said, "The year the women's basketball team had a 37-1 record was great, but watching them fail to hold on to an 18-point lead in the national semi-finals was extremly painful."
The game was played in Missouri and was Everett there? Of course he was.
Regarding Mercyhurst "Super Fan" Pat Dunn, GU booster Wensel commented, "I know him. He's their one loyal fan. He's really a good guy. We have a lot of fun before Gannon and Mercyhurst games, and we text back and forth before them."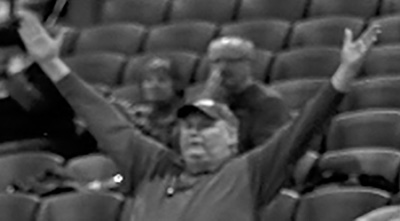 PAT DUNN
AGE: 64
HIGH SCHOOL: Academy
COLLEGE: Mercyhurst (1979)
OCCUPATION: Employed at Lord Corporation
The "big fella" sitting in the front row at Mercyhurst games, showing off his trademark over-the-head clap, is Pat Dunn, a 1978 MU graduate. Some opposing fans find him irritating and obnoxious, while I find him passionate, entertaining, and enjoyable.
Think what you want, but nothing is going to change Dunn's fervor for Laker athletics.
While in high school, Dunn was on the Lions' bowling team and he told me, "I used to go the football and basketball games, but my interest level was not the same as for Mercyhurst sports."
When asked if he knew exactly when he developed his love for Hurst athletics, he quickly answered, "1983! That was the year my daughter was born."
While admitting basketball "is [his] favorite sport," he did point out that a couple of his favorite MU moments came off the hardwood. He fondly remembers Richard Stokes scoring five touchdowns against rival Gannon in a win and also a Thursday night thriller at Edinboro University when the Lakers emerged victorious after the Fighting Scots missed a couple of golden opportunities to claim the win late.
One of his favorite hoops memories came just last season when the Lakers garnered an NCAA bid. "This was really special," he explained. "After all these years of waiting, and being so close many times, it was a thrill to see Coach Manchell and his team get the selection.
"Coach promised this when he first took the job and he delivered."
Dunn also enjoys the effort of baseball coach Joe Spano and his squad.
However, with all the successes he has witnessed on the playing fields, he is extremely proud that he was presented the Sister Damien Spirit Award in 2009. He explained, "There was no bigger fan than Sister Damien. I will never forget her passion for Mercyhurst and I can still see her showing up at the games with a cow bell in one hand and holy water in the other."
Regarding his colleague at Gannon, Dunn says, "Everett is absolutely terrific. We hit it off right away and it has made this great rivalry even more fun."
I love the passion of this dynamic duo and it certainly helps me get through the snowy months ahead.
And you don't have to be a Gannon or Mercyhurst fan to enjoy the excitement created by the "Super Fans."
Congratulations to Mercyhurst University's men's hockey coach Rick Gotkin, one of the all-time nice guys in Erie sports. The Laker boss picked up his 500th win recently when the Lakers defeated The Air Force Academy.
And good luck finding someone who doesn't have something nice to say about Coach Gotkin.
It's time to get serious as high school football playoffs are set to get underway. After a solid season of pigskin picks, it's time to clean the slate and start selecting anew.
HIGH SCHOOL PLAYOFFS
Sharpsville 45 Maplewood 12
West Middlesex 22 Iroquois 20
Farrell 48 Eisenhower 14
Wilmington 21 Cambridge Springs 20
Sharon 26 Harbor Creek 20
Greenville 26 Fort LeBoeuf 22
Hickory 34 North East 20
Fairview 28 Slippery Rock 18
Conneaut 49 East 14
Central Tech 42 Franklin 34
Cathedral Prep 35 Meadville 21
McDowell 31 General McLane 20
James R. LeCorchick can be contacted at JRLSportsReport@gmail.com, and you can follow him on Twitter @JRLSports.