ER Sports: College Basketball Mid-Term Report Card
JRL's mid-term report card for local college basketball teams. 
December 23, 2015 at 9:12 AM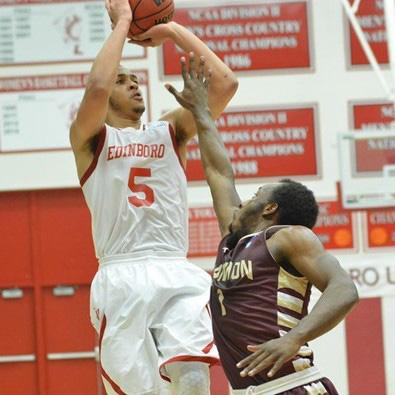 Many college students just finished finals, but the Erie Reader is going to give out mid-term grades for men's and women's basketball teams at Gannon University, Mercyhurst University, Edinboro University of Pennsylvania, and Penn State Behrend.
MEN
GANNON: The Golden Knights enter the holiday break with a seven-game losing streak and overall mark of 2-9 while posting a PSAC West card of 1-7, last in the league.
Obviously, Coach John Reilly knew it was going to be a slow start for the defending PSAC kings as the Knights lost a lot of quality players, including four-year starter Mark Blazek. Also hurting the cause was the loss of 6-6 freshman Danny Kaigler, who was definitely ticketed for a starting position. Kaigler transferred to LeMoyne University in his hometown of Syracuse.
The biggest problem – and this is a rarity for Coach Reilly's team – has been defense. The Knights are allowing 73.9 points per game after giving up just 56.6 ppg in the last championship season. GU is scoring at a 64.4 clip which is actually up a tad from last season (63.3 ppg).
Gannon's two victories could be considered quality wins as Gannon stopped Shippensburg (70-67) and LeMoyne (58-56). However, then two setbacks came heading into the break. GU could've built some much-needed momentum with wins over Edinboro and Pitt-Johnstown, but the Knights suffered tough losses as the Boro (105-102) prevailed in double overtime and UPD outlasted GU, 60-56.
ER THINKS: The Golden Knights are definitely the most disappointing team around. Coach Reilly has built an ultra-successful program that inspires high hopes amongst the faithful every season. This a rare down season, but don't expect the squad to pack it in and just play out the string.
The Knights have 15 games left and will definitely pull off a couple of upsets. I expect them to win at least eight contests in the second half. This may not be enough to get them into the league playoffs, but they will be in the hunt.
Gannon's game after the break could tell a lot as the Knights hit the road to face powerful Kutztown.
GRADE: D
EDINBORO: The high-scoring Fighting Scots of Coach Pat Cleary are fun to watch and looking good with a PSAC West record 6-2, 6-4 overall. The Boro has extremely quality wins in the conference with successes over Mercyhurst (77-67), Gannon (105-102), East Stroudsburg (68-66), and West Chester (69-66).
The Scots have great balance, led by the trio of Jaymon Mason (22.6 ppg), Henri Wade-Chatman (19.5 ppg), and inside performer Tommy Scales (12.9 ppg). Mason is a rare high-scoring point guard while Wade-Chatman is a threat from anywhere on the court.
ER THINKS: Mason will be an All-American candidate the next two seasons and he continues to impress with his ball-handling abilities. The Boro returns to action with an independent encounter with Thiel and the Scots should have plenty of momentum when they return to league play.
The Boro, one of the most funs teams to view, will remain in contention for the PSAC West title and should definitely garner a playoff berth.
GRADE: B
MERCYHURST: Gary Manchel's team was picked to win the PSAC West by the coaches but that was before a super transfer from DePaul was declared ineligible. However, the Lakers are still in the hunt with a conference chart of 5-3, overall showing a record of 8-4. Mercyhurst is going to be in the chase for the PSAC West banner, especially with solid victories already over Clarion (82-69), IUP (64-57), Kutztown (71-70), and East Stroudsburg (72-67).
The Hurst's one-point (60-59) loss at Slippery Rock definitely stings.
MU averages 71.8 ppg and allows 65.1 while Damon Jones leads the individual scorers with 15.8 ppg and Sean Beins is the top Sixth-Man in the league with 13.4 ppg.
ER THINKS: This a very good Mercyhurst team that will be in the title chase right up to the final game. The Lakers open the second half of play at Mansfield and should pick up a key road win. A stumble here could be a major setback, but I don't see it happening.
GRADE: B 
PENN STATE BEHREND: Coach Dave Niland (school record 410 wins) continues to fly under the radar as one of the top coaches in college basketball. The Lions posted a regular season record of 23-2, including an appearance in the Division III top 25 nationally last season.
This season the Lions are averaging 70.4 ppg and allowing 57.9 while posting an overall chart of 6-1 and loop mark of 3-1. PSB is led by a dynamic inside-outside duo of senior Zane Hackett (16.4 ppg) and freshman guard Andy Niland (12.6 ppg). Adding quality support are Justin Gorny (9.6 ppg) and local product Malquan Pullium (9.3 ppg).
The Lions' lone setback was at LaRoche (59-57).
ER THINKS: Coach Niland has an outstanding team and the Cubs will continue to roll. Andy Niland is the prototype "coach's son" and should have a great career playing for his father.
GRADE: B+
WOMEN 
GANNON: The Lady Knights are on a roll. Coach Jim Brunelli's squad is going to be tough to keep away from the PSAC West throne room. GU is showing an overall mark of 9-3 but a glossy league mark of 7-1. After a three-game losing streak, the Knights ended the early portion of the schedule with five consecutive victories.
Gannon showcases a balanced attack with Morgan Neighbors (16.5 ppg), Brianna Brennan (14.2), McKenna Shives (12.5), and Jennie Thies (11.6), plus point guard deluxe Amanda Berchtold chipping in 6.3 assists per outing. Freshman Elissa Ellerbrock scores at a 7.5 ppg clip.
ER THINKS: The Lady Knights appear, at least to me, to be the Best in the West and have plenty of momentum entering the second half of play. I know defending national champ California is on the horizon, but I look for the crew to emerge victorious. I also believe Neighbors should be getting some national recognition for her play.
GRADE: B+
EDINBORO: Veteran coach Stan Swank usually has an athletic, pressing-type team, but this doesn't look like that kind of squad. The lady Scots have an overall record of 9-5, but just 4-4 in the conference. The Boro scores 70.4 ppg and allows 65.1 per outing.
EUP has four players in double figures: Katie Fischer (16.7 ppg), Aignee Freelan (15.9), impressive freshman Michelle Jahn from General McLane (12.6), and Lauren Hippo (11.0).
ER THINKS: Coach Swank's team will get much better. The question is, how much better? In the game I saw them play against Gannon, the Lady Scots didn't display a lot of enthusiasm and this is highly unusual for a Coach Swank squad.
GRADE: C-
MERCYHURST: The Lakers of Coach Deanna Richard have lacked consistency, posting an overall record of 5-5 and 3-5 in the league. Included in the loop record are quality wins over Shippensburg (67-65) and Kutztown (59-58). The Hurst allows 66.8 ppg and scores at a 62.5 clip.
Natalie Piaggesi leads the scorers with 13.8 ppg, Angela Heintz checks in with 13.5, and Jessica Bell adds 10.2. Villa Maria product Adrienne Kloecker scores 8.8 per outing and she is a 1,000-point career scorer for the Lakers.
ER THINKS: Mercyhurst continues to show improvement and the effort is there. The Lakers have a solid nucleus, but now it's time to build on that and add more victories.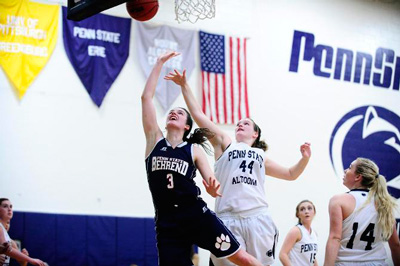 GRADE: C-
PENN STATE BEHREND: The Lady Lions of Coach Christine Slater appear to be headed in the right direction as the young squad has an overall mark of 4-4 and 2-2 in the league. The roster shows no seniors and just two juniors.
PSB averages 55.8 ppg and gives up 55.3 ppg, hence the .500 mark.
Sophomore Dani Reinwald (13.7 ppg) and freshman Ali Goetz (10.6) lead the way.
ER THINKS: Lions fans should be happy, as it appears the squad is definitely making progress. A strong finish will show Coach Slater has a solid foundation.
GRADE: C+