ER Sports: Sheer Madness
March Madness and the life and times of local on-air reporters.
March 18, 2015 at 10:00 AM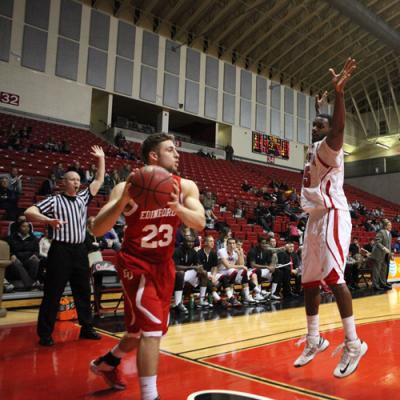 There's no doubt that the end of basketball season is affectionately known as "March Madness," but it is looked at a little differently if you're in the broadcasting business, a better name being: "Sheer Madness."
And for the people that believe it's all fun and games, let me take you through a month-long tour to prove that not all we do is go to games and "live the life." Don't get me wrong, I wouldn't trade this job for anything, but I will try and make an effort to garner a little sympathy for us involved.
Sports fans are a tough crowd, no doubt, but humor me for a bit.
It's easy for me to assume from much of the unsolicited advice I receive that many people are totally unaware how much effort goes into putting a sporting event on the air, and it all begins with money, money, and money.
I work for Connoisseur Media. The corporate headquarters is in Connecticut, and the powers-that-be there are concerned with the bottom line, and that's the way businesses are run. The truth is, corporate doesn't care what games we cover, as long as we don't lose money.
As a matter of fact, if we could make some cash airing a Bolivia-Ecuador soccer match, it would be on JET 1400 or 1330 AM The Fan. That's the nature of the business.
However, when it comes to broadcasting, it's a lot easier said than done.
For example, there are a lot of costs involved in getting a high school basketball playoff contest on the air. And some of the costs incurred include two on-air broadcasters, a person to man the board back at the studio, telephone line costs, money to the PIAA, travel expenses for the broadcasters, as well as the cost of gas, and sometimes motel expenses.
Also, there has to be room on the air for the games, as it's nearly impossible to plan ahead, the local stations already carrying Otters, SeaWolves, and Gannon University. Another problem is that there are plenty of ifs in the mix – "if so-and-so wins, if we have room," and "if we can get advertisers." Of course, there's very little turn-around time as the next games are played almost immediately.
Are you starting to get the picture?
It's not just some people sitting around a room and saying: "Let's do the so-and-so game tonight. That would be a lot of fun!"
With all that being said, I thought I would take you through the past three weeks and what went into getting playoff hoops on the air.
Keep in mind this includes Sean Amicucci, Jack Quinn, and myself. And I have two radio shows daily to work around, Sean has a full-time job at Erie YMCA, and Jack does a lot of work at Penn State Behrend during basketball season. I am blessed to have these two talented young men available, who are also enthusiastic and willing to go out of their way for the station.
Here's the schedule:
SATURDAY, Feb. 21 – Sean is at California, Pa. for a Gannon men-women doubleheader, I am at Edinboro University for a Cathedral Prep-Franklin game, and Jack has duties at PSB.
TUESDAY, Feb. 24 – Sean and Jack are at Edinboro for the Prep-Girard game.
FRIDAY, Feb. 27 – Sean and I are privileged to do the Strong Vincent-Prep classic at Edinboro; Jack is at PSB.
TUESDAY, March 3 – The GU-Slippery Rock PSAC playoff game is covered by Sean and myself at the Hammermill Center.
FRIDAY, March 6 – Jack and Sean cover Prep-Hampton at the Boro.
SATURDAY, March 7 – I join Jack for the Mercyhurst Prep-Elizabeth Forward contest at McComb, and then I rush down to the 'Mill to do the GU-Kutztown clash with Sean.
SUNDAY, March 8 – It's another classic as the Golden Knights edge IUP at the buzzer with Sean and me in on the action.
TUESDAY, March 10 – It's Sean and Jack again, as Prep beats another WPIAL school, Ambridge bowing at Sharon High School.
WEDNESDAY, March 11 – Sean is back in Sharon with me, as Mercyhurst Prep loses to powerful Blackhawk.
FRIDAY, March 13 – Sean now knows his way to Sharon High School blindfolded, as he and Jack broadcast Prep's win over Mars High School. (Note: That's three trips in five days to Sharon for Sean.)
SATURDAY, March 14 – Sean and I leave early for Wheeling, W. Va., where Gannon will play in the NCAA Regional Tournament. Slippery Rock upsets the Knights, or we would've stayed in W. Va. for a game Sunday.
And then the always popular If – if GU had won on Sunday, I would've gone back to West Liberty on Tuesday while Sean and Jack were on there way to Bald Eagle Area High School for a Philadelphia Archbishop Carroll-Prep clash.
When I mentioned earlier about expenses involved, do the math and you will see how much green is involved to get these events on the air. Here's a hint: a lot!
However, with all that being said, I'm sure none of us would rather be doing anything else.
TRIVIA: Who coached the Mercyhurst Prep girls' basketball team before Dan Perfetto? (answer in next edition of Erie Reader)
James R. LeCorchick can be contacted at JRLSportsReport@gmail.com, and you can follow him on Twitter @JRLSports.