ER Sports: Women's World
Female atheletes often go unrecognized. Here are a few you should know.
April 29, 2015 at 9:00 AM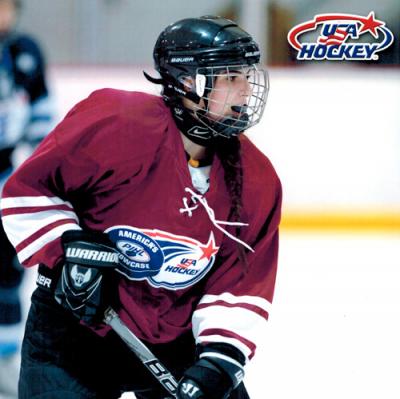 I have been covering sports for more than 40 years and I have run into many, many great athletes, most of them being incredibly inspirational. And one of the most impressive is Pamela McCormick, a true legend when mentioning marathons, duathlons, triathlons – and anything else that ends in "-athlon".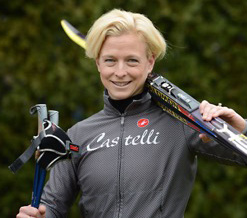 McCormick, who is as humble as she is talented, is a mother of seven who has won so many triathlons she can't really keep count. "I think it's probably between thirty and forty," she told the Erie Reader when pressed to come up with a number in the vicinity of first-place finishes. "I just love to compete against so many great athletes and train hard; while winning is enjoyable, it's not the most important thing."
The former McDowell High School swim star reached true legendary status when she participated in the ski portion of one of the Erie Quad Games one month after giving birth to her seventh child and finished second in the race. That enabled her to capture one of her seven straight titles that she has won in the Quad Games.
While performing for the Trojans, McCormick was the first female to ever participate on the boys' water polo squad, and while this was historic, it was also a bit of a downer, as she suffered a broken jaw during the season, the injury keeping her on the sidelines and unable to participate in swimming during her college career at Villanova University. She is, however, a graduate of the prestigious Philadelphia school.
She got serious about triathlons after her third child, and as she says, "I just loved it and stayed with it. "My children all enjoy working out, and I hope they stay with it."
And if they have the same ability and drive as their mother, you will be seeing the McCormick name continue to appear in the Erie media for a long time to come.
There are inspirations, and there are INSPIRATIONS.
File Pamela McCormick under the latter.
TAYLOR RIDGE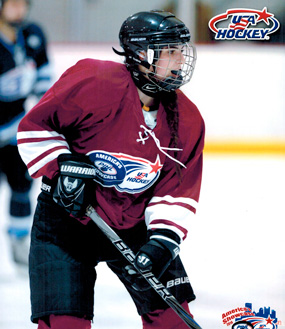 Just a junior at Mercyhurst Prep High School, Taylor Ridge is another female athlete that started mixing it up with the boys at a young age, the local hockey star starting off on the ice as a ten-year-old in a boys league, and she's been force to be reckoned with ever since.
She also excelled in soccer at a young age, but hockey was her first love and it has paid off at every level.
According to one local hockey aficionado, "Taylor possesses great speed and is a threat as a two-way player. If she so chooses, she will definitely be able to play at the college level."
The Laker 10th-grader was recently selected as Captain of the Mid-Am U19 Girls tournament team, the squad being made up of players from Pennsylvania, Ohio, and Indiana. This unit won the National Showcase Tournament held in Pittsburgh, the local crew being tested by top teams from the United States and Canada.
Ridge helped her team post a 3-0-1 record, the champs winning the title game by a 10-2 count.
She will be returning for her fifth year with the Erie Lions U19 travel team in the upcoming season. The flashy skater ended this championship stint as the team leader in assists and penalties.
GINA CARANO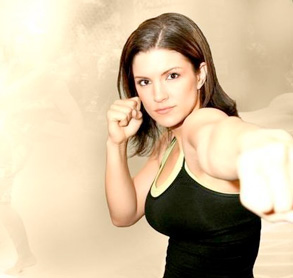 GREGG CARANO is a welcome addition to the Erie scene, as the Reno, Nevada, native is the Senior Vice-President of Food and Beverage and the top person at Presque Isle Downs and Casino. As you would expect from someone in that position, Carano has plenty of personality – and then some.
I also found out he not only has plenty of personality, he also has plenty of stories, including some interesting family members.
When I first met him and heard his last name, I asked him, "Are you any relation to...," and he quickly answered, "Yes! She's my niece."
Apparently, he didn't know I was old-school and going to ask if he was related to former NFL quarterback Glenn Carano, a second round pick of the Dallas Cowboys in the 1977 draft behind Tony Dorsett. Gregg was talking about Glenn's daughter Gina Carano, a superstar among the younger generation.
After doing some research on Gina, it was easy to see why Gregg thought I was going to ask about his niece and not his brother.
The first story I found with her name in it was titled "The 15 Most Beautiful Daughters of Professional Athletes" and she was rated No. 1.  That's correct – numero uno! She was also rated the "Hottest Women in America" by Big Biz Magazine.
But she isn't all looks, as she is also a talented actress and a mixed martial arts superstar, the MMA ace being a Top-10 most searched athletes on Yahoo! in 2013. That includes all athletes.
Other accolades include being the 16th ranked talent in Maxim's Hot 100 list in 2009, and then in late 2009, she shared the cover of ESPN the Magazine's Body issue with Serena Williams.
In April 20012, the star was the first recipient of ActionFest's Chuck Norris (Best Female Athlete Action Star) Award, given to the female action star of the year.
Meanwhile she appeared numerous times on the big screen, including a co-starring part in Fast & Furious 6 as a member of Diplomatic Security Service Special Agent Luke Hobbs' (Dwayne Johnson) team.
So the next time you're up at PI Downs and Casino, ask Gregg Carano, "Hey, aren't you related to...?"
James R. LeCorchick can be contacted at JRLSportsReport@gmail.com, and you can follow him on Twitter @JRLSports.