Erie Affairs
And their well-bred and misbegotten outcomes 
February 1, 2017 at 3:15 PM
Mid-February is nigh, which historically implies air perfumed with any one of the following: love, cynicism, or the stench of ritualistic animal sacrifice.
If you've ever had trouble distinguishing "putting yourself out there" from "throwing yourself to the wolves," you'll empathize with the young women of the Classical era. From Feb. 13-15, the ancient Romans celebrated Lupercalia, a Pagan feast dedicated to Lupa (the she-wolf of Rome) and Faunus (the satyr god of the forest). In essence, it was a glorified frat party.
Each year, two eligible (i.e., wealthy) young bachelors were initiated into the Luperci ("Brotherhood of the Wolf") with a smear of sacrificial blood (2 parts goat: 1 part dog) and sent out into the streets to lash at eligible (i.e., affluent) young bachelorettes with goat-hide thongs ("februa"). Each spanking was thought to convey reproductive health and fertility (and perhaps a potential hookup), and an appalling number of women fell in line with the belief. Like Tinder, only slightly more barbaric.
By the time 496 rolled around, the Luperci had fashioned more thongs than Victoria's Secret. And Pope Galesius I, for his coinage, had seen enough. He replaced Lupercalius with Candlemas, a Christian feast honoring the Virgin Mary (observed Feb. 2). Incidentally, he also added one Valentine of Rome to the Calendar of Saints that same year. Christian folklore holds that this St. Valentine secretly married soldiers against the decree of Emperor Claudius II, who did not want an army of lovesick sissies. For this and refusing to renounce his Christianity, St. Valentine was incarcerated. It is said he cured the jailer's daughter of her blindness and left her a letter signed "from your Valentine" on the eve of his execution.
There is little evidence to support this tale, but people love a good tearjerker, so the American Greetings company took it and ran with it. In reality, it was not until Geoffrey Chaucer's 1382 poem "Parlement of Foules" (written in tribute to King Richard II's engagement to Anne of Bohemia) that Valentine's Day became connected with romance. Other poets followed suit with their own Valentine's verse, and eventually (400 years later) the practice was popularized in the United Kingdom before carrying over to the United States in the mid-19th century.
Our secular Valentine's Day is the lovechild of vastly disparate influences. Despite this unusual crossbreeding of traditions, the resultant offspring is in robust health, generating $14 billion in revenue annually.
Our secular Valentine's Day is the lovechild of vastly disparate influences. Despite this unusual crossbreeding of traditions, the resultant offspring is in robust health, generating $14 billion in revenue annually. In that spirit, the Reader will now examine notable couplings in our regional lore and the successes – or failures – that they produced.
HIT IT OFF FAMOUSLY
Daniel Dobbins + Presque Isle = The Battle of Lake Erie's Winning Fleet
Presque Isle has drawn many men into her loving arm through the years, including City of Erie founder Seth Reed and the eccentric hermit Joe Root, who were both enamored of her ample nature. Shipbuilder and sailing master Daniel Dobbins was also impressed with the peninsula, albeit for strategic purposes (marriages can be practical, too). When tasked with building a fleet to take on the British Royal Navy, his thoughts immediately gravitated toward Presque Isle: "No finer oak grew than what was to be found there, close to the water's edge, and in the land-locked harbor the vessels, when built, could ride in security" (Frank Severance, "The Dobbins Papers").
Presque Isle proved the ideal "big spoon" to the fleet's "little spoon," and with it the United States scooped up a major victory in the Battle of Lake Erie (1813), further affirming its independence as a sovereign nation.
Ida Tarbell + the Titusville Oil Boom = investigative journalism
Sometimes the greatest innovations are born out of the most trying circumstances. In her youth, Erie County native Ida M. Tarbell was deeply affected by the abuses the Standard Oil Company inflicted upon her father, small businesses, and the Titusville region. The injustices inspired her to pursue a career as a journalist, suffragist, and political activist. While working at NYC-based McClure's Magazine, Tarbell authored The History of Standard Oil (1904), an exposé of Standard Oil and its "money-grubbing" chairman, John D. Rockefeller. Although she never married or mothered any children of her own, Tarbell is credited with the birth of investigative reporting and a new generation of American journalism.
Richard Anuszkiewicz + Josef Albers = the Op-Art Movement
A masterpiece of geometric form holds visual interest under variable lighting conditions. Such is a fundamental philosophy of the Op (as in Optical) Art Movement – and also something you might say to endear yourself to your spouse. Erie's Richard Anuszkiewicz (born 1930) stated a fascination with "making something romantic out of a very, very mechanistic geometry." After graduating from Erie Technical High School, he studied at Cleveland Institute of Art and then Yale, where he was mentored by Germany's Josef Albers ("Homage to the Square"). According to the website op-art.co.uk, he took his cues from the Bauhaus Movement, the color theory of Paul Klee, Impressionism, and Post-Impressionism in evolving his signature style. His work emphasizes rectangular forms and striking contrast from limited color palettes. Is it getting hot in this corner, or is it 90 degrees?
DIDN'T WORK OUT SO WELL
Railroad standardization + Erie street merchants = the Erie Gauge War
The year was 1853 and Erie lay at the confluence of three different railroad systems – specifically, the Erie & North East, the Franklin Canal Co., and the Buffalo & State Line. Although they operated closely together, they were far apart in one key aspect – gauge, or the width between the inner surfaces of the rails. The Erie & NE tracks measured six feet across, while the others measured 4-foot-10 (Ohio gauge). Consequently, passengers riding between Cleveland and Buffalo faced frequent delays, precipitating a sort of layover tourism industry. Erie was quite compatible with the gauge incompatibility, especially street vendors who profited handsomely from the stranded travelers.
Naturally, they were upset when Buffalo & State Line acquired Erie & North East's stock and began replacing the 6-foot gauge with Ohio gauge. Under pressure from local business owners, Erie City Council passed an ordinance to allow police to dismantle any railroad bridges that crossed city streets. In Harborcreek, citizens tore up the new tracks themselves and even got in a spat with a U.S. Marshal sent to defuse the situation. In a separate incident, a protestor was shot by a railroad official, but ultimately survived.
If you were to define "dysfunction" with the "Erie Gauge War," you'd certainly be on the right track.
Erie Mayor Lou Tullio + downtown revitalization = The Transitway Mall
Former Erie Mayor Lou Tullio is warmly remembered for keeping in touch with his citizenry – in fact, his home phone number was listed for all 23 years he served. However, his plan to revitalize Erie's downtown was grossly miscalculated and off-base. Shortly after being reelected for a second term in 1969, Tullio proposed a pedestrian shopping center on State Street, in the heart of the declining downtown retail district. The motion was fiercely debated, but ultimately passed in March of 1972. That summer, a collective of downtown business owners sued the city for projected losses, fearing the frustrations of inconvenienced customers forced to park blocks away.
The Transitway Mall withstood the lawsuit, but it would not withstand a dwindling population, an eroding tax base, continuous objection, and the construction of the Millcreek Mall. On Aug. 20, 1986, Sixth through 10th streets were reopened to traffic and the Transitway Mall faded into obscurity. Although Tullio was broadly considered one of the family, this was an infatuation few in the family approved of.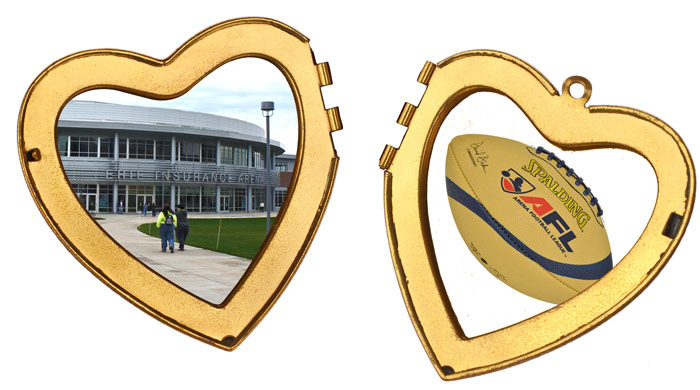 Erie Insurance Arena + professional indoor football = (no heir)
It could be argued that King Henry VIII's wives had better luck than Erie indoor professional football. The irascible Tudor king burnt through six marriages over a span of 34 years, while Erie churned through seven leagues and five teams in 16. It's worth remembering their names, even though they didn't last: the Erie Invaders (2000, Indoor Football League), the Erie Freeze (2005-07, American Indoor Football League/American Indoor Football Association), the Erie River Rats (2008-09, AIFA), the Erie Storm (2010, AIFA), and the Erie Explosion (2011-15, Southern Indoor Football League/Ultimate Indoor Football League/Continental Indoor Football League/Professional Indoor Football League).
Like Henry's spouses Anne Boleyn and Catherine Howard, franchise after franchise was beheaded after failing to produce a suitable heir. The Explosion did win back-to-back CIFL championships in 2013 and 2014, but that was not enough to sway Erie sports fans already smitten with the Otters and SeaWolves. Both claimed more noble heritages in their respective sports (players with NHL and MLB bloodlines) than the fledgling arena leagues, viewed as bastard spawn of the traditional gridiron.
The pace was fast, the scoring was high, and the action was crisp, but for now it seems the clock has run out on indoor football in Erie.
****
Relationships don't always last, nor do their offspring always flourish. But without risk, there can be no reward. And so, like the goats of antiquity, we make our way to our altars and hope for the best.
Matt Swanseger can be reached at mswanseger@eriereader.com. You can follow him on Twitter @SwazzySwagga.