Erie Ale Works and Millcreek Brewing Company
Erie's newest breweries add even more distinction to our thriving craft beer scene.
January 6, 2016 at 1:30 PM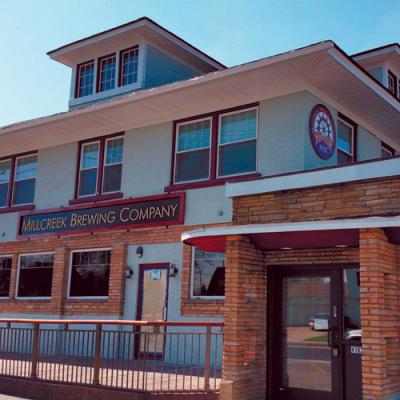 Like the Gem City it calls home, much of Erie's burgeoning ultra-local brewpub scene is about duality: a celebration of both the polished and the unpolished sides of things.
Take two of the scene's newest players – Erie Ale Works and Millcreek Brewing Company – for a couple of good examples.
Situated in a former warehouse on business-and-manufacturing-heavy West 12th Street, Erie Ale Works is "no frills … industrialesque," says craft-brewer and co-owner Jeff McCullor.
It's a place where you can come as you are.
And drink some good-and-lovingly-made local beers.
And check out a revolving cast of Erie food truck guests.
And, on some nights, hear some far out live music.
And, if you're feeling it, maybe even draw on the walls.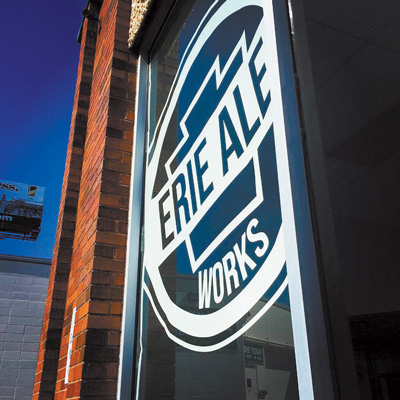 It's been just about one year since the Ale Works first opened its doors and premiered its distinctive lineup of small-batch brews to the public, and so far "that's been working out pretty well for us," McCullor says, and "we want to keep it that way."
For McCullor and his partner, brewery vice-president Steve Anthony, that's meant keeping what's so cool about the place – the crafting of its signature beers and its be-what-you-wanna-be kind of vibe – right out front.
That's very Erie indeed. And it makes good sense. It's also good business, and it's what happens when working guys like McCullor and Anthony put a dream (that is, to make and market fine and unique beers without a whole lot of pretense) into practice.
"We often joke that people in Erie grew up drinking beers in their garages," says McCullor.
At Erie Ale Works, with exposed girders, cement flooring, and heavy equipment helping to define its aesthetic, "we've kinda taken that to the next level."
A little over five miles away on West Lake Road, at the more-recently-opened Millcreek Brewing Company, the business is likewise centered around good, lovingly-crafted local brews – and the atmosphere is also easy and inviting. But the hardwood-abundant, soft-lit vibe there leans more toward casual-classy German beer garden than the hip repurposed-industrial hangout feel of the Ale Works.
It's only been about two months since Millcreek Brewing opened, and they're "focusing on the food and the service" most at the moment, says operations manager (and longtime Erie-area restaurant professional) Tamara Salchak.
After all, Salchak says, "without those two things, there's no sense in being here."
Along with its lineup of 30 original and outside-the-house beers on tap, the fare Millcreek Brewing brings to its tables is just "a little left-of-center … pub food with a little bit of gourmet flair," says Salchak.
From its increasingly popular house soups and entree salads to its Bratwurst Rumaki and impressive Reuben sandwiches, she says, "we're trying to [present] a touch of gourmet without being so weird that no one wants to try it."
So far, from what patrons are saying, it seems that Millcreek Brewing – like the city's longer-established breweries and brewpubs – is hitting its marks in Erie:

"We had a great first experience at this relatively new brewpub/restaurant," said one visitor who recently left a five-star review on Millcreek Brewing's Facebook page. "We enjoyed the food. [My dining partner] loved the selection of beverages, and they even had a pretty good glass of wine for me. I almost forgot to mention that the bartender was knowledgeable and friendly. We'll be back!"
Those accolades are just the kind of testimonial that MBC's partners and their roughly 30 staff members are aiming for, says Salchak.
In order to be successful, "we've gotta grab the demographic that exists here," says Salchak, and work to serve it well.
That can be said of both Millcreek Brewing Company and Erie Ale Works – of all food-and/or-drink establishments, really.
And, along with the other members of northwestern Pennsylvania's ever-growing microbrew/brewpub scene (the Brewerie at Union Station, Lavery Brewing Company, and Erie Brewing Company right here in Erie; Sprague Farm & Brew Works in Venango; Voodoo Brewing and TimberCreek Tap & Table in Meadville; and Blue Canoe Brewery in Titusville) they are grabbing that demographic well.
In doing the beer-making, etc. thing, all very much in their own ways, these fine establishments recognize and celebrate each other for who they are and what they're all about.
In doing the beer-making, etc. thing, all very much in their own ways – and with love, their own hands and backs and creative minds, and a whole lot of cooperation and camaraderie among them – these fine establishments recognize and celebrate each other for who they are and what they're all about.
It's like they're giving each other – and the Erie area – one great, big beer hug.
And it seems they're all in the right place at the right time, too.
According to a piece published in the Nov. 22, 2015 edition of the Erie Times-News, "Pennsylvania ranks as the nation's top state for craft breweries, producing more than 4 million barrels a year. ... The region's tastes are obviously part of a broader trend that has seen sales by craft brewers, which now produce 10.9 percent of all beer sold in the United States, leaving a small handful of giant breweries with a still-commanding, but shrinking share of the market."
Shrink away, I say.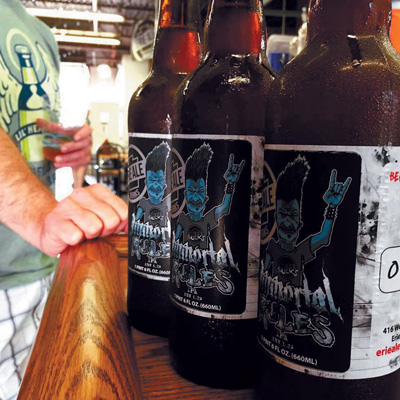 Honestly, I'm no beer expert. Hell, for the most part, I'm not even a novice these days. But every once in awhile, I do enjoy a good beer. And there's something undeniably cool about not only tasting and smelling, but also really seeing and hearing and touching the sources of what you're drinking.
Not just pounding pounders of the same old piss-yellow ACME beers. Not hurrying to drink, or do anything else.
At its best – when it's being enjoyed and appreciated responsibly, with a little restraint – the growing microbrew-loving culture changes the whole dynamic, the whole old standard of beer drinking. Being someone who's not too into consuming large amounts of alcoholic swill (or anything else), there are a whole lot of reasons I like that.
More and more these days, we can enjoy and appreciate all kinds of good beers (and good food) that way – and meet the people behind them – at a bunch of really cool places right in our own backyards.
Seems Erie is fast-becoming one of the stars on the map of the country's top-ranking craft-brewing state.
Erie Ale Works is located at 416 W. 12th St. For more information about their beers, their hours, and all the cool stuff that goes on there, call 314.9089, or visit eriealeworks.com.
Millcreek Brewing Company is located at 4102 West Lake Road. To find out more about the establishment and its expansive beer and food menus, call 616.2739, or visit millcreekbrew.com.
Ryan Smith can be reached at rsmith@eriereader.com, and you can follow him on Twitter @ryanmsmithplens.