Erie Art Museum 92nd Spring Show
Jo Farb Hernandez has used her experience in putting together exhibitions to choose from over 800 new works from artists residing within 250 miles on the City of Erie to populate this year's absorbing Spring Show.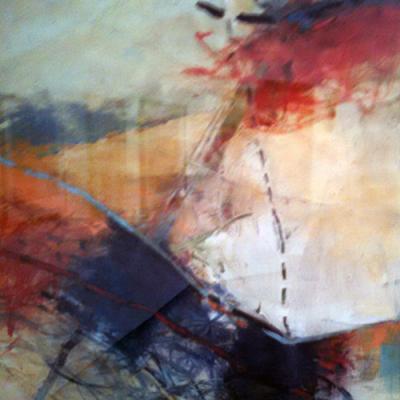 It's common knowledge that a juried show is only as good as it's juror. Curator, author, and museum professional Jo Farb Hernández served as the juror for this year's Spring Show. She has put together dozens, if not hundreds of exhibitions in her lifetime and knows how to showcase art in a unified, dynamic, and compelling way. She used that expertise to great effect when she selected from more than 800 new works from artists residing within 250 miles of the City of Erie to populate this year's absorbing Spring Show.
The level of visual arts talent in Erie and its environs on display here is astounding. I've said it before, but it bears repeating: Erie can give any city ten-times its size a run for its money when it comes to the arts. Evidence is everywhere as you wander through this exhibition.
Our first confirmations are some truly evocative photos that instantly pull up memories of times and places past. Mac Kinsch's photo of lonely ice machines standing inexplicably in a row, "Ice" is a cross between a graveyard and a circus, but may have you revisiting every convenience store you ever frequented in your mind's eye. Kathleen Prosperi-McClord reminds us of the impermanence of all things and the ultimate victory of nature with her spooky winter depiction of the collapsed Kinzua railroad bridge.
Street photography is a tradition dating back to the late-1800s. Mike Conway brings us up close to a man with emphatically expressive hands engaged in a front stoop conversation with an unseen listener in "Favorite." Dorothy Kloss has been using her primitive darkroom techniques to bring us consecrations of the haunting and ghostly for several years now, and her gelatin silver print, "Window of Time" is as spooky as they come.
If you are looking for virtuoso painting prowess put toward the use that it was intended, look no further than Alison Stinely's "Nocturnal Emissions." Voted on by the membership of the Northwest Pennsylvania Artist Association for their yearly merit award, this feat of accomplished technical anatomical representation brings the viewer to question issues of misogyny and female sexual empowerment. Spend some time with its disturbing sexual content and marvel at the discrepancy between the image's disconcerting perspective and the exquisite colors of the artist's flesh tones.
Speaking of technical mastery of the artists' chosen media, be sure to check out Max Paich's expressive line work in his intaglio print, "Indeterminate" and the impressive lighting and realistic textures achieved in the trompe l'oeil, "When the Devil Beats His Wife" by Paul McMillan from Pittsburgh. This oil painting deservedly won a Juror Award.
You might also be impressed with another Juror Award winning oil painting, Josh's Mitchell's "La Mia Lotta," a life-sized male nude study that, despite it's initial impression of realism, will throw you for a loop when you look at it a second time.
Any artist who entered but was not selected for this year's Spring Show has nothing to be ashamed about. The level of craftsmanship and imagination displayed here is astonishing. I like to pick up my rejected work early so I can peruse the great pieces that didn't get in. This year, as always, there was some wonderful stuff sadly waiting to go home unseen, but that simply can't be helped. Four/fifths of the entries don't make the cut.
With that said, it seems inevitable that each year the juror makes at least a couple of choices of poor or mediocre art that end up excluding truly excellent work. There two pieces of art here that were obviously done by children. Say what you will about the creative spirit of the child, but allowing these pieces to take up a place that could have held a Schanz or a Borowicz is akin to a Michelin three-star restaurant having Twinkies on the desert menu. It's baffling to see but might be understandable with the dizzying array of art that the juror sees during the process of putting together a show.
Some well-known artists did make the show, of course. Daniel Burke usually impresses jurors who have not seen his work before, despite that his layered cut-up wooden wall sculptures often have little new to say. Here, "with UPS, Downs, and Sideways," it's refreshing to see the iconography he uses switched up a bit, with his usual birds replaced with rats and subtle but recognizable UPS shields. Potter Tom Hubert has a couple vessels in this show. His teapots always struck me as wholly unique, so in years when the Spring Show is devoid of ceramics, it's been disappointing.
Not so this year. This year we get treated to a huge variety of media. Ceramics, photography, and painting, of course, but also jewelry ("Mineralogy" by Jennifer Laird impresses), paper collage ("Calculation" and "Hello From" by Sandra Lopez are small, but intriguing), and even computer game design and animation (unfortunately, Brandon Lipchick's interactive digital environment "Spin Racer" is glitchy. I managed to make it not work with the accidental pressing of the escape key. Oops. It just goes to show that if an artist wants their artwork touched by art critics, they should make it more idiot-proof.)
Ms. Hernández, the juror, has expertise in art from across time and culture so she was unafraid to mix it up and give us a show that showcases dozens of different styles. Abstract master Ron Bayuzick impresses as always with his deft handling of color and composition. Found object assemblages abound throughout the gallery. There is a fairly traditionally pieced quilt by Lynn Marie Fizzel. Hard-edged geometrics show up from Jason Oros and George Roland. A painting on cardboard by Hayden Siebert will satisfy your craving for outsider art. There are even a couple landscapes by William D. Simon and Douglas Unger – a rarity in any Spring Show.
Perhaps the most intriguing piece in the show is a multi-media parody of American media and its relationship to society by Rich Tomasello of Buffalo. It defies description here in limited space, so you will just have to check it out yourself.
Overall, the Erie Art Museum Spring Show is well worth you checking out this year because it showcases something that Erie does incredibly well – make art.
The Erie Art Museum is located at 411 State St, Erie, PA, but the entrance is just around the corner at 20 E. Fifth St. Museum Hours: Tuesday – Thursdays 11 a.m. to 5 p.m., Friday 11 a.m. to 9 p.m., Saturday 11 a.m. to 5 p.m. and Sunday 1 to 5 p.m.
Bryan Toy can be contacted at bToy@ErieReader.com