Erie At Large: East Avenue Task Force
East Avenue Task Force, more than an election-year gimmick
January 21, 2015 at 5:15 AM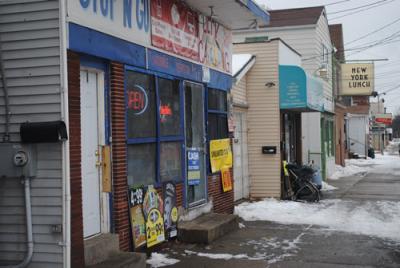 East Avenue is Charming.
By "Charming," I mean that it has all of the appeal of the fictional town by that name in northern California, which is home to the namesake motorcycle club in the TV series, Sons of Anarchy.
A former restaurant and a former market sit burned out and blighted, and the myriad retail shops that have moved into the neighborhood have varying degrees of professionalism with regard to signage and facade. And by the way, there are two motorcycle clubs on the Ave., good neighbors though they may be.
East Avenue between Sixth and 12th streets is ostensibly cut off from the rest of the city, as is the neighborhood, which extends from the Bayfront Connector in the west to Gilson Avenue in the east.
As one local businessman put it, "We used to be a high-traffic area. Now we're a destination spot" – meaning that you need a reason to be there.
You could drive completely around the "business district" – East Avenue between Sixth and 12th streets – without ever catching a glimpse of New York Lunch or Clancy's Pub, two Erie institutions that struggle to stay open in the locations they've always called home.
Construction of the Bayfront Connector and the closing of the McBride Viaduct turned the neighborhood into a desolate island. Sixth, 10th, and 12th streets offer the only east-west access through the neighborhood, and if you're on one of those streets, there's a good chance you're not stopping on East Avenue.
But City Councilman Bob Merski hopes that will change. He's put together a nascent group of business owners – and has invited the help of other public officials – to start a conversation about the future of East Avenue.
Merski is an alumnus of the Holy Family School and has taught at Wayne Elementary and East High School, both of which sit on opposing corners of Sixth Street and East Avenue, so he remembers when East Avenue bustled with neighborhood and crosstown traffic.
I invited Merski to walk and talk on East Ave. about the state of the neighborhood and his plans for what he calls the "East Avenue Task Force."
"I'm not coming into this with the solution," says Merski. "But I drive down East Ave. every day and I wanted the business owners here – people with skin in the game – to get together so they can figure out what will be best for them. It's not my intention to tell them how to make it better."
In a city that loves to plan its next plan, it's almost refreshing to hear someone admit that they don't have a specific plan. But that doesn't mean he doesn't know what he wants to happen there or that he's not in tune with the neighborhood.
We met on a blustery Erie afternoon in the parking lot of a long-closed bank near the corner of Eighth Street and East Avenue. We'd barely crossed Eighth before the first of many former students approached him to say, "hello," and catch up. Some of these young men were his sixth-grade students from years ago; others appeared to have a more recent history with the councilman. In any case, most seemed to know what he was doing there and wanted to talk East Ave.
"I used to love this place," said a former student who pointed at the boarded-over remnants of Mi Fiesta restaurant and bakery, which was damaged by fire in 2010 and never reopened. "You could get food here for a couple dollars."
By the time we sat down in the New York Lunch nearly three blocks away, he had shown me what I had hoped to see: That this initiative was more than an election-year gimmick.
There is a legitimate need for the East Avenue Task Force and organizations like it throughout the city. Neighborhoods are being forgotten in exchange for redevelopment along the State Street corridor in downtown Erie.
Nonprofit organizations, like the Sisters of Saint Joseph Neighborhood Network in Little Italy and business-centered initiatives like the East Avenue Task Force, can take control of the fate of city neighborhoods.
The challenge facing neighborhoods in transition is that you often have a collection of stakeholders made up of those who insist that they'd like to "get back what they had" and those who are as unfamiliar with the customs and traditions of where they've arrived as are the native population with the customs and traditions of some foreign land. In such cases, much can be lost in translation.
Several East Ave. business owners have already met and will continue to do so. Let's just hope that the previously celebrated planning void leaves the door wide open for an era of action and – unlike Sons of Anarchy – room for a sequel.
Jim Wertz can be contacted at jWertz@ErieReader.com, and you can follow him on Twitter @Jim_Wertz.