Erie At Large: The Silence of the Good
November 2, 2022 at 10:45 AM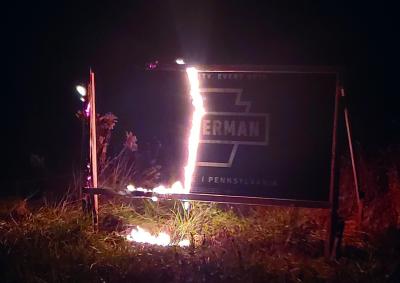 At the time of this column's publication, many people will have voted early or are planning to head to the polls on November 8. It was my intent to conclude this election cycle by promoting the slate of Democratic candidates whose names reside on the ballot this year in Erie County. They are, in all honesty, the finest group of public servants we could present collectively in one election and I have not embraced that thought in a very long time.
But those kinder thoughts were replaced by another series of reminders that the quality of our candidates is just one part of the greater task at hand — to remain engaged and vigilant in the fight for our future. 
The first reminder came on the morning of October 28 when we learned that Paul Pelosi, husband of Speaker of the House Nancy Pelosi, had been violently attacked in their home overnight in San Francisco. The Speaker was not home, but her husband required surgery for skull fractures and received treatment for defensive wounds to his hands and arms after being beaten with a hammer, brought by an intruder who had broken into the Pelosi home in search of the Speaker.
"Where is Nancy?" the intruder yelled as he made his way toward the master bedroom, according to police reports. That question "Where is Nancy?" rang through the halls of the Capitol on Jan. 6, 2021 as a violent mob searched for members of Congress with military and law enforcement grade zip ties and tools after overpowering Capitol Police and breaching the locked doors of the Capitol building.
Like the violent mob of insurrectionists, Paul Pelosi's attacker — whom I have chosen not to feature by name in this column — also carried with him zip ties and duct tape that he intended to use on the Speaker if he had found her at home.
Nancy and Paul Pelosi are both 82 years old. 
The attacker was taken into custody because Paul Pelosi had called 911 at some point and if not for the quick response of the San Francisco police, he may have been murdered.
It is fair to guess that had both Pelosis been home and the attacker had his way, they would have suffered an unimaginable trauma on their way to an untimely death.
While many Republicans have condemned the attack in the weekend following the incident, this is another example of mentally unwell people, who are caught up in the rabbit hole of right-wing conspiracy, attempting to resolve fictional grievances with the government through acts of intimidation and violence.
The second reminder came late Friday night a bit closer to home in Volant, Pennsylvania when trespassers set fire to large 4-by-8-foot campaign signs representing the Josh Shapiro for Governor and John Fetterman for United States Senate campaigns. The signs belonged to Rick Telesz, who you may know as the man who became the face of American farmers on behalf of the Biden presidential campaign in 2020, and who earlier this year attempted to capture the Democratic nomination for Pennsylvania's 16th congressional district.
Ownership of the signs is important in this case because Telesz has become a very prominent Democratic figure in an otherwise heavily Republican part of Western Pennsylvania. The destruction of his signs is as much of a warning to rural Democrats in that region as it is a metaphor for the intolerance that would motivate their execution of public policy if these anti-democratic forces were ever to seize power without the checks, balances, and integrity of the real public servants who would choose to remain in office.
Now, let's be clear. The attack on Paul Pelosi and the fire set to political signs on the Telesz farm are not one and the same. But the motivations behind these acts are symptoms of the same disease.
We live in a moment when a sizable portion of the population is motivated by fear that is intentionally fed by misinformation and disinformation, and most of those people have rooted themselves in, and become a majority of, the Republican Party.
I've been criticized by some folks for painting Republicans with too broad of a brush. I'm often told that not all Republicans believe that the 2020 presidential election was stolen; they don't all believe that our election systems, locally and nationally, are fraught with structural insecurity; and many were appalled by what happened at the Capitol on Jan. 6, 2021.
But the problem is that too few of these "good" Republicans are willing to say those things in public and almost none of them are willing to say those things to party leaders and the elected officials they continue to support, financially and with their vote. And in their silence grows hatred, violence, injustice, and the seeds of fascism that will soon rot the roots of democracy. 
Martin Luther King Jr. said that "​​the ultimate tragedy is not the oppression and cruelty by the bad people, but the silence over that by the good people."
So until this silence is broken there is no room for intellectual discussions of policy and politics. There is only room for the defense of democracy and the support of our institutions that deserve to be protected and preserved, even if they appear in need of generational makeovers from time to time. And the only way to ensure this defense and to offer such support is to vote straight Democratic this year.
I look forward to a future of dispassionate debate and bipartisan resolve, but unfortunately, now, for us, those ideals continue to drown in silence.
Jim Wertz is a contributing editor and the Chairman of the Erie County Democratic Party. He can be reached at jWertz@ErieReader.com, and you can follow him on Twitter @jim_wertz.