Erie At Large: Erie's Self-Image Problem
We should embrace this reality rather than resist it. It means we can take risks.
February 4, 2015 at 7:30 AM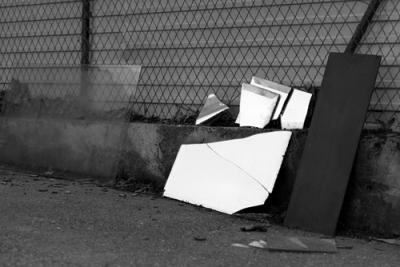 Erie has a self-image problem. It's the kind of self-loathing teenage girls have when they look in the mirror, seeing only the worst in their reflection without being able to harness all that is beautiful and righteous about themselves. They think everyone is looking at them, seeing what they see. Watching. Judging.
In reality, just as it is true for the teenager, nobody outside of this community is watching what happens in Erie.
We should embrace this reality rather than resist it. It means we can take risks.
Now that we've taken care of the revelation, let's begin our recovery.
When the Milken Institute released its annual economic index, 2014 Milken Institute Best-Performing Cities, the social media braintrust declared Erie all but done.
"We're the second worst city in the United States," some cried.
Not so, I counter. That honor – according to the Milken Institute's top 200 "large cities" list – belongs to Youngstown, Ohio.  Atlantic City, N.J. is by all measures the worst performing city in America for the second year in a row.
Yes, Erie is on the bottom half of the list, but things aren't nearly as bad as they seem.
Erie suffered the second greatest decline from 2013 to 2014 based on the statistical measure of the Milken Institute. A big part of Erie's decline on that list is relative growth in other regions related to the recovery of the housing market, and the economic impacts of the oil and gas boom. Erie wasn't hit as hard as other places during the recession and it hasn't attracted nearly as much attention from oil and gas prospectors as regions in the U.S. South and West.
In short, Erie is more rapidly feeling the effects of stagnation than it is experiencing an actual decline.
We're not alone.
Pittsburgh was No. 14 on the Milken Institute's list of fastest declining cities. If you haven't heard the news, Pittsburgh is doing just fine. It's technology and medical sectors are flourishing. Its creative industries are growing, and it's closer to peaking than it is bottoming out. Nevertheless, it dropped 48 spots in the Milken rankings, making it one of five Pa. metros on this list.
But if Pittsburgh is content to do well, Erie is just content.
Now let's be clear here. The Milken Institute is using Metropolitan Statistical Areas (MSAs), not cities, which in this case means Erie County was analyzed, not the City of Erie. So referring to "Erie, Pa." as the "city" with the second greatest decline is a bit of a misnomer.
This geographic designation is how we came to share a list with major metropolitan areas like San Francisco, Ca. and Austin, Texas, the Milken report's top-two best performing large metros, respectively.
Pitting Erie against the San Francisco Bay Area feels a bit like putting Alfred E. Neuman in the ring against Mike Tyson. Nevertheless, this is the reality that has been created for us.
The list would be more precisely titled "The Best-Performing Metropolitan Statistical Areas," but that just doesn't have the snappy appeal of "Best-Performing Cities." So we've sacrificed some objectivity for branding purposes.
Metropolitan Statistical Areas, though, are not cities. Rather, they are geographic regions with an urban core and a surrounding area that are economically married together for better or worse in economic sickness and in health.
If you consider the City of Erie as an independent entity, it contains a little more than one-third of the total population in the MSA, making it smaller than many of the Milken Institute's best-performing small "cities" that have no substantial suburban markets to speak of. By population alone, the City of Erie would be one of the largest urban cores on Milken's list of small metropolitan areas.
The Erie MSA had a population of 280,294 in 2012, the census year used by the Milken Institute, making it one of the smallest "large" metros on the list. There were 200 large MSAs and 179 small MSAs included in the Milken study.
On the small MSA list, there were thirty metros with populations greater than 200,000. Three of those regions had populations more than 250,000. The Milken methodology is not fully disclosed in the report or on the Institute's website, but it appears that its researchers have drawn the line between small and large MSAs at a population marker of 260,000, making Erie the 16th smallest large MSA on the list.
Now that we've put this thing in perspective, let's be honest with ourselves about what it means: Erie can — and must — do better.
Even if the comparative measures in the Milken report don't mean much (i.e. dropping 85 spots from the middle of the list to the bottom of the list isn't such a big deal), there remains a great deal to be gleaned from the Erie MSA data by itself.
The Milken index rewards job growth, wage growth, high-tech economic growth and connectivity, and the number of high-tech industries in a given locale.
Erie, both city and county, could improve in all of these areas.
The index also favors locations with a strong technology center, which creates stability for the region, and a low cost of living that attracts new talent and spurs population growth.
Erie has the low cost of living. It's one of the reasons that Forbes.com ranked the Erie MSA 86th in the nation for its "cost of doing business."
Moreover, the Milken study found that Erie has strong wages and salaries over the past five years. The down side of that analysis is that wages and salaries are not as strong in the past year as they were five years ago, which means that if wages continue to decline, our next five-year snapshot won't hold quite as much promise.
The Milken study should serve as a note of caution, not a verdict handed down on the future of our region or even its current state.
When Bruce Katz, vice-president of the Brookings Institution, was here in November, he warned that "your biggest risk is to do nothing."
If nothing else, the Milken Institute's "Best-Performing Cities" report should sound a shotgun start.
It's time to take on something challenging, something risky.
Go ahead. Try it. Erie may stumble. It may even fall from time to time. That's okay.
You don't have to worry. No one is watching.
Jim Wertz can be contacted at jWertz@ErieReader.com, and you can follow him on Twitter @Jim_Wertz.